Keto Recipes
Keto Banana Nut Bread
When I was growing up, my favorite baked treats were always the ones made with bananas. And lucky for me, even though I try to only eat healthy snacks these days, quite a few classic foods can be made healthier by swapping in bananas as an ingredient. Things like ice cream, pancakes, and waffles can all be made quite easily with bananas. But above all of them, there's one classic treat that was always my go to — banana bread. And now that I've found this recipe for what is quite possibly the best keto banana nut bread ever, I might never bake anything else again for the rest of my life.
If you want something perfect for a snack, try these keto-friendly banana bread muffins. Or if banana is not your thing, try the lemon blueberry loaf below:
---
How to Make Keto Banana Nut Bread
One of the main reasons that I love this keto-friendly banana bread recipe so much is that it's relatively simple to prepare.
Start out by adding your almond flour into a bowl along with a pinch of salt and some baking powder. I've long since completely stopped using any kind of refined wheat flours for all of my baking recipes due to the fact that the refinement process strips wheat of much of its nutritional value.
There's also the fact that white flour is a known cause of inflammation, which can then end up contributing to the development of inflammatory diseases like diabetes, obesity, cancer, and heart disease. (1)
After setting your almond flour mixture to the side, you can place your bananas into a food processor and blend them until they make a smooth mixture.
As I mentioned before, I'm a sucker for all things banana, which really isn't a bad thing when you consider how much nutritional value they can provide you. They're excellent sources of dietary fiber and they provide a solid amount of disease-fighting antioxidants as well. (2)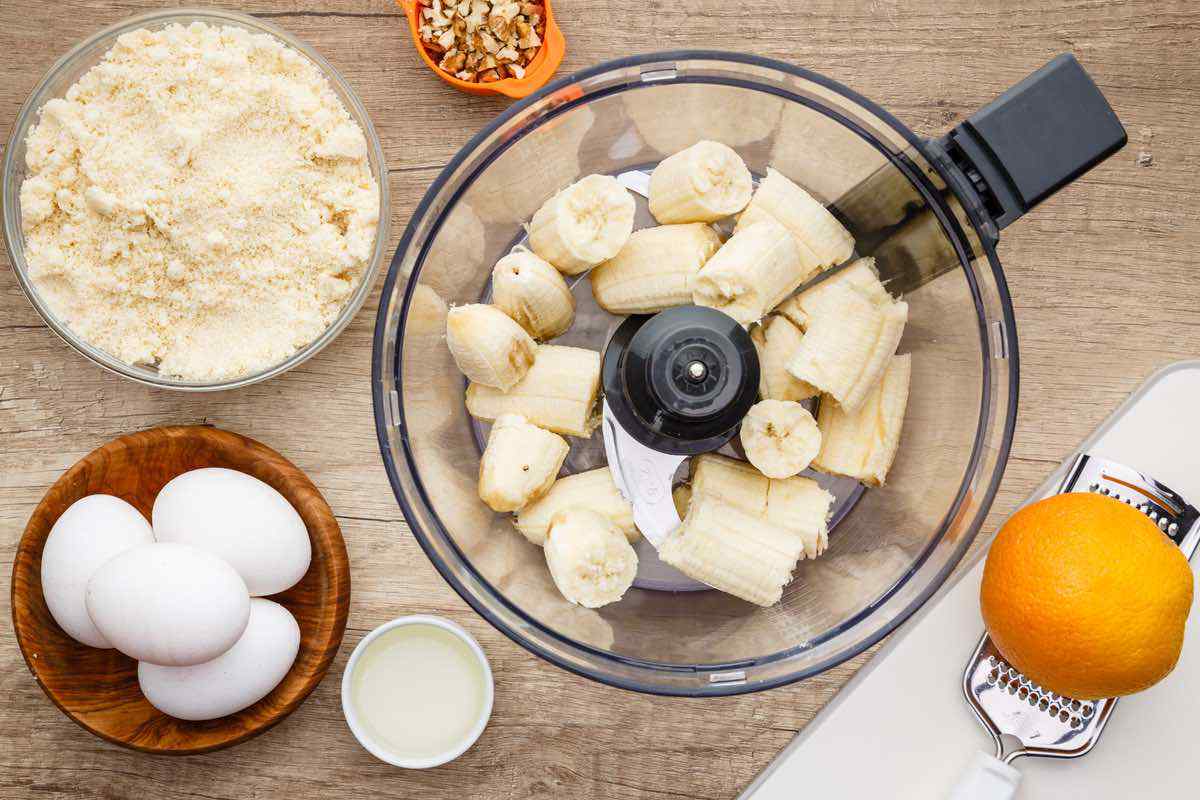 The only thing to keep in mind is that they do contain quite a few carbohydrates per serving — you'll have to be conscious of how many net carbs you can handle per day without being knocked out of ketosis if you want to make this banana bread. If you aren't overly concerned about remaining in strict ketosis however, you can still definitely enjoy this treat in moderation while sticking to a low carb eating plan.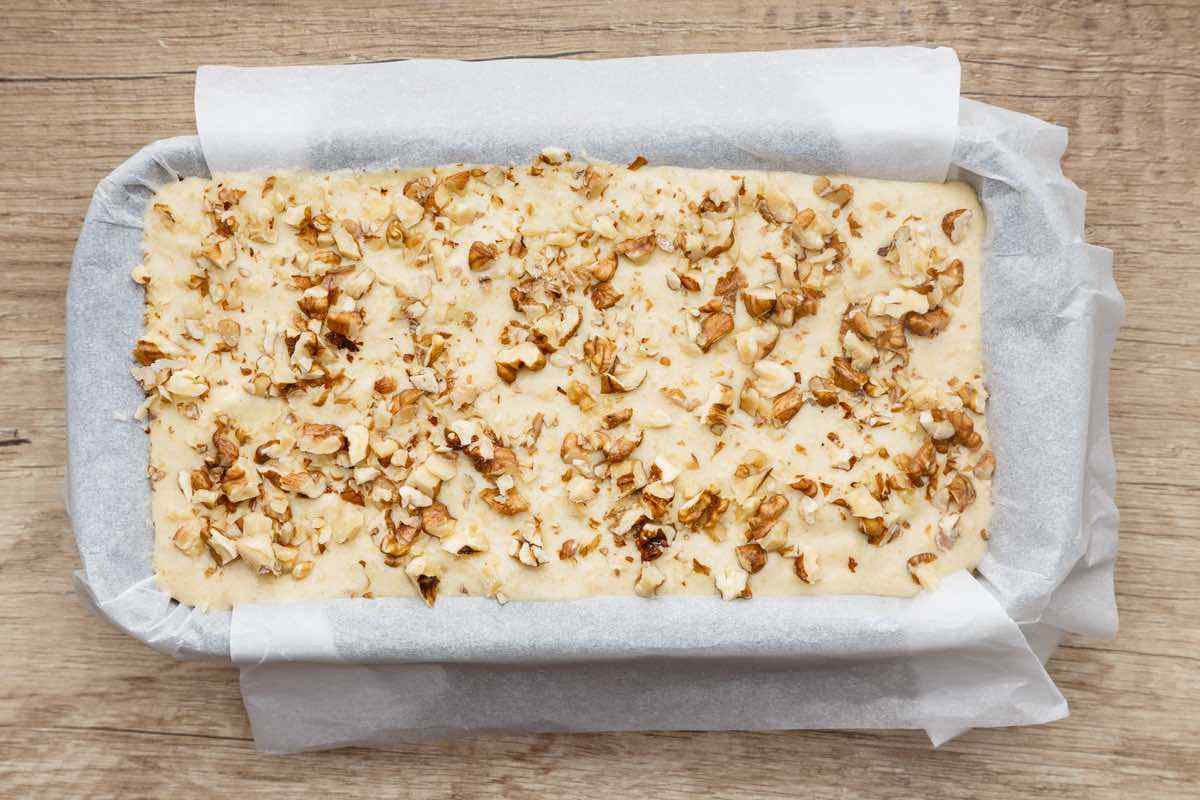 After blending the bananas, you can add in the eggs next, and then finally the melted coconut oil and orange zest as well. Once all of these ingredients have been properly combined, you can then add in your almond flour mixture and blend everything once again. Add your bread dough to the loaf pan, and then go ahead and sprinkle in the walnuts (this step is optional, if you'd rather just make plain banana bread, you can leave the walnuts out).
---
I like to add them in because I'm a fan of them anyway, and they help to add even more healthy fats into the mix while also further lowering the risk of cardiovascular disease. (3)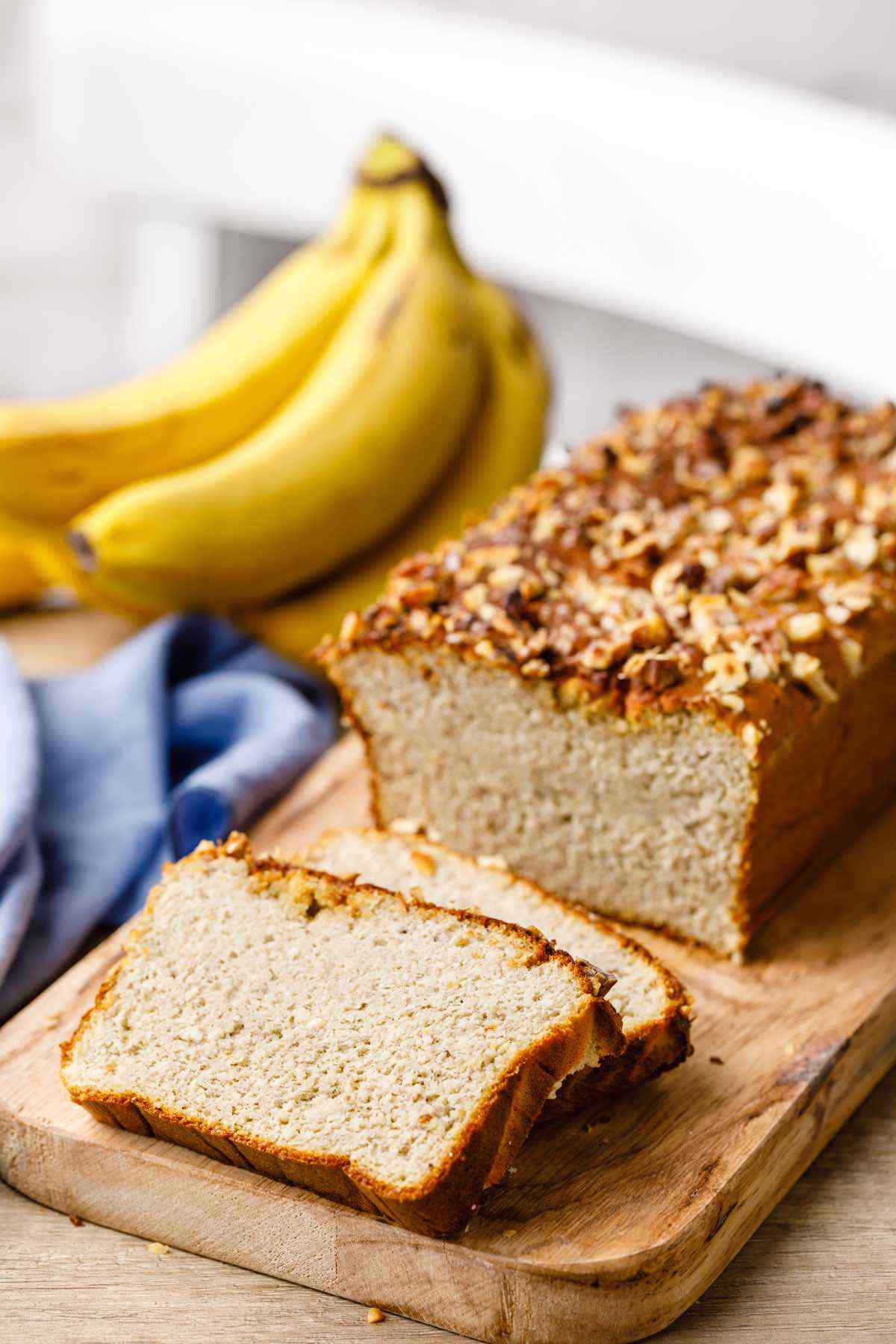 You'll be hard pressed to find a keto dessert recipe that's yummier than this banana nut bread. My kids went absolutely nuts (no pun intended) for it the first time that I baked it.
Whether you include the walnuts or not, you're going to end up with one incredibly tasty low carb banana bread. Again though, as an important reminder, just keep your total carb intake in mind when making this recipe. Otherwise, go ahead and enjoy a warm slice of delicious banana nut bread.
If you're looking for a good low carb bread recipe that's just as nutritious and satisfying, try this chocolate chip zucchini bread: https://ketopots.com/keto-chocolate-chip-zucchini-bread
---
Print
Print Recipe
Keto Banana Nut Bread
Author: Bree
Prep Time:

10 minutes

Cook Time:

45 minutes

Total Time:

55 minutes

Yield:

1

4

1

x
Category:

Breakfast, Snack

Method:

Baked

Cuisine:

American
Scale
4 medium ripe bananas
2 cups almond flour
4 large eggs
1/4 cup chopped walnuts (walnuts)
2 tbsp melted coconut oil
1 tsp grated orange zest
Preheat oven to 350ºF.
Line an 8×4 inch loaf pan with parchment paper.
In a bowl combine the almond flour, pinch of salt and baking powder. Set aside.
In a food processor place the bananas and process until smooth.
Add the eggs and process until well combined.
Add the melted coconut oil and orange zest and pulse to combine.
Add in the almond flour mixture and pulse until well combined.
Scoop the batter into the prepared pan and sprinkle with walnuts (if using).
Bake in preheated oven for 45-55 minutes or until a toothpick inserted into the center comes out clean.
Remove from the oven and allow to cool completely before serving.
Keywords: banana bread, nuts
FREE KETO RECIPES + 5-INGREDIENT KETO COOKBOOK

Make sure to sign up for free to get instant access to the 5-Ingredient Keto Cookbook, which includes my favorite 20+ keto recipes of all-time, all under 5 ingredients.