Keto Recipes
Easy, Quick and No Fuss Keto Banana Bread Muffins
Growing up, my mother would make the most delicious loaf of banana bread. The moment I smelled a sweet, nutty aroma, I would run straight to the kitchen because I knew exactly what was baking in the oven. Those who love banana bread just as much as I do know exactly the aroma I'm talking about and there's nothing quite like it. For all you banana bread fanatics out there, this recipe is a must-try!

Breakfast? Snack? Dessert? YES!
Have you ever tried banana bread muffins before? If not, then you're in for a real treat. It tastes just like banana bread but in muffin form. The best part about banana bread muffins is being able to bring them wherever you go. It's perfect for breakfast, snack and even dessert. If that doesn't sound great, then wait till you hear this! These banana bread muffins are made with no sugar and no refined white flour. It's an awesome keto recipe that's both grain-free and gluten-free.
The secret to keeping this recipe in line with a keto diet is replacing regular flour with almond flour. Almond flour is an amazing, versatile ingredient. Health benefits such as improving heart health, managing blood sugar levels, improving energy levels, and much more, can be attained by consuming almond flour. (1) You may also be surprised to find out that the texture of your banana bread muffins will not change. Just follow the directions and you'll be shocked at how easy and quick baking these muffins are!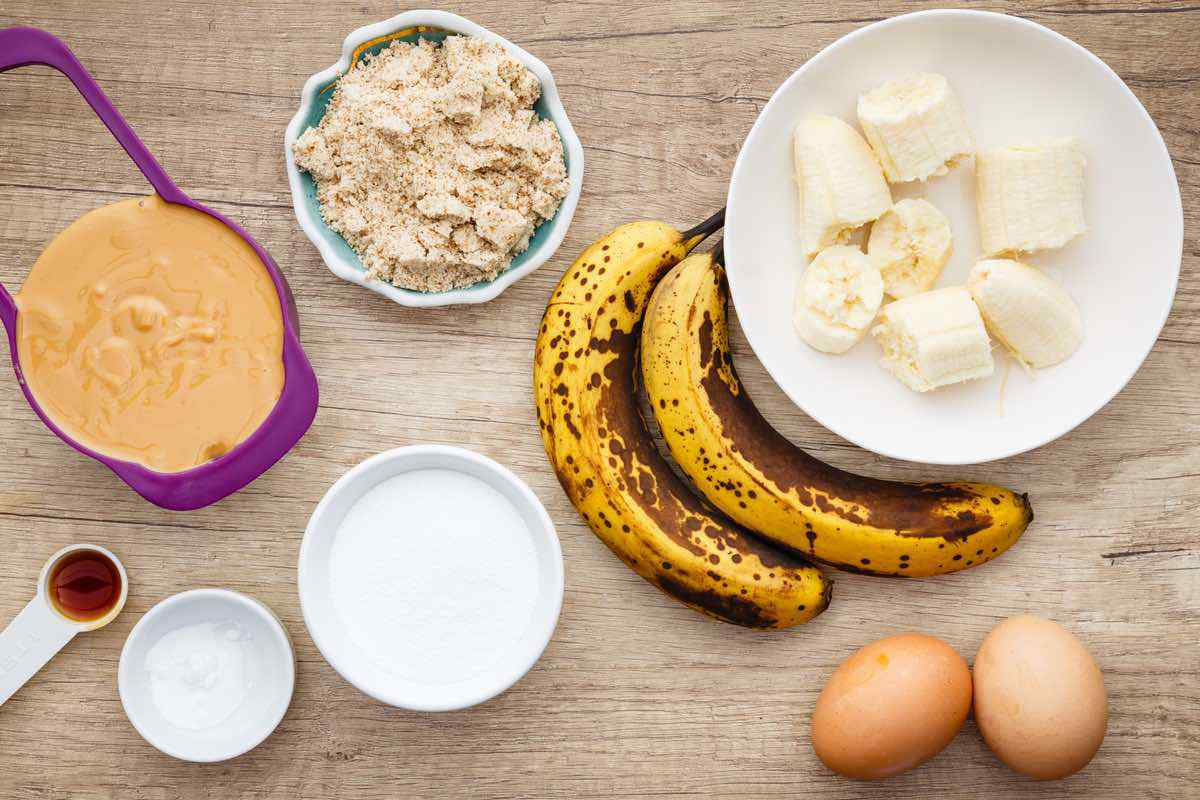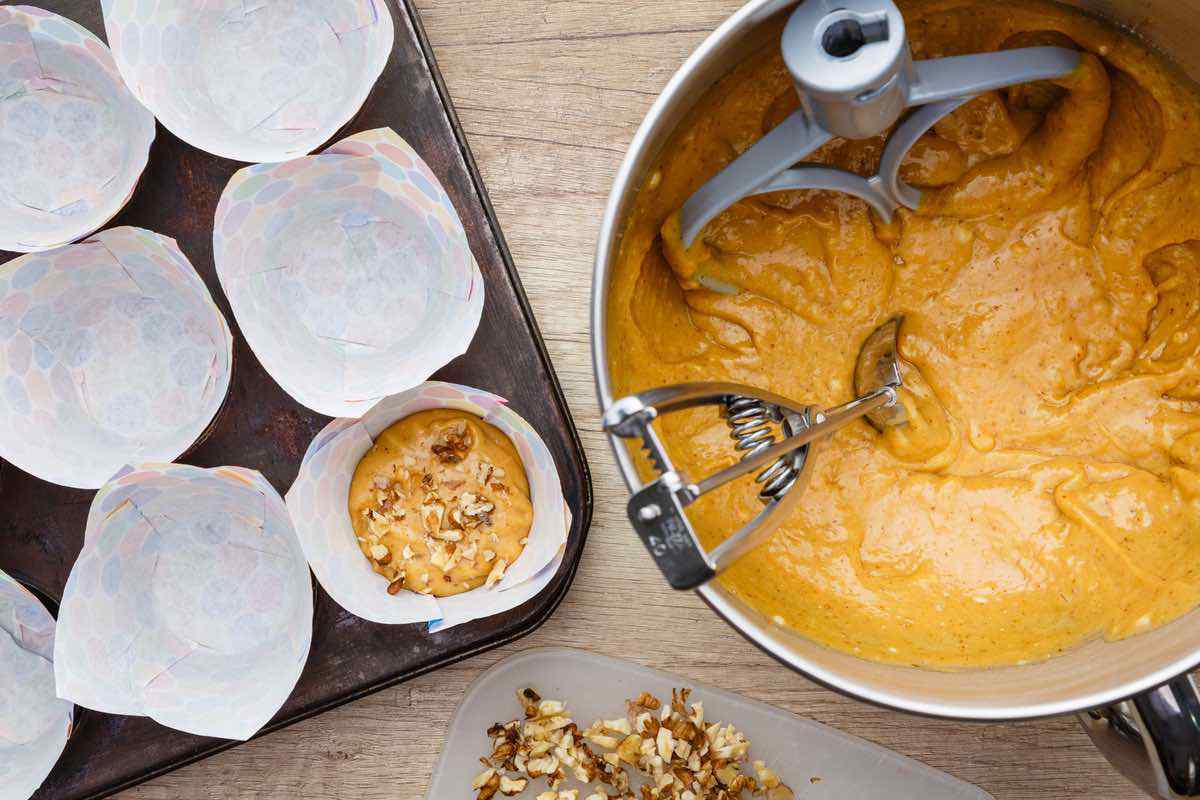 Before working on the muffins, make sure to preheat your over to 350 degrees Fahrenheit. Use a 12-cup muffin pan and fill the holes with muffin liners for easy clean-up and extraction. If you don't have muffin liners, spray your muffin pan with some cooking spray to prevent it from sticking later on.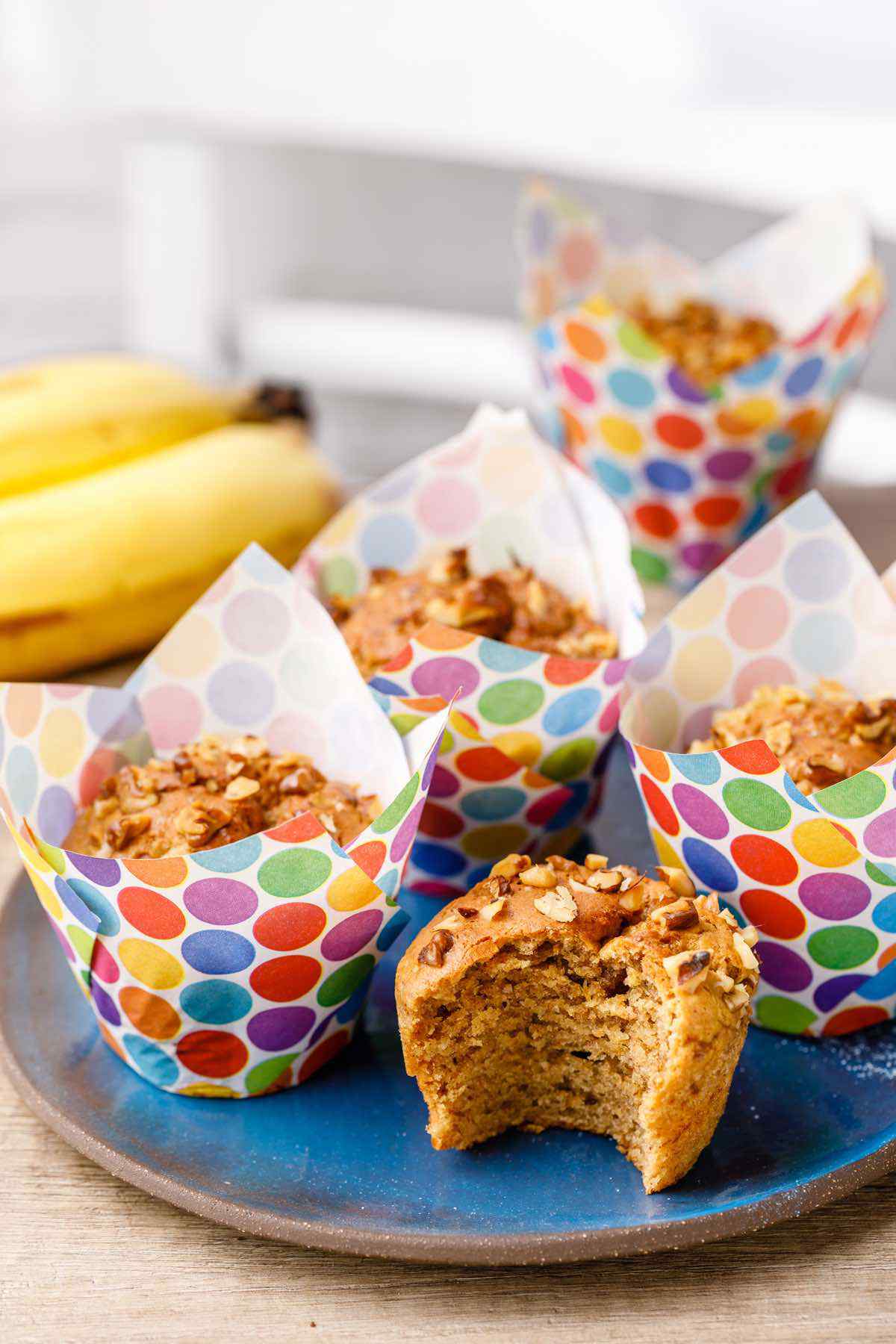 Now, on to the preparation. We're going to need two mixing bowls; one for the dry ingredients and one for the wet ingredients. Combine all the dry ingredients in one bowl. This includes the almond flour, baking powder and a pinch of salt. Set that bowl aside. Next, place the eggs and sweetener in the other bowl and turn on your mixer to combine the two ingredients until the consistency is fluffy and pale. You will want to use a mixer to beat your eggs because they need to be fluffy. Personally, I used to manually beat the eggs but using a mixer is just so much more efficient. Once that's done, simply add your other wet ingredients and mix everything until smooth.
You have the option of topping your banana bread muffins with chopped walnuts. Trust me, the added flavor and texture of the chopped walnuts make this recipe twice as delicious. Finally, bake the muffins in the oven for at least 20-25 minutes. Be sure to use a toothpick and insert it into the center of one of your muffins to see if it comes out clean. If it does, your banana bread muffins are finished cooking. Allow your muffins to completely cool down before serving.
Whether you're baking for yourself, your family, or even for a large number of people, we guarantee this will be one of your go-to recipes. These muffins only take 30 minutes which is perfect for individuals with busy lifestyles and hardly have the time to make a nutritious, tasty snack. With just one bite, we know that you're going to be hooked to these banana bread muffins.
More Keto Muffin Recipes:
Pumpkin Muffins with Cream Cheese Frosting (YUM)
Fat Bomb Keto Breakfast Muffins (Energy on the Go)
Sausage and Cheese Keto Egg Muffins (These Reheat Really Well)
Moist Cream Cheese Keto Blueberry Muffins (Mom Recipe Favorite)
Print Recipe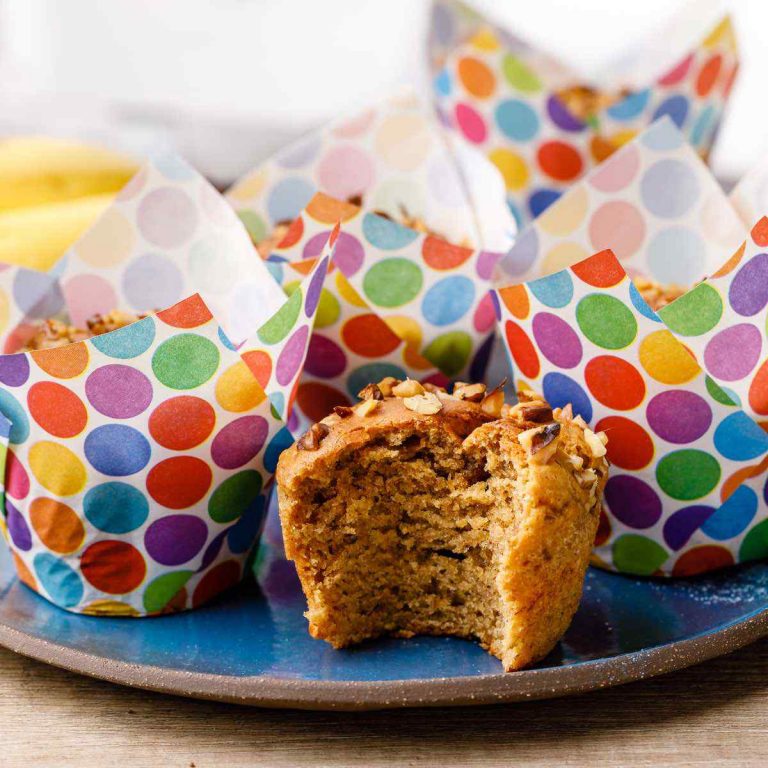 Easy Keto Banana Bread Muffins
Author: Bree - KetoPots.com
Prep Time:

10 minutes

Cook Time:

20 minutes

Total Time:

30 minutes

Yield:

1

2

1

x
FREE KETO RECIPES + 5-INGREDIENT KETO COOKBOOK

Make sure to sign up for free to get instant access to the 5-Ingredient Keto Cookbook, which includes my favorite 20+ keto recipes of all-time, all under 5 ingredients.
Scale
1/3 cup almond flour
1 tsp baking powder
pinch of salt

2 eggs
½ cup granulated Stevia or other low carb granulated sweetener
1 cup natural almond butter
½ cup pureed bananas
1 tsp vanilla extract
1 tbsp chopped walnuts (optional)
Preheat oven to 350ºF.
Line a 12-cup muffin pan with paper cups. Set aside.
In a bowl combine the almond flour, baking powder and pinch of salt. Set aside.
In the bowl of a stand mixer fitted with the paddle attachment beat the eggs and sweetener until pale and fluffy, about 3-5 minutes.
Add the almond butter and pureed bananas and beat until well combined.
Add in the almond flour mixture and beat until smooth.
Scoop the batter into the prepared muffin cups.
Sprinkle with chopped walnuts (if using).
Bake in preheated oven for 20-25 minutes or until a toothpick inserted into the center comes out clean.
Remove from the oven and allow to cool completely before serving.