Keto Recipes
Out of This World Keto Balsamic Chicken Skillet
Making a keto chicken skillet is ridiculously easy, you don't need fancy skills at all! Here's how I make a balsamic chicken skillet that's perfect for a busy weeknight meal or if you're just looking for something comforting.

How to Make Homemade Balsamic Keto Chicken Skillet
Season the chicken. I like to use salt and pepper for this step.
Cook the chicken. About 4 minutes on each side is good enough to half cook it. Remove from the heat and set aside.
Using the same skillet, saute the onion, garlic, butter and thyme. Cook for about 5 minutes.
Add the balsamic vinegar and chicken broth. Stir to combine and bring to a boil.
Simmer. Add the chicken back and simmer with the lid on for about 20 to 30 minutes. The chicken should be cooked through and the sauce slightly reduced.
Season the broth. Season with salt and pepper and sprinkle with some fresh thyme on top.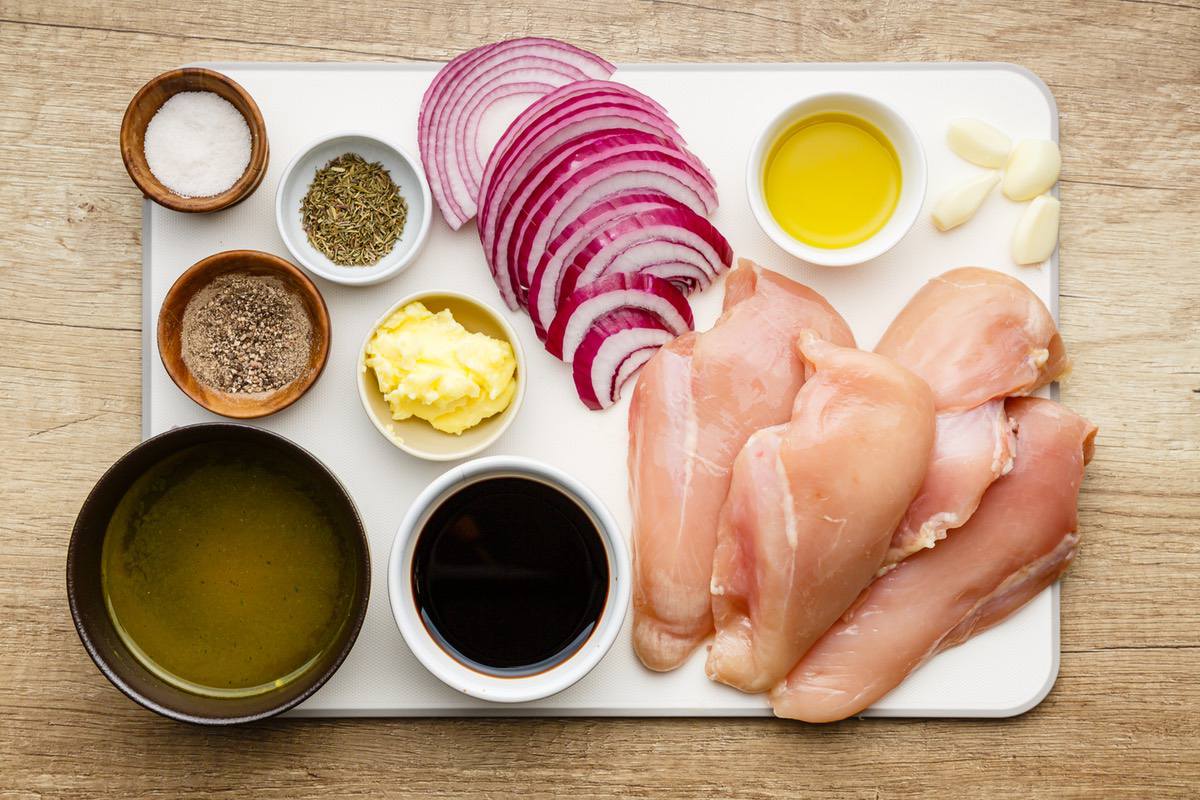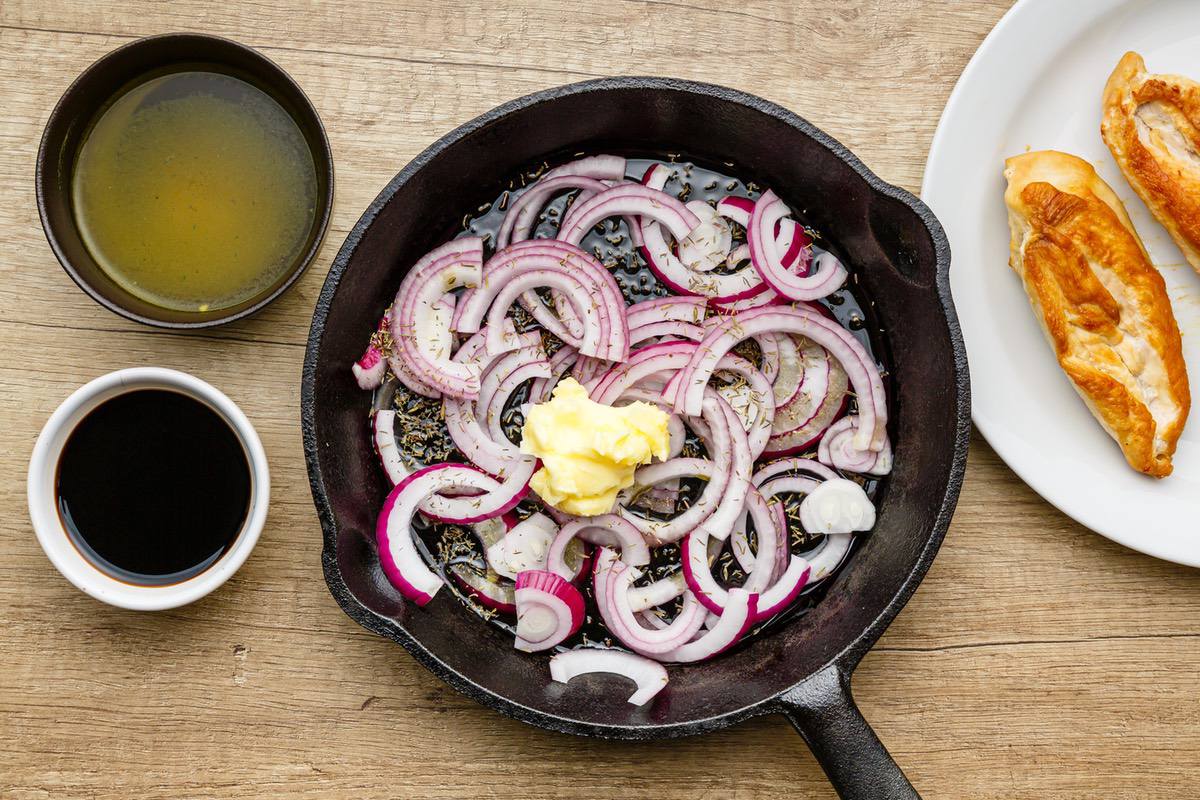 Can You Use Chicken Thighs with This Recipe Instead?
Absolutely! I know there are a fair few of you out there who prefer chicken thighs over chicken breasts. You can substitute the boneless chicken breasts in this recipe for boneless chicken thighs if you would prefer a fattier cut.
Or, you could even try this with other proteins such as:
Turkey
Pork Tenderloin
Lamb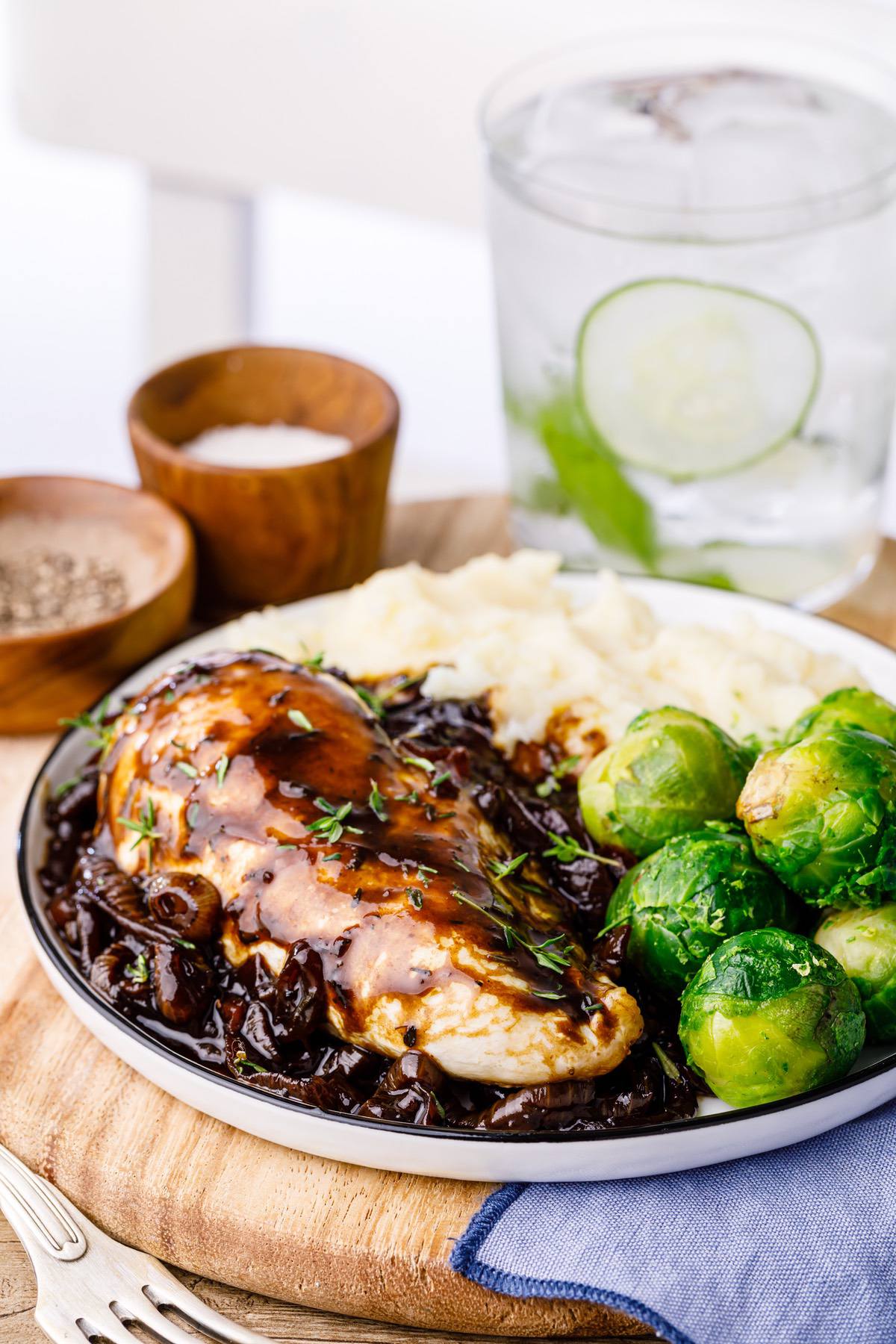 Can You Freeze This Balsamic Chicken Skillet?
Yes, you can freeze this recipe and save it for later. You would, of course, not freeze it in the skillet itself and instead transfer it to a freezer-safe container.
I would try to extract some of the sauce and store that separately, so that when you reheat it, you can pour the sauce over the top and keep it as moist as possible.
Do You Really Need A Skillet for This Recipe?
I love my skillet for many reasons, but for this particular recipe, it's particularly useful because it's deeper than my average frying pan. The deeper pan allows me to add in more liquids, which in this case, are the chicken broth and balsamic vinegar.
However, if you have a regular frying pan that would be able to handle the volume of this recipe, feel free to use that instead! Since we won't be putting the whole skillet in the oven anyway, it won't make a difference if you use a regular pan instead.
Print Recipe
Out of This World Keto Balsamic Chicken Skillet
Author: Bree - KetoPots.com
Prep Time:

10 minutes

Cook Time:

30 minutes

Total Time:

40 minutes

Yield:

4

1

x
Scale
4

boneless chicken breasts

2 tbsp

olive oil

4

garlic cloves, minced

1

red onion, sliced

1/3 cup

balsamic vinegar

3/4 cup

chicken broth

1 tsp

dried thyme

2 tbsp

butter

salt and pepper to taste
Season the chicken with salt and black pepper. 

Heat the olive oil in a large skillet over medium heat. 

Add the chicken and cook for 4 minutes per side. 

Remove the chicken from the skillet and set side. 

In the same skillet add the onion, garlic, butter and dried thyme. 

Cook, stirring occasionally, until the onions are softened, about 5 minutes. 

Add the balsamic vinegar and chicken broth. 

Stir to combine. 

Bring to a boil over medium heat. 

Reduce the heat. 

Return the chicken to the skillet. 

Cover with a lid and simmer for 20-30 minutes or until the chicken is cooked through and the sauce is reduced to your liking.

Add more salt or black pepper, if needed. 

Sprinkle with fresh thyme(if using). 

Serve with cauliflower mash.
5 Keto-Approved Cauliflower Dishes to Serve with Your Chicken Skillet
FREE KETO RECIPES + 5-INGREDIENT KETO COOKBOOK

Make sure to sign up for free to get instant access to the 5-Ingredient Keto Cookbook, which includes my favorite 20+ keto recipes of all-time, all under 5 ingredients.