Keto Snacks
The Most Addictive Oven Baked Brie Recipe (Keto-friendly)
One of my go-to recipes when I'm feeling a little fancy (but without the fuss!) is this keto baked brie with chopped nuts on top. It's savory, cheesy, warm, ooey-gooey and oh-so-good!
Here's how you can make your own.
How to Make Baked Brie Topping
Combine your oil, garlic, nuts and herbs in a bowl. You'll be using this to add flavor to your brie after baking. TIP: Use herbs and aromatics for more flavor without adding too many carbs. Thyme would also work great with this recipe in place of rosemary.
Season the brie wheel. A bit of salt and pepper go a long way, especially for mild brie.
Bake. Bake your brie at 400 degrees Fahrenheit for about 10 minutes.
Top with chopped nuts. I like using chopped walnuts or pecans for the topping.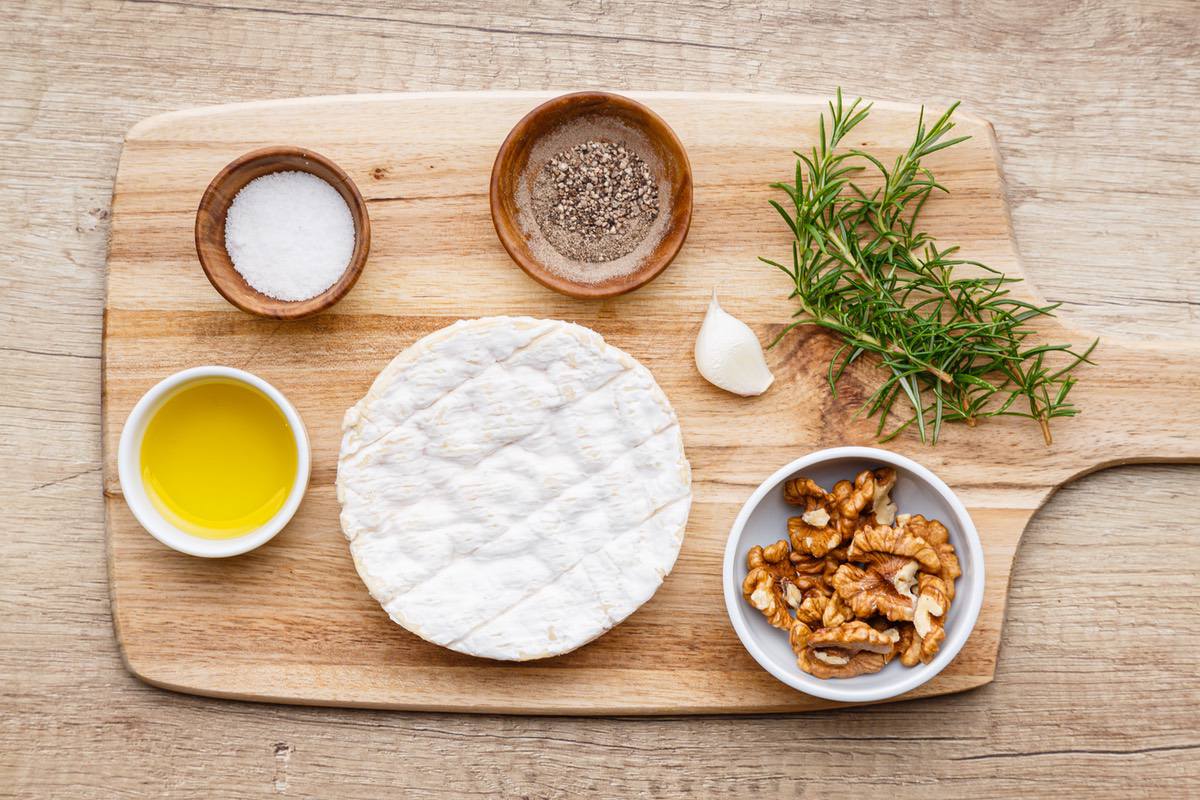 Best Types of Brie Cheese to Use for Baked Brie
French cuisine is known for its many varieties of cheese, and one of the most popular worldwide–alongside camembert and munster–is brie. There are several varieties of brie cheese available, but for making baked brie, here are some of the best types:
Brie de Meaux – Brie de Meaux is a popular variant of brie that is soft-ripened with a white mold rind. The flavor is mild and creamy.
Brie de Melun – Brie de Melun is a smaller wheel than Brie de Meaux but has a stronger flavor and smell. The flavor is creamy and salty.
Goat Brie – While Brie de Meaux and Brie de Melun are both made with unpasteurized cow's milk, goat brie on the other hand is made from pasteurized goat milk.
How to Make Keto Baked Brie
Choose your brie wheel. The ideal brie wheel is not too thick to ensure that it is properly ripened all the way through, not under ripe in the center.
Chill the brie. Make sure to chill your brie wheel thoroughly before baking.
Prepare your toppings. Prepare the topping mixture outlined below. If you're short on time, you could just top it with chopped nuts later on.
Bake. Ideally, you would want to bake your brie on a baking sheet or a shallow baking dish or pan.
Finish with topping mixture. Top your baked brie with the topping mixture you prepared earlier. No need to peel off the white rind on the outside. This part is completely edible.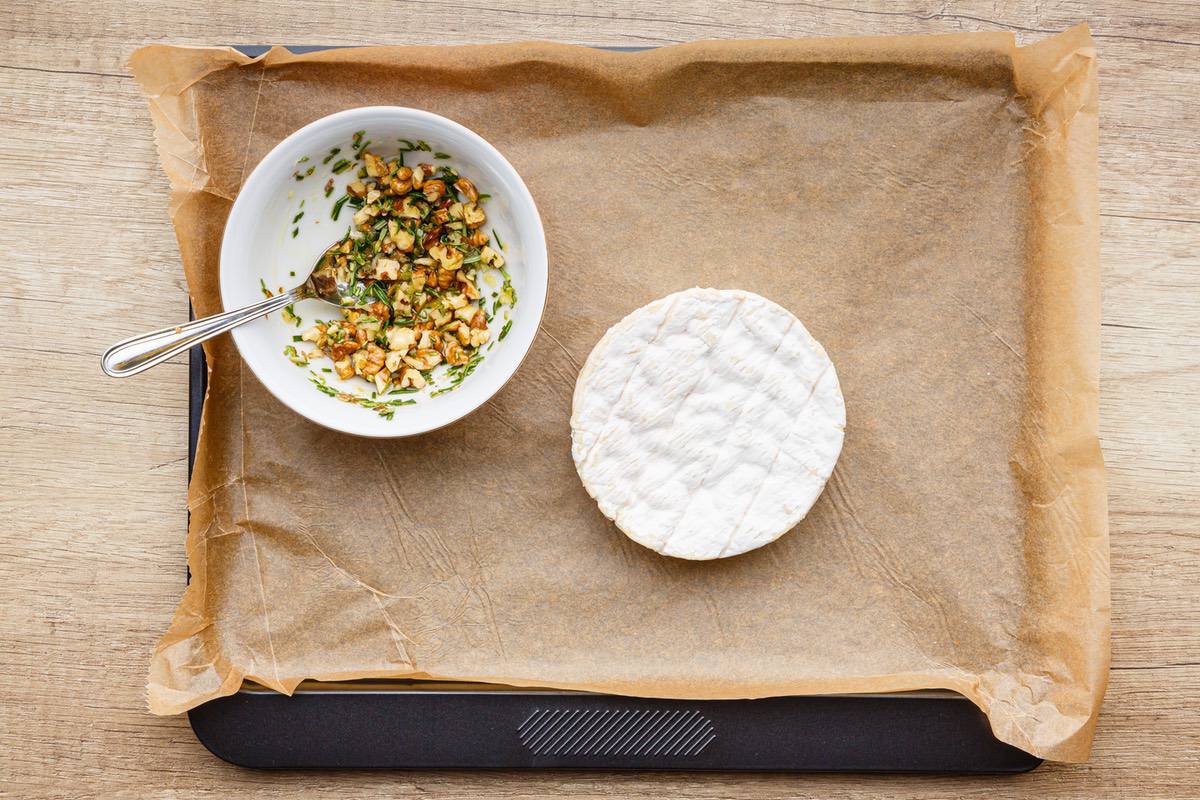 Baked Brie Topping Variations
I've been loving all of these baked brie topping variations recently. You can't go wrong with any of these, in my opinion:
bacon and caramelized onion bits
garlic and thyme
garlic, butter and sundried tomatoes
cranberries and chopped walnuts
bacon and pecans
Is Brie Cheese Keto-friendly?
Brie cheese on its own is 100 percent keto-friendly. I find that it's an excellent snack alongside my signature keto crackers.
What could potentially add carbs to this recipe is the topping, which is why the ones I listed above are all low-carb and well within keto guidelines.
In general, when adding fruit to your topping, just make sure to add sugarfree variants for jelly or jam, and dehydrated fruit bits without added sugars.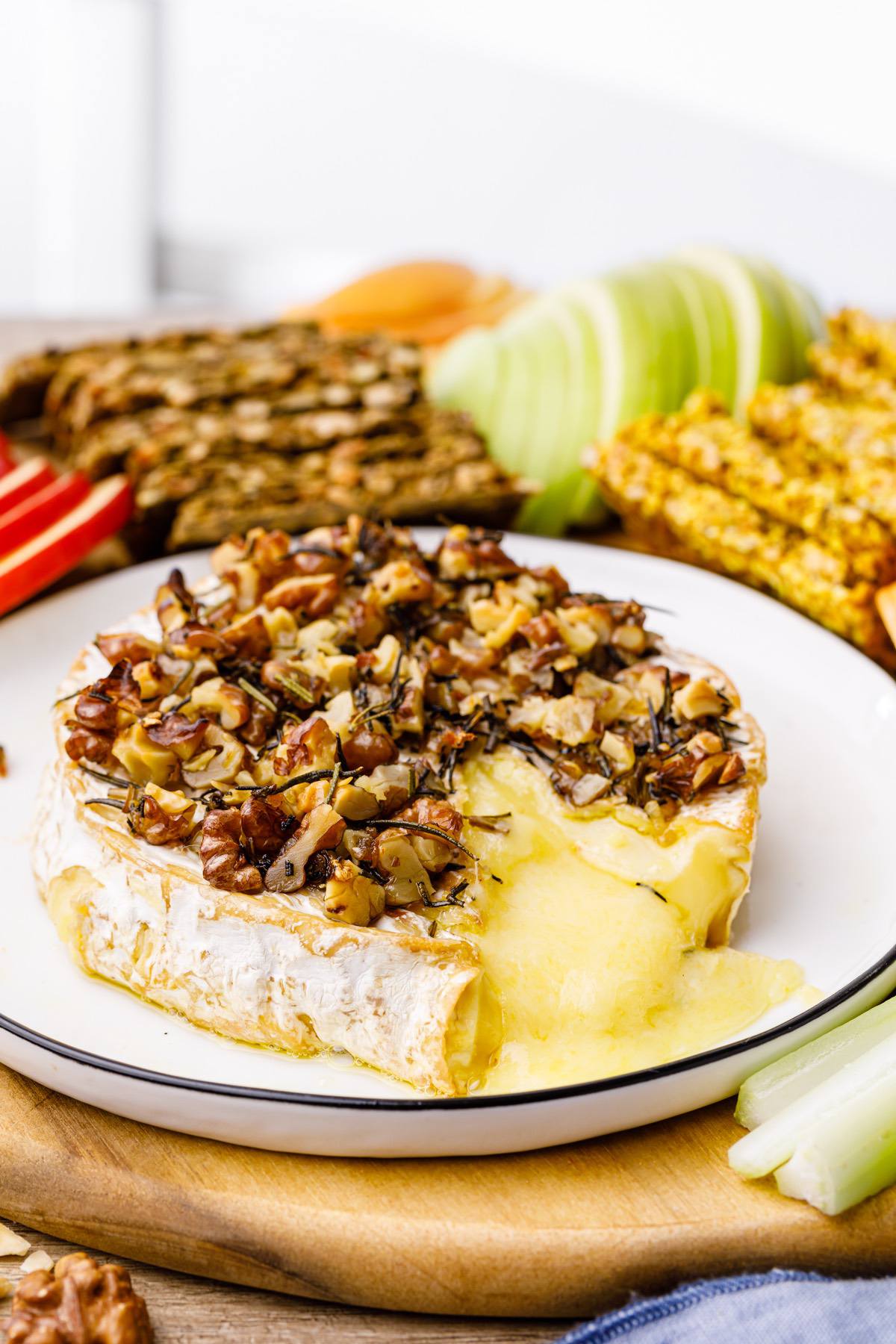 How Long Does Baked Brie Last?
For best results, I highly recommend consuming your baked brie immediately after baking. This is to ensure maximum melty goodness and to get the full cheese pull effect.
Even after baking, once it has been allowed to cool completely, the brie will once again revert back to its firmer state–which is still wonderful in and of itself–but not the texture and effect we are aiming for in this baked brie recipe.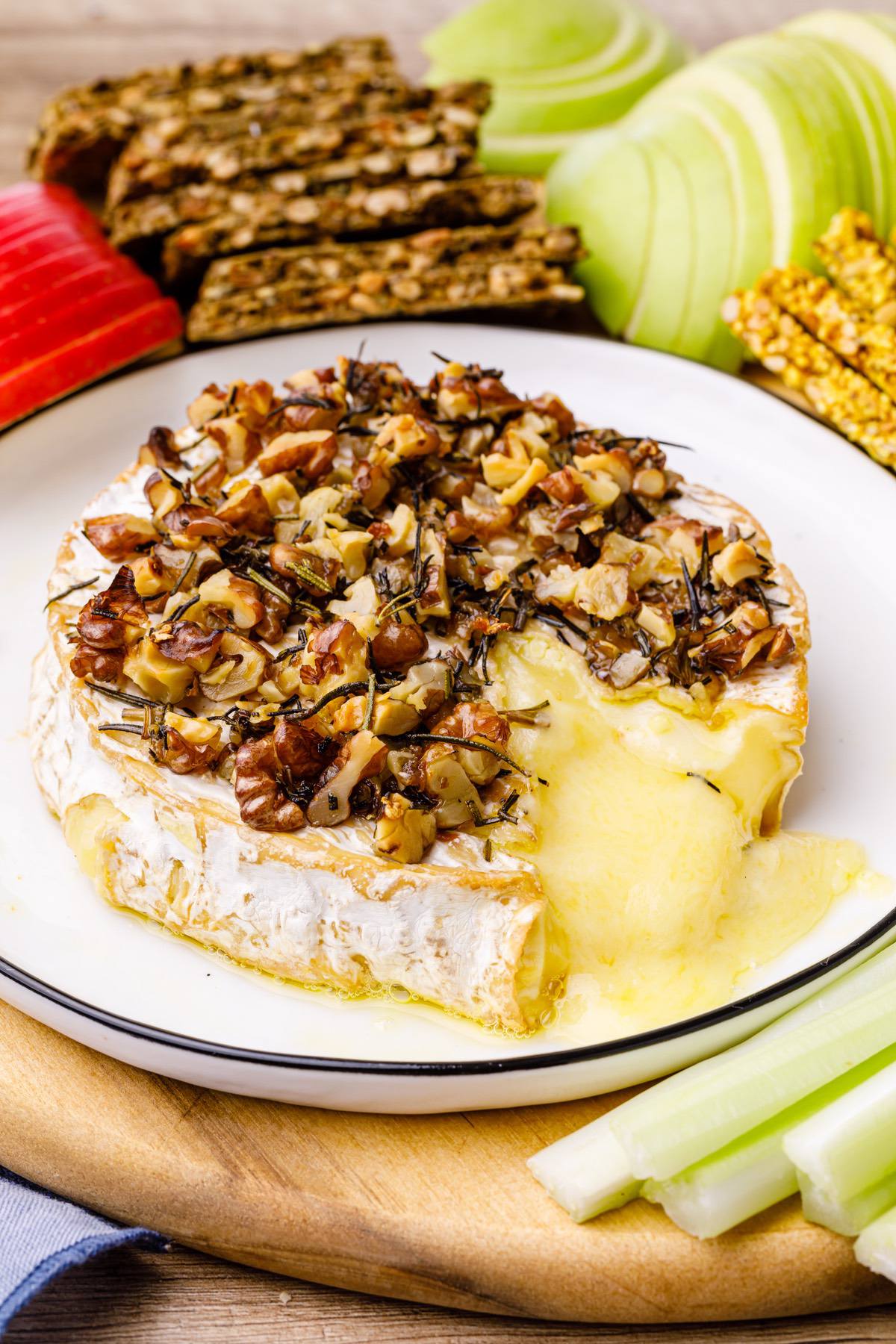 What to Serve with Keto Baked Brie Cheese
Homemade Keto Crackers – I always have a bunch of these keto crackers on hand because they go with literally any spread, jam or dip I make. They're so incredibly versatile.
Strawberry Chia Jam – For my fellow PB&J lovers out there, I must insist that you try this strawberry chia jam with your favorite homemade crunch PB because the texture and flavor are miles better than any jam I've tried before.
Keto White Wine Spritzer – If you're looking for the perfect 'wine' to pair with this baked brie platter, you're in for a guilt-free treat with this recipe.
Keto Rolls – These keto rolls have quickly become my new obsession because of how fluffy and bread-like they are, but without the carbs!
Low Carb Keto Flatbread – I've lost count of how many times I've made this keto flatbread recipe, but it's a testament of how fabulous it is even on its own or when paired with my other staple dishes.
Print Recipe
The Most Addictive Oven Baked Brie Recipe (Keto-friendly)
Author: Bree - KetoPots.com
Prep Time:

5 minutes

Cook Time:

10 minutes

Total Time:

15 minutes

Yield:

4

1

x
Scale
1

(8 oz) wheel Brie

2 oz

chopped walnuts or pecans 

1

garlic clove, minced 

1 tbsp

chopped fresh rosemary

1 tbsp

olive oil 

salt and black pepper to taste
Preheat oven to 400°F. 

Line a baking sheet with parchment paper. 

In a small bowl combine the olive oil, garlic, walnuts and rosemary. 

Season to taste with salt and black pepper. 

Place the cheese on the prepared baking sheet. 

Top with walnut mixture. 

Bake in preheated oven for 10 minutes or until cheese is warm. 

Remove from the oven and serve immediately.
FREE KETO RECIPES + 5-INGREDIENT KETO COOKBOOK

Make sure to sign up for free to get instant access to the 5-Ingredient Keto Cookbook, which includes my favorite 20+ keto recipes of all-time, all under 5 ingredients.