Keto Dinner
Bacon-Wrapped Salmon Bites with Creamy Honey Mustard Dipping Sauce
There's no denying that keto salmon bites are most definitely one of the foods that bacon can complement in a big, big way, and this recipe is so simple and so good!

If you're looking for more low carb (and keto-friendly) salmon recipes, also try our keto salmon cakes and salmon sushi hand rolls.
How to Make Bacon-Wrapped Keto Salmon Bites
Prepare your salmon fillet and bacon. Cut the salmon into one inch pieces and the bacon slices in half, just enough to wrap around the salmon pieces.
Season. Season with salt and pepper.
Wrap the salmon bites. Wrap each individual piece of salmon in a strip of bacon.
Bake. Bake the salmon for anywhere between 12 to 15 minutes. With salmon, a slightly pink center is perfectly okay.
Serve. I recommend enjoying your salmon bites while they're still warm.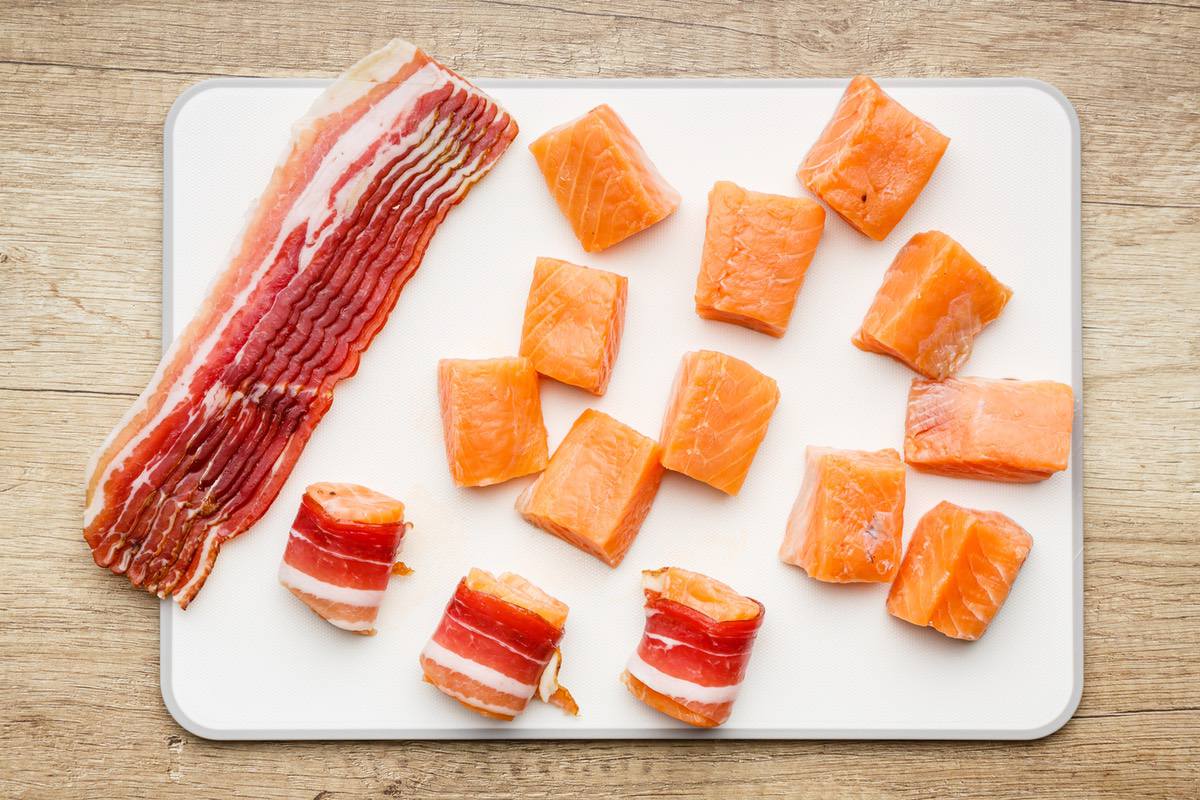 How to Make Honey Mustard Dipping Sauce
Of course, these salmon bites wouldn't be complete without my signature honey mustard dipping sauce. Here's how I make it:
Combine all of your ingredients in a single bowl. You'll be mixing together honey, Dijon mustard, mayonnaise, white wine vinegar, and cayenne pepper. Mix well.
Season. Season with some salt and pepper to taste
Refrigerate until ready. Once everything has been mixed together, you can simply leave this honey mustard dip in the refrigerator until you're ready to enjoy it.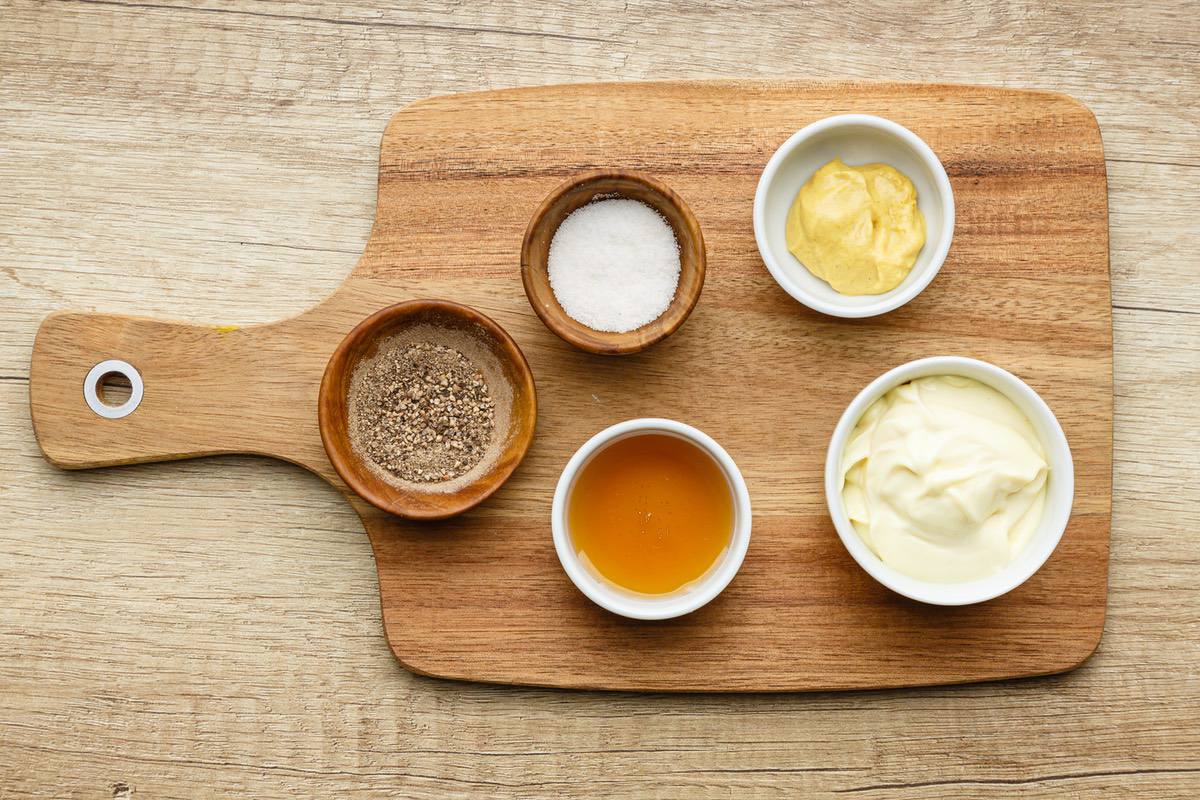 Can You Freeze These Salmon Bites?
One of my favorite things to do is prepare a bunch of bacon-wrapped salmon bites all at once with the intention to freeze them. It's actually incredibly beneficial to freeze your salmon after cooking it instead of before for two main reasons.
The first reason is that cooked salmon will last longer in the freezer. Raw salmon typically lasts about three months when frozen, while cooked salmon can last for up to six months.
Additionally, you may notice more of a 'fishy' smell in your freezer when you keep raw salmon in there. Storing cooked salmon in the freezer produces much less of that smell.
In order to actually freeze your salmon bites, simply place them in some sort of air tight container or freezer bag first and then you're all set to store them in your freezer.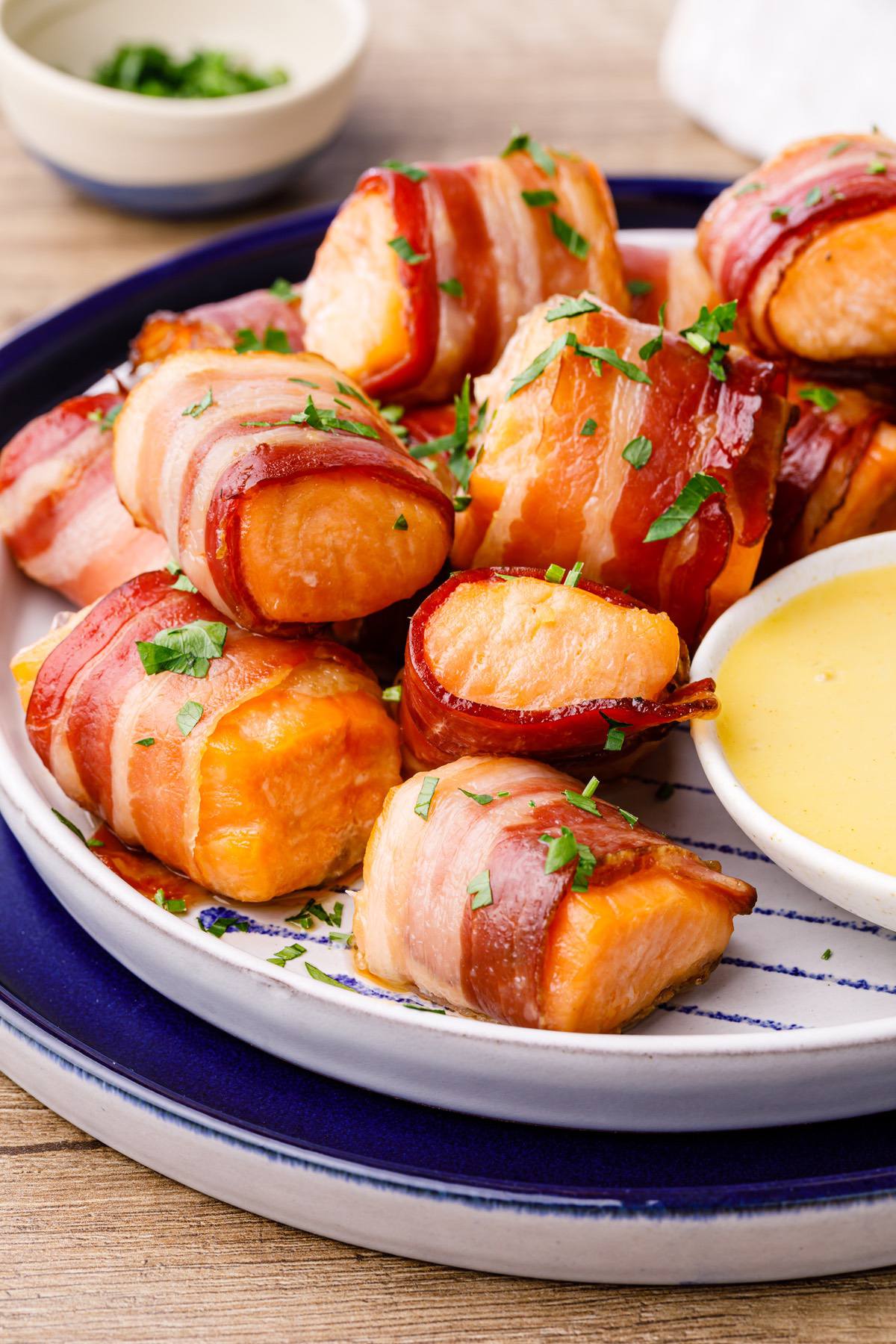 How Long Should You Cook Salmon?
If you're making this particular salmon bite recipe, it's recommended that you follow the usual guidelines for cooking salmon and bake them for between 12-15 minutes. Aim for an internal temperature of 145°F, measured from the thickest part of the fillet.
As a side note, don't be alarmed if your salmon bites appear to still be slightly pink in the center. That's perfectly normal, and so long as your salmon has been cooked to 145°F, it will be safe to eat.
(You may also like: Mouthwatering Keto Fish Tacos with Spicy Green Sauce)
Print Recipe
Bacon-Wrapped Salmon Bites with Creamy Honey Mustard Dipping Sauce
Author: Bree - KetoPots.com
Prep Time:

15 minutes

Cook Time:

15 minutes

Total Time:

30 minutes

Yield:

6

1

x
Scale
For the salmon bites: 
12 oz

skinless salmon fillet, cut into

1

inch pieces 

10

very thin slices of bacon, cut in half

2 tbsp

chopped fresh parsley, for decoration (optional) 

salt, black pepper to taste 
For the creamy honey mustard sauce: 
1 tbsp

honey

1 tbsp

Dijon mustard 

¼ cup

mayonnaise

1 tsp

white wine vinegar

¼ tsp

cayenne pepper 

salt, black pepper to taste
To make the sauce, in a bowl combine all the ingredients. 

Season to taste with salt and black pepper. 

Refrigerate until ready to use. 

Preheat oven to 350ºF.  

Season the salmon cubes with salt and black pepper to taste.  

Wrap each salmon cube with a piece of bacon.

Place on a baking sheet lined with parchment paper. 

Bake in preheated oven for 12-15 minutes. 

Remove from the oven. 

Serve warm with the honey mustard sauce.
Other Keto Seafood Recipes You Should Try
I've made dozens upon dozens of fantastic keto seafood recipes but these are some of my top favorites, especially when I'm making lunch or dinner for the family.
FREE KETO RECIPES + 5-INGREDIENT KETO COOKBOOK

Make sure to sign up for free to get instant access to the 5-Ingredient Keto Cookbook, which includes my favorite 20+ keto recipes of all-time, all under 5 ingredients.