Keto Recipes
Bacon Wrapped Keto Meatloaf with a Sweet and Sour Glaze
It comes as no surprise that the keto diet is becoming more popular and why shouldn't it when it works great and helps people live a healthier lifestyle? With literally tens or hundreds of thousands of keto recipe online, there's something for everyone. The trick is to find foods you enjoy eating so that you can sustain the diet for longer periods. Take me for example. I love bacon, so I find ways to incorporate bacon into my meals at least once a week. Today however, I must say I've truly outdone myself. I took one of my staple meatloaf recipes and I wrapped some bacon around it before roasting. The result? Mouthwatering bacon goodness.
Who Doesn't Love Bacon?
If there's one food that is worthy of being the face of keto, it's bacon. I don't have to tell you how awesome bacon is because you probably already know. It's perfect for breakfast, lunch, dinner, and even goes well with some desserts. This salty, savory ingredient is extremely versatile to cook with and will compliment and even enhance the flavors of your other ingredients.
My bacon-wrapped keto meatloaf with its sweet and sour glaze will send your tastebuds to the moon. What's more, you'll be surprised how easy it is to make with just a few simple ingredients.
No Mess, No Fuss
At first glance, this recipe may seem complicated and technical to make but it's actually very simple. All you need is a skillet, 2 bowls, a baking sheet, and an oven. First, drizzle 2 teaspoons of heart healthy olive oil in the skillet over medium heat. Sauté the chopped onions until they become translucent and then add the finely minced garlic. Sauté these two ingredients to release their sweet, savory flavors and set aside.
Grab a bowl and combine all the ingredients for your meatloaf. Add the sautéed onions and garlic, ground pork, flaxseed meal, parmesan cheese, a large egg, thyme, parsley, Dijon mustard, salt and black pepper. Be sure to use all-natural lean ground pork free from antibiotics and hormones. When consumed, the added antibiotics in animal feed are shown to have negative effects on human health so avoid them whenever you can. (1)
The fresh thyme and parsley add an herby freshness to your dish while the Dijon mustard adds a very sharp mustard flavor with a subtle heat which works well with the meatloaf. Additionally, the flaxseed meal keeps your dish keto-friendly and rich in fiber. Once everything is incorporated well, all that's left to do is to shape your meat into the shape of a loaf and wrap the bacon slices over the top. Make sure to tuck them underneath firmly and tightly so that it cooks evenly.
You know what's wild about this dish? When the bacon cooks, it'll roast the fat down into the loaf, so the bacon flavor will seep into your meat. Sinful, isn't it?
Now for the glaze, simply combine all the wet ingredients while the meatloaf roasts in the oven because you'll be using it to baste your meatloaf. Put it back in the oven for another 25 minutes and finally, your meatloaf is done. By the time you take it out, it will have a sheen of bacon fat and glaze on top that will trigger hunger pangs like no other. You've been warned!
P.S. If you loved this recipe, you'll love these two as well:
Bacon Cheeseburger Casserole (Keto-Friendly and Low Carb Recipe)
Crunchy Sweet Glazed Keto Bacon Chips
More Keto Meatloaf Recipes:
Classic Crockpot Keto Meatloaf for an Easy Family Meal
Print Recipe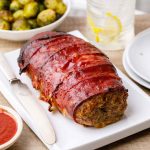 Bacon Wrapped Keto Meatloaf with a Sweet and Sour Glaze
Author: Bree - KetoPots.com
Prep Time:

15 minutes

Cook Time:

50 minutes

Total Time:

1 hour, 5 minutes

Yield:

6

1

x
FREE KETO RECIPES + 5-INGREDIENT KETO COOKBOOK

Make sure to sign up for free to get instant access to the 5-Ingredient Keto Cookbook, which includes my favorite 20+ keto recipes of all-time, all under 5 ingredients.
Scale
For the meatloaf:
2 tsp olive oil
½ medium onion, chopped
2 garlic cloves, minced
1 ½ pound ground pork
¼ cup flaxseed meal
¼ cup shredded Parmesan
1 large egg
½ tsp dried thyme
¼ cup minced fresh parsley
½ tsp Dijon mustard
6 oz thin sliced bacon
salt, black pepper to taste
For the glaze:
4 tbsp tomato paste
4 tbsp water
1 ½ tbsp granulated Stevia
5 tsp apple cider vinegar
salt to taste
Preheat oven to 400°F.
Line a baking pan with parchment paper. Set aside.
In a skillet heat the olive oil over medium heat.
Add the onion and cook until translucent.
Add the garlic and cook for 30 seconds. Remove from the heat.
In a large bowl place the cooked onions, ground pork, flaxseed meal, Parmesan, egg, thyme, parsley, mustard and salt and black pepper to taste.
With clean hands, mix the ingredients until well combined.
Place the meat mixture on the prepared baking sheet, and form into a loaf.
Lay the bacon slices over the top, tucking them underneath the meatloaf.
Roast the meatloaf for 20 minutes.
To make the glaze, in a small bowl mix together all the ingredients.
Remove the meatloaf from the oven.
Brush with the glaze then return to the oven for 25 minutes.
Remove from the oven, slice and serve warm.