Keto Recipes
Crunchy Sweet Glazed Keto Bacon Chips
I'm 100% positive that the keto snack recipe I'm about to share with you guys is going to become the number one go-to snack for many of you. The reason why? The recipe. makes the most perfectly crunchy sweet glazed keto bacon chips. You'll be baking some mouthwateringly thick bacon strips and then brushing them with a yummy sugar-free maple syrup glaze. That's really all that's required of this recipe — two simple ingredients and just a little bit of your time The end result is a delicious bacon snack that's incredibly easy to make and oh so addicting.
It's All About the Bacon
All jokes aside about how wonderful and delicious bacon is (and it really is!), it's also pretty much a quintessential keto food item. It provides a ton of saturated animal fat along with a moderate amount of protein, it possesses an intense flavor, and it's super easy to cook. In fact, two of my favorite keto breakfasts are incredibly basic meals — either steak and eggs or bacon and eggs. Both options are incredibly tasty and super satisfying ways to kick your day off right. And then of course you have some slightly more elaborate options like bacon cheeseburger casseroles…yum.
The main thing to keep in mind with this particular recipe though is to make sure that you're using a maple syrup that has either zero carbs or a very minimal carb content. By sticking with sugar-free brands, you'll have no issues most of the time. Just remember to always double check the label.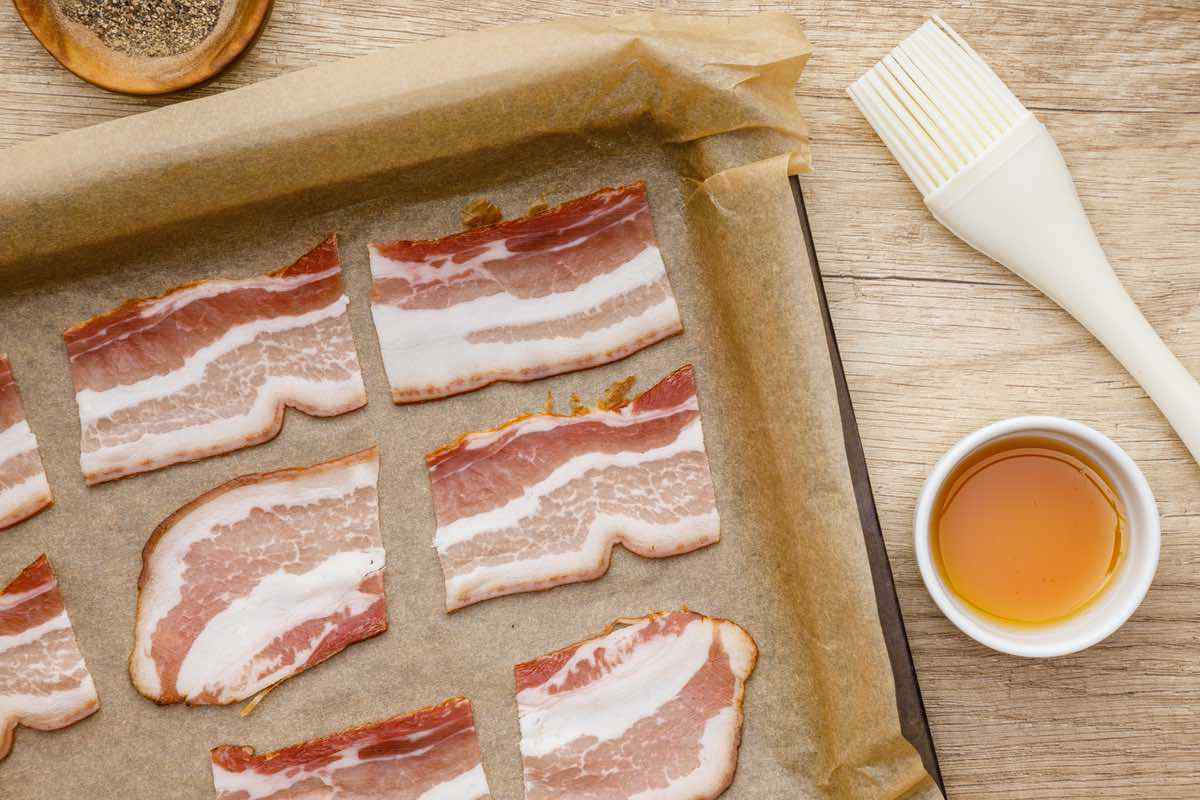 The maple syrup adds more to this bacon chip recipe than just a sticky and sweet flavor as well. It's a low GI sweetening option that packs a surprising amount of antioxidants and other anti-inflammatory properties, and studies have even found that maple syrup has an inhibitory effect on the growth of certain types of cancer cells. (1) That being said, it's still one of those things that I truly believe is best enjoyed in moderation. That's pretty tough to pull off though especially when you can use it for making recipes like these bacon chips!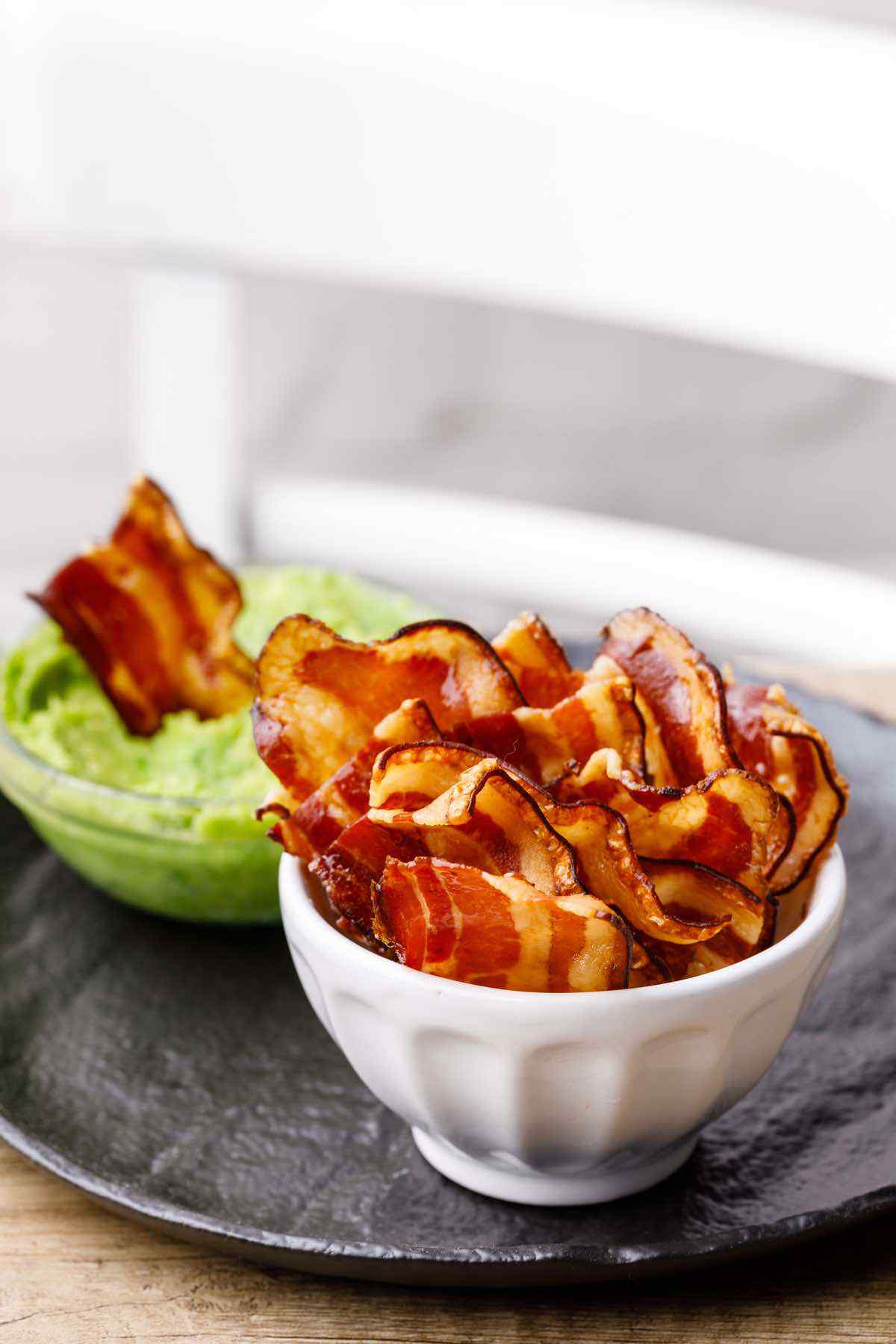 When it comes to actually making the chips, it's incredibly straightforward. Simply bake your 1 ½ inch bacon pieces on a sheet for about 15 minutes in the oven. After taking them out of the oven, brush them with your maple syrup and then pop them back in for another 3-5 minutes. You can definitely enjoy the bacon chips all on their own but they're also fantastic when served with a dip or salsa. I'd actually recommend pairing them with the homemade salsa described in this keto tortilla chip recipe.
More Keto Chip Recipes:
Garlic and Chili Baked Kale Chips (Homemade Keto Snack)
Baked Keto Parmesan Chips (Umami Bombs)
Homemade Zesty Keto Zucchini Chips (Crowd Pleaser)
Authentic Keto Tortilla Chips and Fresh Salsa
Double Cheese Keto Chips (Crunchy and Dippable)
Print Recipe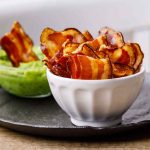 Crunchy Sweet Glazed Keto Bacon Chips
Author: Bree - KetoPots.com
Prep Time:

5 minutes

Cook Time:

20 minutes

Total Time:

25 minutes

Yield:

8

1

x
Scale
8 thick bacon slices, cut into 1 ½ inch pieces
2 tbsp sugar free maple syrup
Preheat oven to 400°F.
Line a baking sheet with parchment paper.
Arrange the bacon pieces in a single layer on the prepared baking sheet.
Bake in preheated oven for 15 to 18 minutes or until the bacon is beginning to brown.
Remove from the oven.
Brush the bacon with sugar free maple syrup.
Bake for additional 3-5 minutes or until the bacon is browned and sticky.
Remove from the oven and cool completely.
Serve with your favorite dip or salsa.
FREE KETO RECIPES + 5-INGREDIENT KETO COOKBOOK

Make sure to sign up for free to get instant access to the 5-Ingredient Keto Cookbook, which includes my favorite 20+ keto recipes of all-time, all under 5 ingredients.