Keto Recipes
Mozzarella Shell Avocado Keto Taco with Spicy Green Garlic Sauce
I used to think that my low-carb tortillas made with almond flour were amazing, but little did I know, I would come across another equally amazing alternative that are just as good if not better: mozzarella shell keto quesadillas! Here's how I make them.

How to Make Mozzarella Shell Avocado Quesadillas
Prepare your baking materials. Preheat your oven and line a baking sheet with a silicone mat or parchment paper.
Portion. Portion out ⅓ cup of cheese on the baking sheet. Tip: Space your cheese piles 2 inches apart because it will spread, and you don't want your cheese piles to stick to each other.
Bake. Bake in the oven at 400 degrees Fahrenheit or until the cheese starts to brown.
Mold the cheese into shape. Let the cheese cool for a couple of minutes then let it lay on the handle of your tongs balanced between two cups. This will give it that 'taco' shape!
Make the sauce. Use a blender to blend the ingredients together until smooth.
Prepare the toppings. Cut the avocados and scoop it out with a spoon. Season with your lime juice, salt, and whatever else you want to add!
Compose the taco shells. Add in your mashed avocado and drizzle with the spicy green sauce.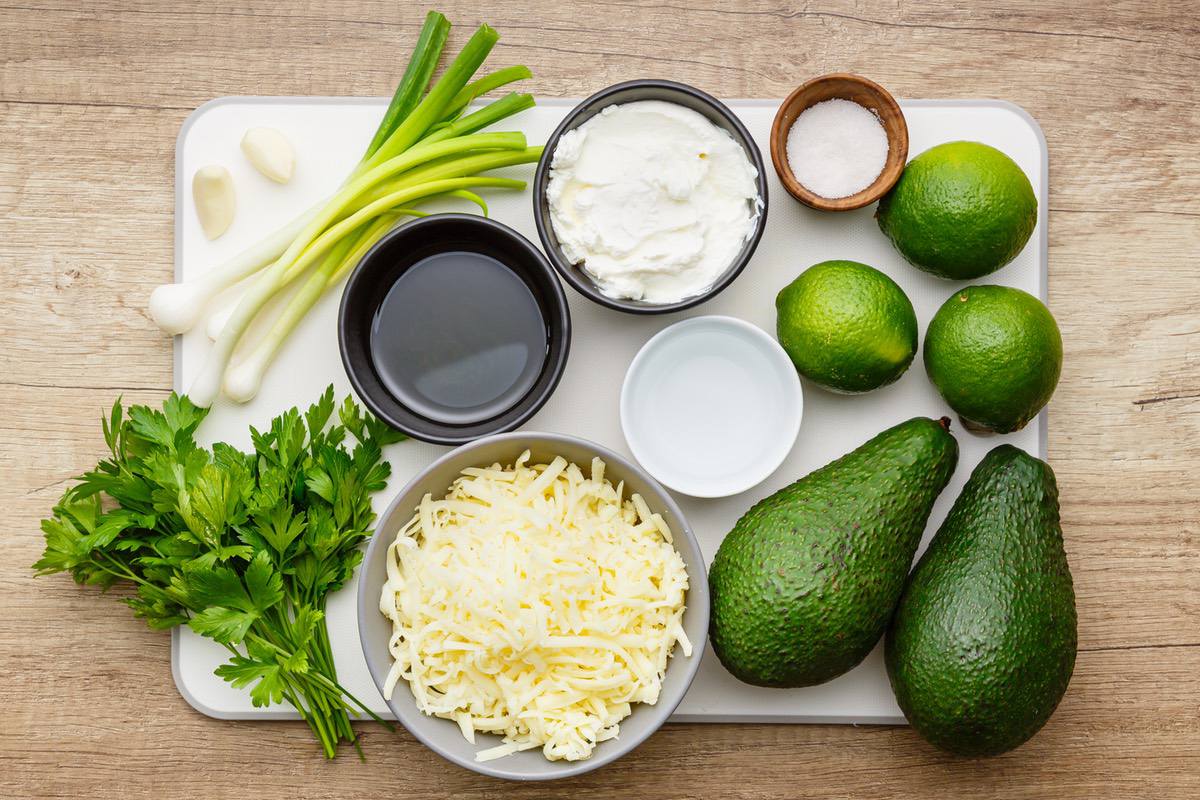 Tips for Crunchy Keto Quesadillas Every Time
As a self-proclaimed expert on all things tortillas, quesadillas and tacos, here are some of my must-try tips for the perfect quesadillas:
Use a melty cheese. This recipe calls for mozzarella because it melts easily and is relatively mild in flavor so as not to compete with the filling of this recipe. Firm cheese would not work with this.
Let the cheese cool before molding. If you skip the cooling part, the cheese will be too melted to handle and will not be molded properly.
Make a bigger cheese pile spread. As cool as it looks to watch your cheese melt down flat, sometimes the starting pile is just too tall for it to melt into a flat, even spread. Making a slightly larger but shorter cheese pile will do the trick.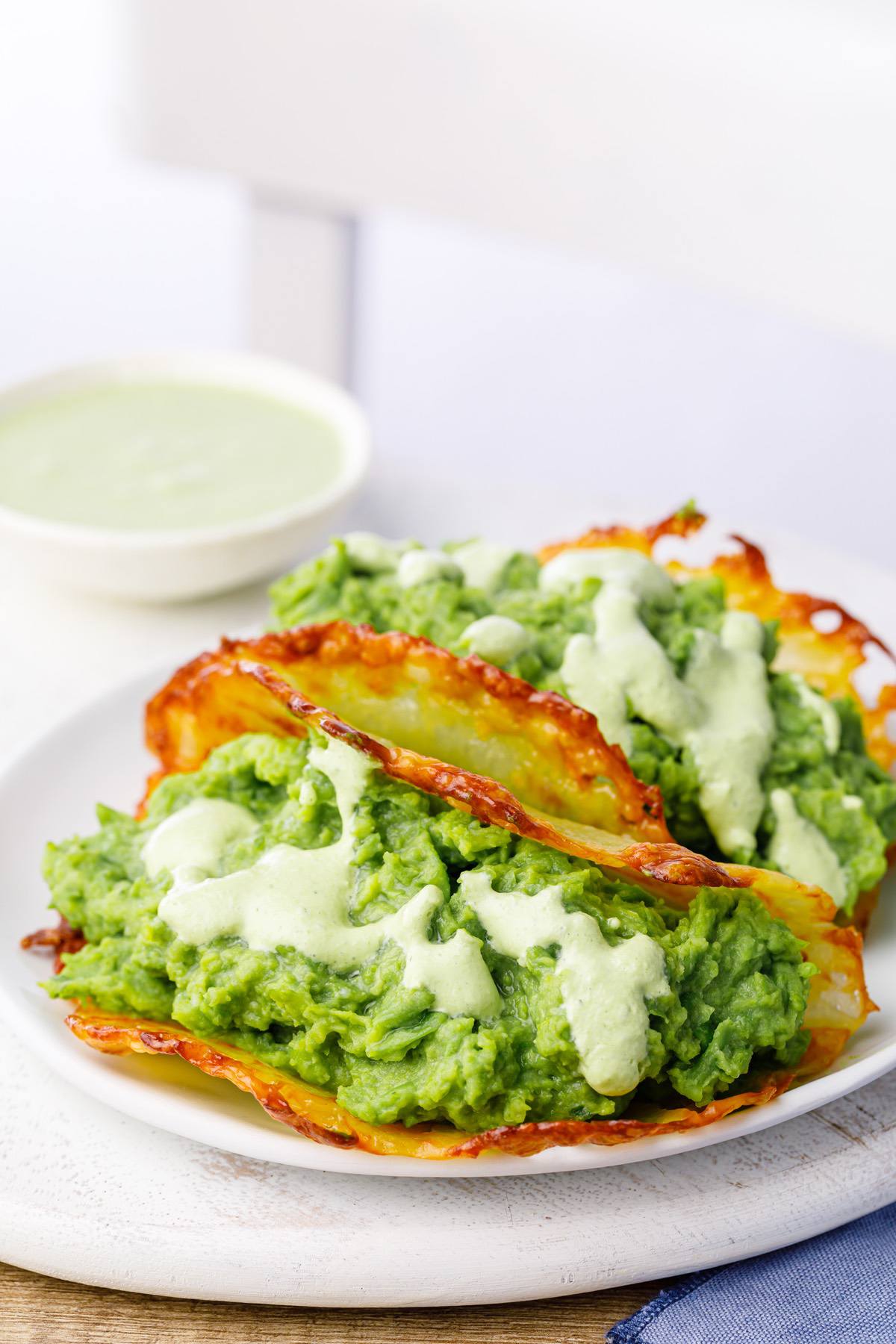 Are These Quesadillas Keto-friendly?
Absolutely! The shell itself is made of just mozzarella cheese, so it's packed with protein and fat with no carbs–talk about a win!
You could also season the cheese with some herbs to give it a bit of a twist. I like adding chives to mine for some color as well!
How to Make Spicy Green Garlic Sauce
Anyone who has ever tried my spicy green garlic sauce has raved about it to no end, I'm not kidding! It truly is a secret sauce but it also happens to be the easiest part of this recipe:
Take out your blender or food processor. The key to the sauce is to have it be very smooth and chunk-free, so a blender or food processor would help.
Blend! Just mix everything together and blend!
Season to taste. Once everything is blended together, add some more salt and pepper until it's perfect.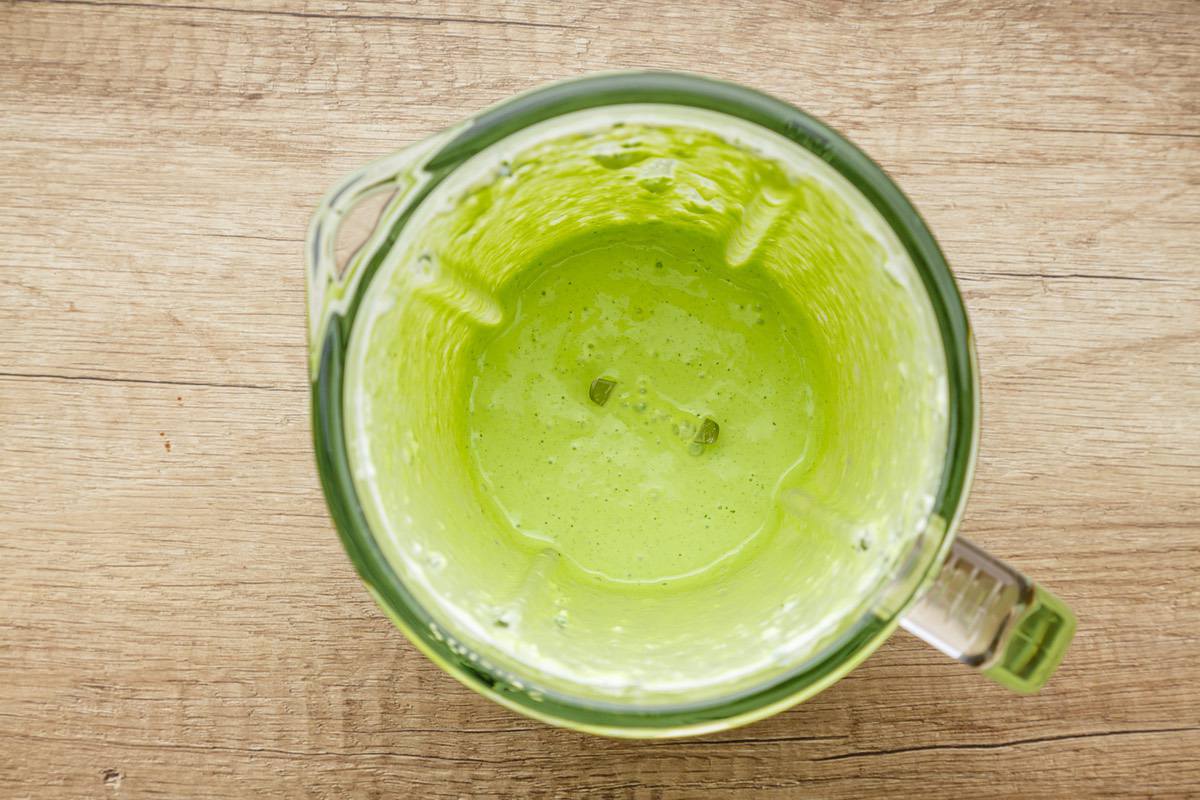 Keto Side Dishes that Pair Well with These Avocado Quesadillas
Keto Tortilla Chips and Salsa – These tortillas chips are a perfect example of rich flavor and crunchy texture, but without the carbs!
Double Cheese Keto Chips – If one kind of cheese isn't enough, how about two? As in double cheese in chip form with just the right amount of saltiness and crunch to go with any dip.
Keto Taco Soup – Think of a soup that warms you up from the inside out, something that you'll always come back to if you want something hearty and satisfying–that's exactly what this taco soup is thanks to its unique blend of spices and herbs.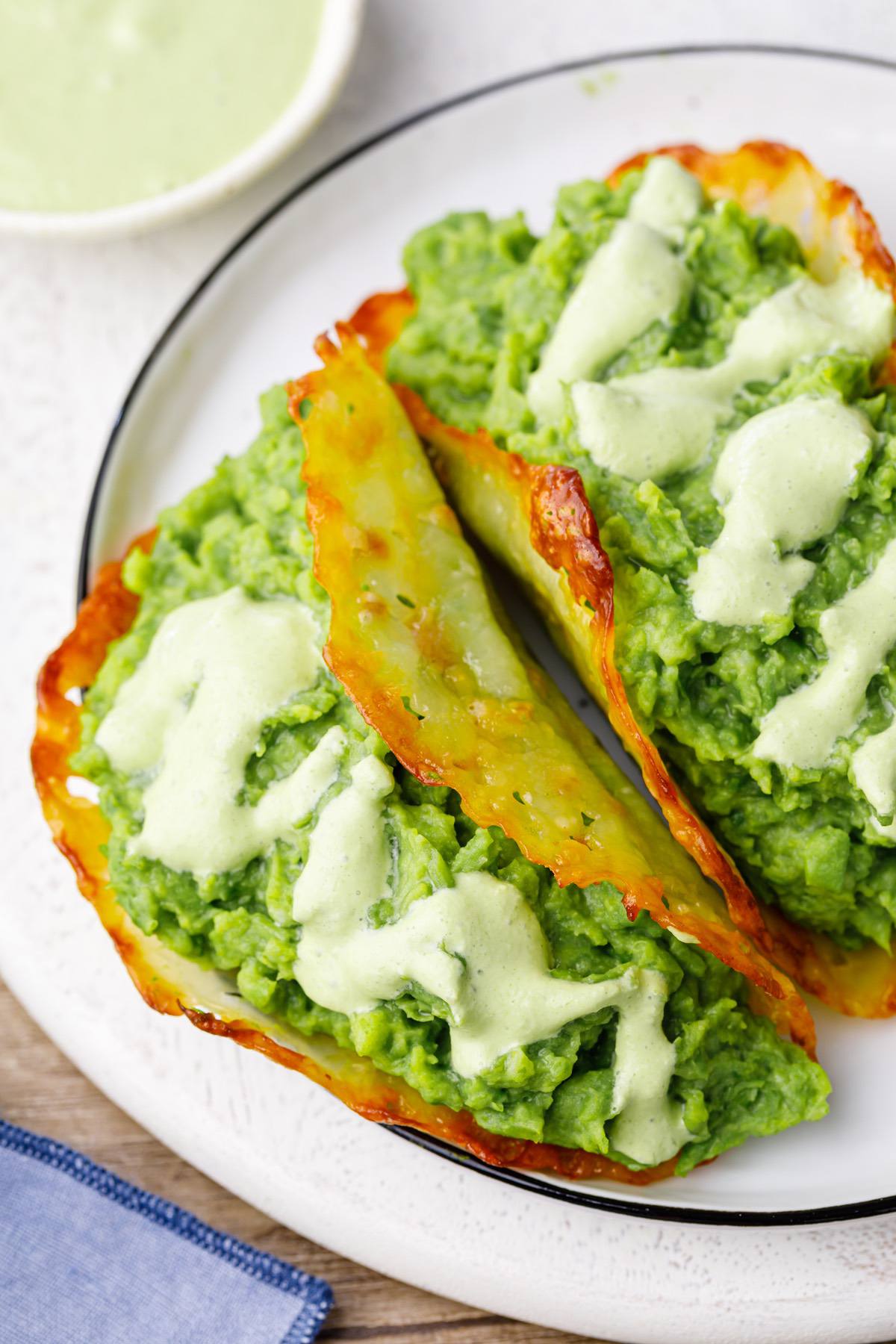 (You may also like: Cheese Shell Keto Shrimp Tacos with Cilantro Lime Sauce)
Print Recipe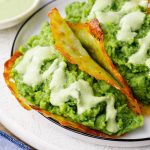 Mozzarella Shell Avocado Keto Taco with Spicy Green Garlic Sauce
Author: Bree - KetoPots.com
Prep Time:

10 minutes

Cook Time:

5 minutes

Total Time:

15 minutes

Yield:

4

1

x
FREE KETO RECIPES + 5-INGREDIENT KETO COOKBOOK

Make sure to sign up for free to get instant access to the 5-Ingredient Keto Cookbook, which includes my favorite 20+ keto recipes of all-time, all under 5 ingredients.
Scale
1 1/3 cup

shredded mozzarella

2

large avocados

½

lime, juiced 

salt and black pepper to taste 
For the sauce: 
¼ cup

oil

2 tbsp

water

½ cup

chopped green onions

½ cup

chopped fresh parsley or cilantro 

2

cloves garlic
juice of

½

lime

½ cup

sour cream 

salt to taste
To make the shells, preheat oven to 400°F.

Line a baking sheet with silicone mat or parchment paper. 

Place 1/3 cup piles of cheese 2 inches apart on the prepared baking sheet.

Bake in preheated oven for 5-10 minutes or until the cheese melts and turns lightly brown.  

Let the cheese cool for 2-3 minutes then using the spatula lift it up and place it over the handle of a tong or other utensils that is balanced on two cups. 

To make the sauce, add all the ingredients to a blender and blend until smooth. 

Refrigerate unit ready to use. 

Cut the avocados in half and remove the seeds. 

Scoop out the avocado flesh with a spoon.

In a large bowl place the avocado flesh and lime juice. 

Roughly mash with a fork. 

Season to taste with salt. 

Fill the taco shells with mashed avocado. 

Drizzle with sauce and serve.