Keto Recipes
Creamy Avocado Keto Chicken Salad (Ridiculously Good)
One of the most common complaints that people have about salads is that they're not satiating enough. Sure, they're a great, healthy lunch option for when you're focused on losing some weight, but as far as satisfying meals go? There are definitely better options out there. Don't count salads out just yet, though. This creamy avocado keto chicken salad recipe proves that it's definitely possible to make a delicious and satisfying salad that you can enjoy as a meal at any time of day. It's absolutely loaded with healthy fats and protein, plus a great mix of healthy veggies that will have you feeling energized and ready to take on the day ahead.

An Incredibly Satiating Lunchtime Salad
When making this salad, the first thing you'll want to do is prepare the creamy avocado and mayo salad dressing. It's super easy to make; simply add your mayo, half an avocado, some lemon juice, and a bit of salt and pepper into a food processor and process everything together until it's nice and smooth. Adding in the avocado with the mayo helps to increase all of the satiating fat calories in your salad dressing, helping to make sure this salad will leave you feeling nice and full. Not only that, but the fats in avocados are of the heart healthy monounsaturated fatty acid variety, and they're also a fantastic source of dietary fiber. Both of these factors combine to make avocados an excellent food to add to your diet for helping to protect against cardiovascular disease. (1)
Dietary Fiber, An Essential Part of A Healthy Diet
A common misconception about the keto diet is that it is nutrient-devoid and low in fiber, but when it is done properly, it is anything but. Since leafy, green vegetables are high in complex carbs and fiber, they don't have the same effect on the body's blood sugar levels and insulin. Therefore, it is less likely to cause the body to fall out of ketosis. Leafy greens are absent from this dish, but you could certainly add it in later if you wanted to.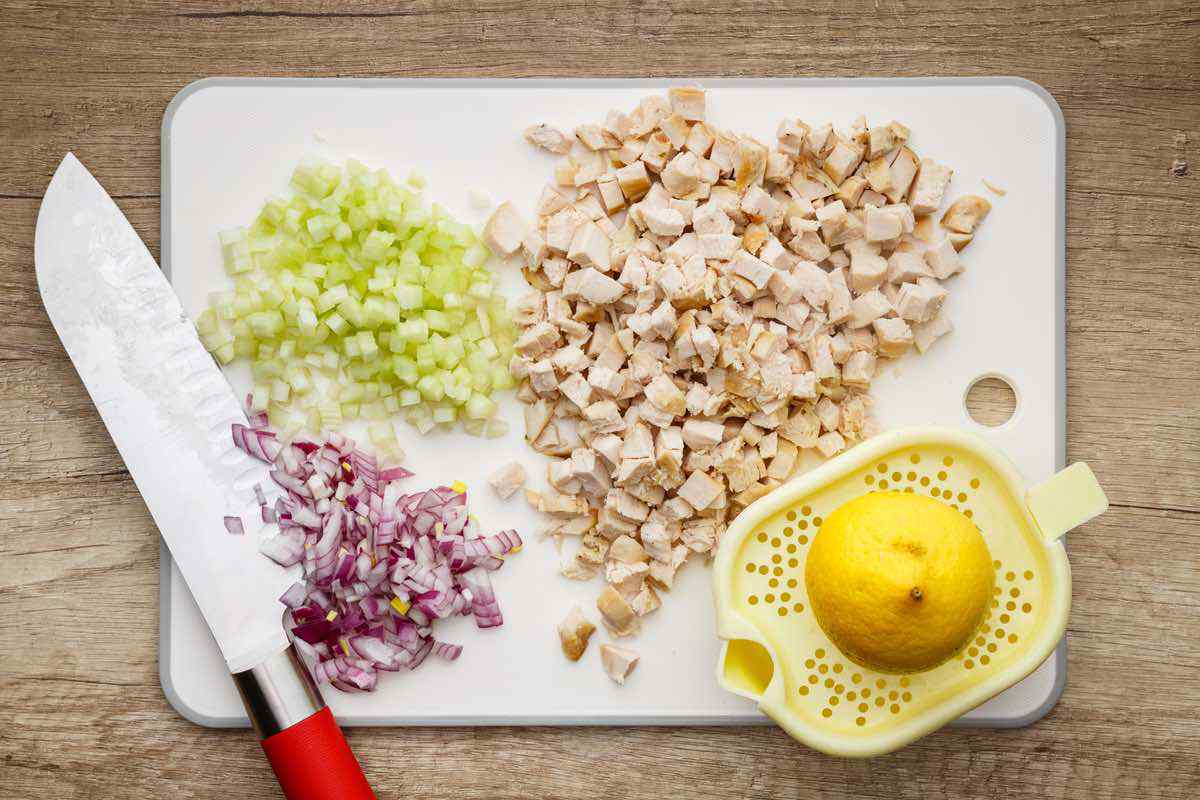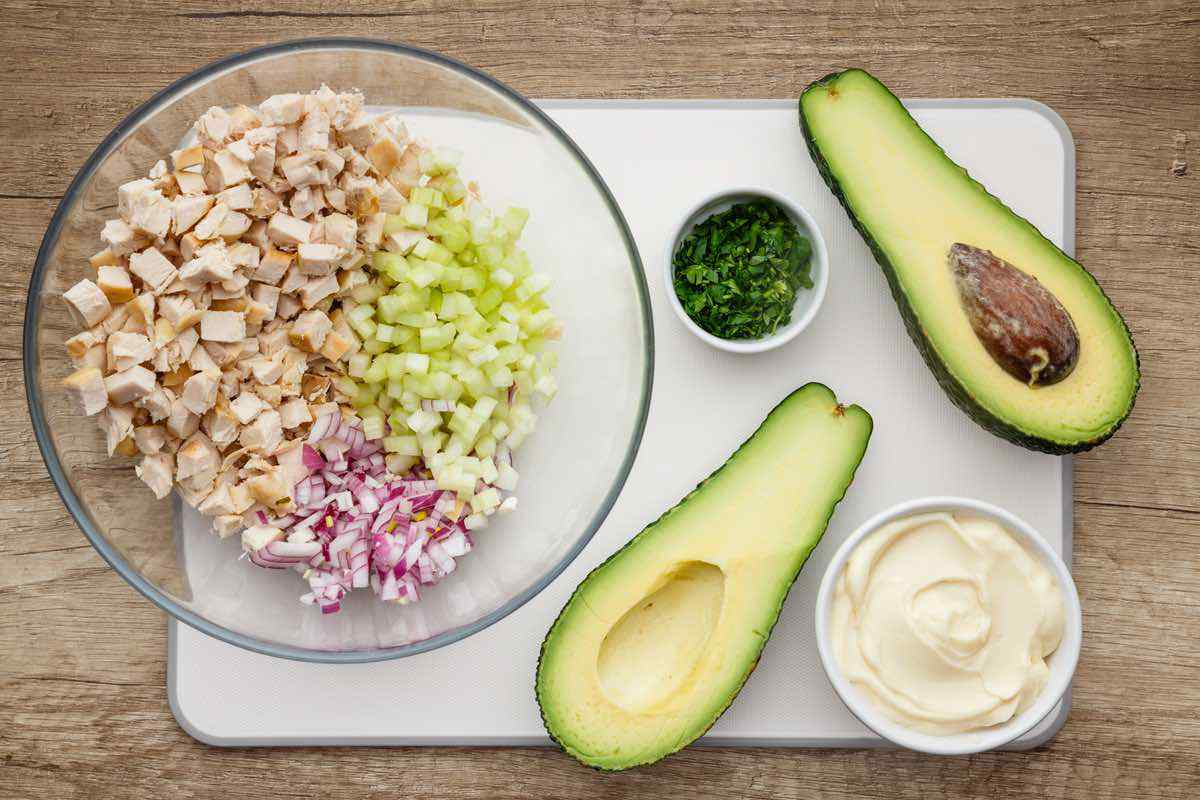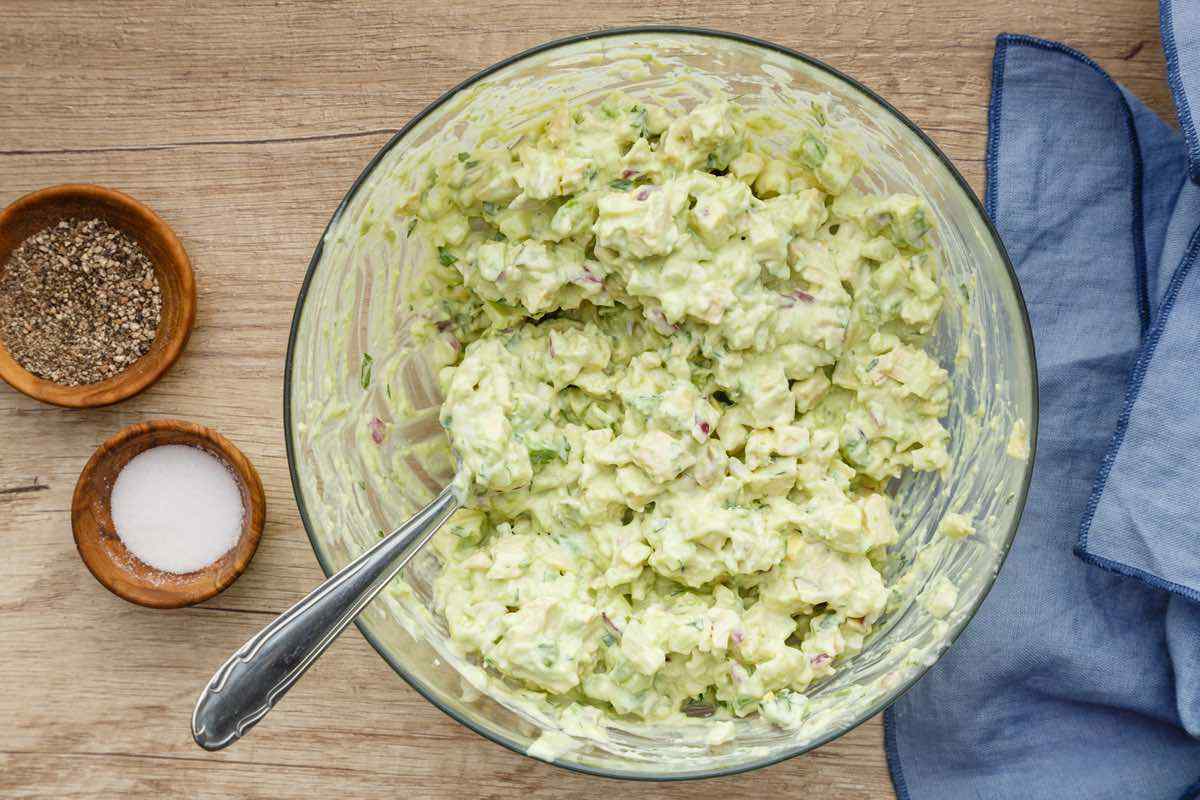 Add the Rest of Your Colorful Ingredients
Next, take the other half of your avocado and cut it into small cubes. You'll then be taking these avocado cubes and adding them into your bowl along with the diced chicken, celery, red onion, and cilantro. The veggies included in this salad have all been carefully selected because they're low in carbs and full of essential nutrients. I've become a big fan of adding cilantro to a lot of my meals as of late, and it works terrific in this salad by adding a pleasantly spicy hint to it. Cilantro is also packed full of antioxidant, anti-inflammatory, and anti-cancer properties, which is even more of a reason to add this tasty herb into your recipes. (2)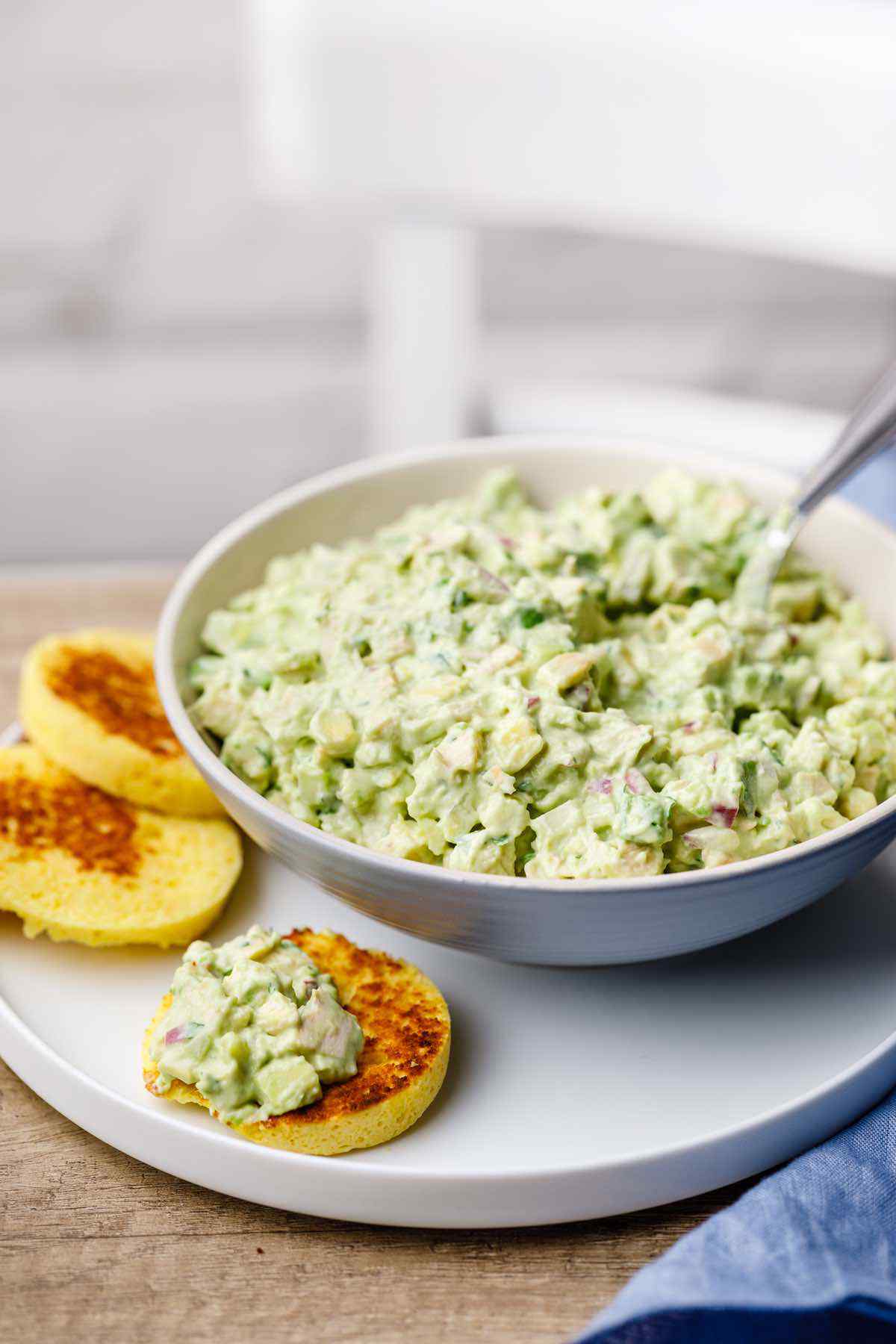 All that's left to do now is add your avocado and mayo mixture into your salad bowl and toss everything until it's all well combined. If you want to get a bit fancy when having this chicken salad, you can also serve it with a bit of toasted keto bread or tortillas as well. Either way, I'm positive that you'll be blown away by how good this recipe really is. I was never a big fan of having salads for lunch until I started adding more protein and fats into them, and now they're easily one of my favorite ways to prepare a quick and convenient lunch option.
More Keto Chicken Recipes:
Crispy, Crunchy Keto Fried Chicken (This is the Best)
Print Recipe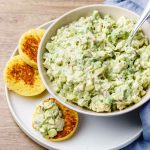 Creamy Avocado Keto Chicken Salad (Ridiculously Good)
Author:
Prep Time:

15 minutes

Total Time:

15 minutes

Yield:

4

1

x
FREE KETO RECIPES + 5-INGREDIENT KETO COOKBOOK

Make sure to sign up for free to get instant access to the 5-Ingredient Keto Cookbook, which includes my favorite 20+ keto recipes of all-time, all under 5 ingredients.
Scale
2 cups cooked chicken, finely diced
1/3 cup mayo
1 medium avocado, peeled, halved and pitted
1 stalk celery, finely diced
2 tbsp minced red onion
2 tbsp cilantro, finely chopped
1 tbsp fresh lemon juice
salt and pepper to taste
In food processor place the mayo, half of avocado, lemon juice, salt and black pepper to taste and process until smooth.
Cut the remaining avocado into small cubes.
In a bowl place the chicken, avocado, celery, red onion and cilantro.
Add the mayo mixture and mix to combine.
Serve with toasted keto bread or tortillas.