Keto Recipes
5-Ingredient Keto Alfredo Sauce (Easy!)
If you're looking for a creamy, comforting and incredibly easy keto alfredo sauce, give this 5-ingredient alfredo sauce recipe a try!

If you're not familiar with alfredo sauce, it's a white sauce that is served with pasta. Since the keto diet doesn't allow for wheat-based pasta, you have the option of serving this with keto-approved pasta alternatives like shirataki noodles, spaghetti squash or zucchini noodles.
What Makes Alfredo Sauce Such a Popular Choice for Low Carb Diets?
It's no secret that alfredo sauce is wildly popular. So with that in mind, let's look at three of the main reasons why it's become so popular with low carb dieters in particular:
Alfredo sauce is a delicious pasta sauce that's typically made with a variety of low carb ingredients like cream cheese, heavy cream, garlic, and Parmesan cheese.
It's an excellent source of both saturated fat and protein, the two main macros that low carb dieters are looking for.
Alfredo sauce is super easy to incorporate into a ton of keto pasta recipes.
Is Alfredo Sauce Keto?
Alfredo sauce can indeed be a 100% keto-friendly sauce.
Fortunately for keto pasta lovers, you can both find plenty of commercially available keto-friendly alfredo sauce brands on store shelves (see below for our top picks) or you can quickly and easily make your own version from scratch.
Since alfredo sauce is typically made with ingredients that are keto staples (heavy cream, cheese, garlic, etc.), it's incredibly easy to incorporate it into a variety of different low carb pasta dishes. And since it uses so many keto staples, you can rest assured knowing that alfredo sauce will provide you with plenty of both protein and dietary fat.
All in all, alfredo sauce is an easy recommendation to make for any and all keto dieters who love pasta.
Alfredo Sauce Nutrition Facts
Here is the approximate nutritional breakdown for a serving of alfredo sauce:
329 calories
30.5 grams dietary fat
12.4 grams protein
2.1 grams carbs
1.2 grams sugar
How to Make Low Carb Keto Alfredo Sauce
This homemade keto alfredo sauce has quickly become my new favorite. It's rich, it's creamy, and it's made with keto-friendly ingredients. What's not to love?
Melt the butter. Melt butter in a medium saucepan over medium heat.
Cook. Add the garlic and cook for 30 seconds.
Simmer. Add in the heavy cream and simmer for 5 minutes.
Finish cooking. Add in the Parmesan cheese and stir constantly until it's well incorporated. Keep cooking the sauce until it has thickened to your liking.
Seasoning. Add the chopped parsley and mix to combine before seasoning to taste with salt and black pepper.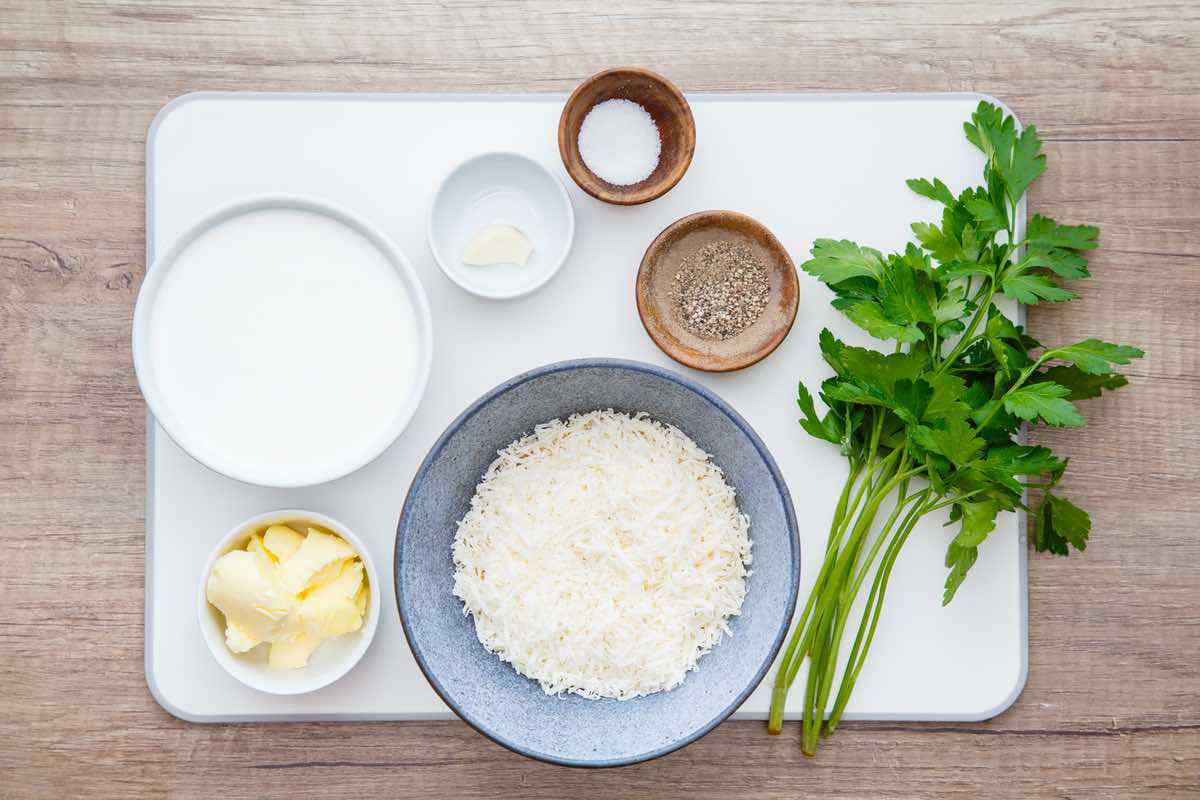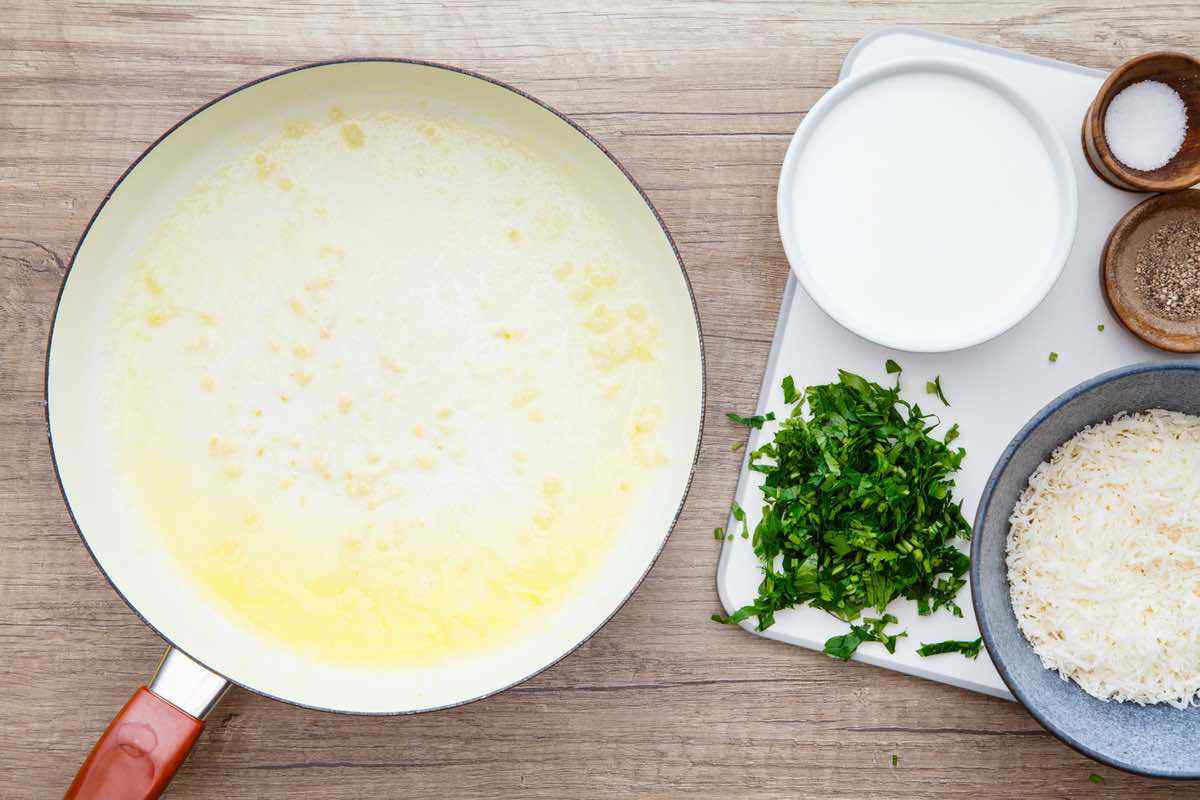 (NOTE: Make with this easy keto pasta recipe – just leave out the carbonara ingredients and use this keto alfredo sauce instead)
What Makes This Homemade Keto-friendly Alfredo Sauce So Healthy?
Besides the fact that it tastes fantastic, there are a few more reasons why you should consider making your own keto alfredo sauce with this recipe:
Relieves inflammation. Chronic inflammation in the body can lead to the development of numerous types of diseases. (1) Foods like garlic are high in anti-inflammatory compounds that help to relieve inflammation within the body.
Provides antioxidants. Garlic and parsley are both rich in disease-fighting antioxidants that help to protect against the damage caused by harmful free radicals.
High quality fats. This recipe uses both butter and heavy cream, both of which provide you with a solid amount of high quality saturated fats. Bonus points if you use grass-fed butter, which contains higher amounts of omega-3 fatty acids, vitamin E, and other antioxidants. (2)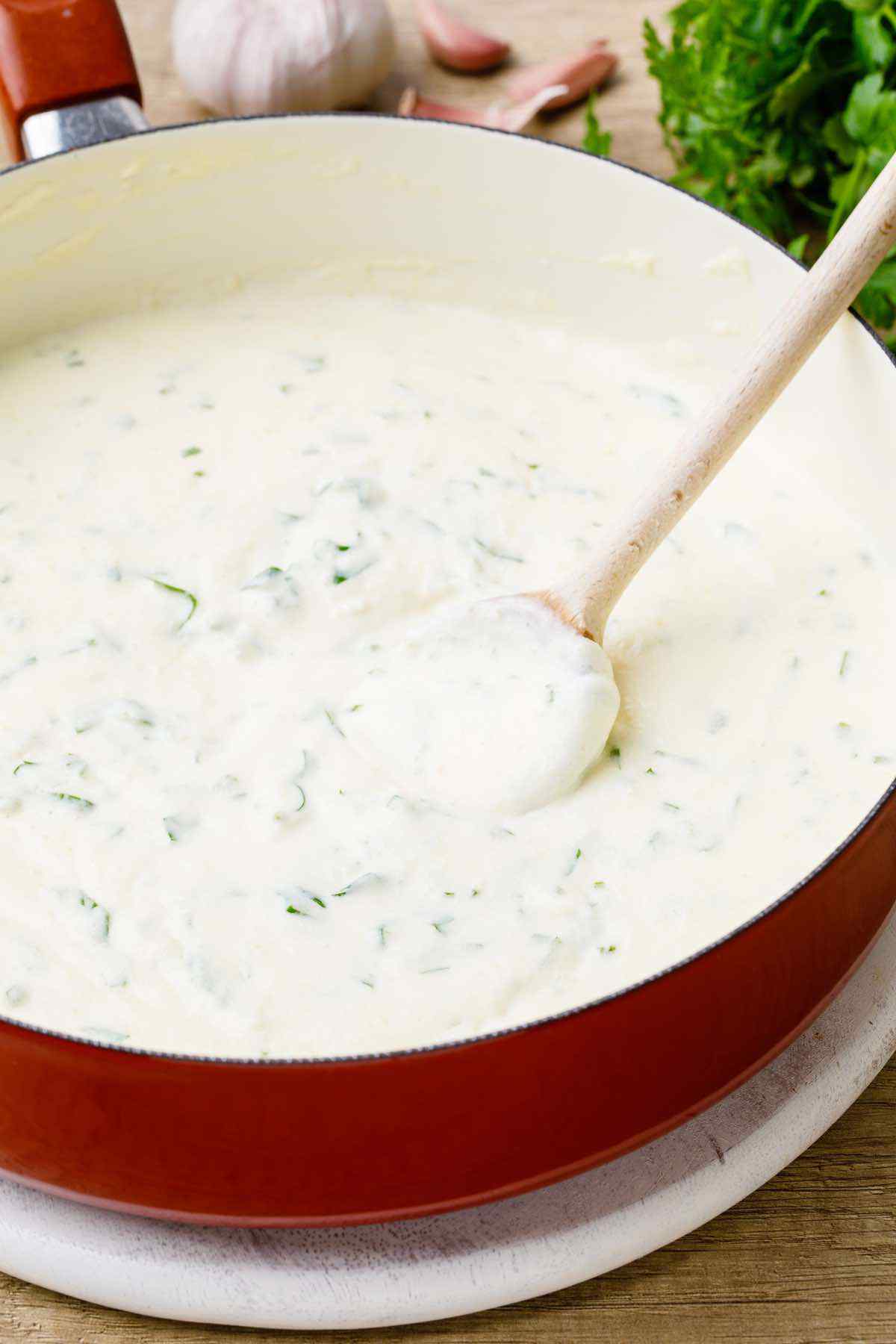 Low Carb Keto Pasta Options to Pair with Your Alfredo Sauce
There are plenty of low carb pasta alternatives to try with your pasta sauces. For this keto-feiendly alfredo sauce, I find that it goes well with:
Spaghetti squash
Shirataki noodles
More Good Keto Alfredo Recipes
How to Store Homemade Alfredo Sauce
Depending on how long you want to hold onto your leftover alfredo sauce, you can either freeze or refrigerate it. Whatever you decide on, the most important thing to do with either option is to allow the keto alfredo sauce to cool completely first.
Once it has cooled off, store the sauce in an airtight container or a mason jar to either refrigerate or freeze.
For best results, I would recommend keeping it in the fridge and trying to consume it before it goes bad (3-5 days due to the heavy cream content). If you decide to freeze it, be prepared to risk losing some texture and consistency when you thaw it out (once again, due to the heavy cream).
Why is My Alfredo Sauce Lumpy?
Make sure to constantly stir your sauce as it cooks. If you leave it, it's likely to curdle, which is what causes that lumpy texture. Alfredo sauce should be smooth like cream.
What Are the Best Keto-Friendly Alfredo Sauce Brands?
If you would rather pick up a bottle of keto-friendly alfredo sauce instead of making it from scratch, then you can't go wrong with any of these brands. They're all 100% keto approved and oh so tasty:
Keto Alfredo Sauce Alternatives
There are plenty of other keto approved pasta sauces that you can make use of when it comes to making delicious and nutritious keto pasta meals. Here are 3 more of our top picks (as an added bonus, they're all super easy to make from scratch as well):
Print Recipe
5-Ingredient Keto Alfredo Sauce
Author: Bree - KetoPots.com
Prep Time:

2 minutes

Cook Time:

7 minutes

Total Time:

9 minutes

Yield:

4

1

x
FREE KETO RECIPES + 5-INGREDIENT KETO COOKBOOK

Make sure to sign up for free to get instant access to the 5-Ingredient Keto Cookbook, which includes my favorite 20+ keto recipes of all-time, all under 5 ingredients.
Scale
¼ cup butter
1 cup heavy cream
1 clove garlic, minced
1 ½ cups freshly grated Parmesan cheese
¼ cup chopped fresh parsley
Melt the butter in a medium saucepan over medium heat. 

Add the garlic and cook for 30 seconds. 

Add the cream and simmer for 5 minutes. 

Add the Parmesan cheese and stir constantly until well incorporated. 

Cook the sauce until it's thickened to your liking. 

Add the chopped parsley and mix to combine. 

Season to taste with salt and black pepper.
I've tried a few other keto-approved alfredo recipes that are honestly quite good as well. I took inspiration from them and made my own, but feel free to try them out anyway: