Keto Recipes
Low Carb Jicama Wraps (Keto-friendly Jicama Tortillas)
Jicama works great as a low carb, keto-friendly option for making your own homemade tortillas or taco shells. With that in mind, you guys are going to love this recipe that will show you how to make your own low carb jicama wraps from scratch.

How to Make Low Carb Jicama Tortillas
All it takes is a little bit of prep work and a couple of extra ingredients to prepare your own keto jicama wraps:
Peel the jicama. Peel the jicama using a peeler. Make sure to get every bit as the peel of the jicama is quite thick and tough.
Prepare the jicama tortillas. Use a sharp knife to slice the jicama into thin tortillas.
Prepare the seasoning. Add the olive oil and (optional) taco seasoning to a small bowl and mix to combine.
Brush. Brush the jicama tortillas with the olive oil mixture.
Prepare the pan. Heat a large pan over medium heat.
Cook. Heat the tortillas for about one minute per side or until warm and slightly softened.
How to Prepare Jicama Taco Shells
If you would prefer to turn your jicama tortilla into a crispy jicama taco shell instead, simply follow these easy steps:
Follow the recipe instructions above as normally to make the jicama tortillas.
Add the tortillas to a cast iron skillet and heat them over medium high heat for between 15-30 seconds per side (until it crisps up).
Add your favorite taco fillings.
(Also try: Jicama French Fries)
3 Ways to Spice Things Up For Your Taco Nights
Looking for some ideas to spice up Taco Tuesday nights in your household? Here are 3 different ideas to give you some inspiration; all of them will work with low carb keto taco recipes as well:
Vary your meat choices. Variety is indeed the spice of life and that definitely rings true when it comes to tacos as well. We usually like to do chicken tacos one week, followed by beef tacos the next, shrimp the following week, etc. You can also skip the meat altogether and make some pretty tasty low carb vegetarian tacos as well.
Lettuce or coleslaw? Another great way to switch things up is to simply rotate between adding fresh lettuce into your tacos or whipping up your own homemade coleslaw mixtures.
Some like it hot. While some people enjoy mild tacos, others like to crank up the heat by adding as many spicy toppings as they can. If you just so happen to like it hot, then you can feel free to load your jicama tacos up with chili peppers, cayenne pepper, hot sauce, etc.
Can I Freeze These Jicama Tortillas?
I don't recommend storing jicamas in the freezer. This is because jicamas have a high water content, so once you freeze them and then reheat them, the texture of the jicama will turn mushy–not great for tortillas.
Instead, you could store the jicama tortillas in the refrigerator for 2-5 days. Make sure to drain any excess liquid before storing your jicama tortillas in an airtight container.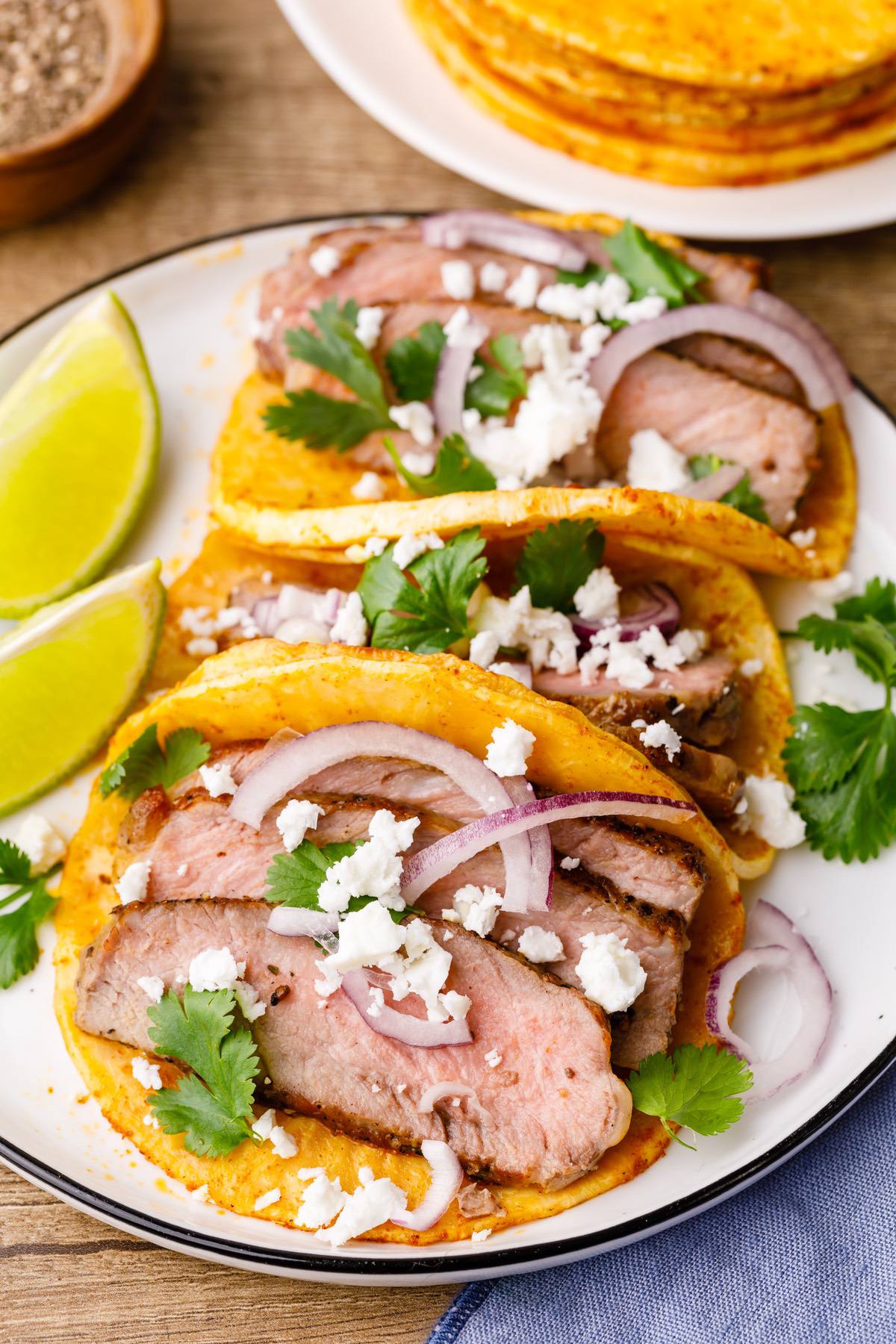 (You may also like: Low Carb Keto Tortillas)
Print Recipe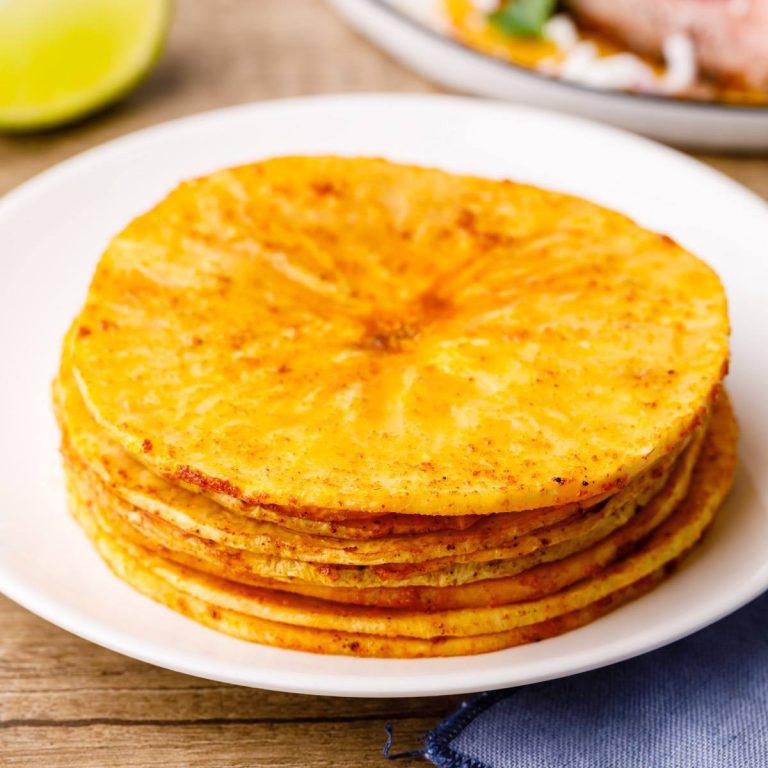 Low Carb Jicama Tortillas (Keto-friendly Jicama Tacos)
Author: Bree
Prep Time:

5 minutes

Cook Time:

2 minutes

Total Time:

7 minutes

Yield:

8

1

x
FREE KETO RECIPES + 5-INGREDIENT KETO COOKBOOK

Make sure to sign up for free to get instant access to the 5-Ingredient Keto Cookbook, which includes my favorite 20+ keto recipes of all-time, all under 5 ingredients.
Scale
1

medium jicama (about

1 ½

pound) 

½ tsp

homemade taco seasoning (optional) 

1 ½ tbsp

olive oil 

salt to taste
Peel the jicama using a peeler. 

Slice the jicama into thin tortillas.

In a small bowl combine the olive oil and taco seasoning. 

Brush the tortillas with olive oil mixture. 

Heat a large pan over medium heat. 

Heat the tortillas for about a minute per side, until warm and softened slightly.