Keto Foods
Is Zucchini Keto? – Net Carbs + Low Carb Zucchini Recipes
It's important to make sure that you're eating plenty of greens while you're on the keto diet. Leafy greens, cruciferous greens, and even green fruit like zucchini are all excellent sources of essential vitamins, minerals, antioxidants, and more. But some people may be wondering, "is zucchini keto?"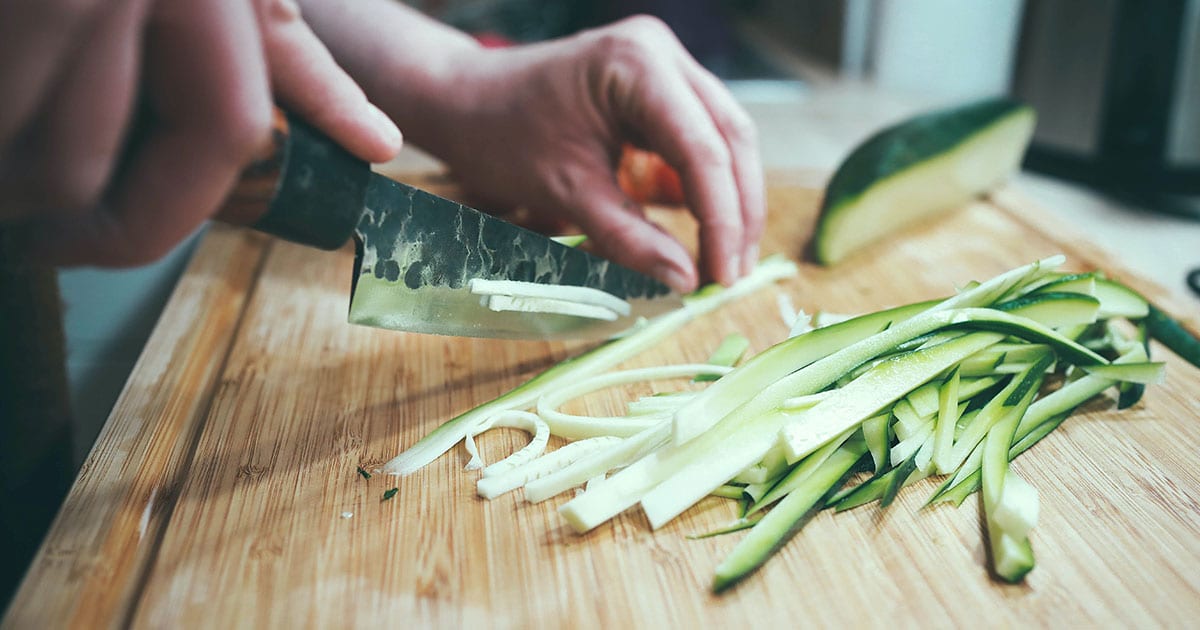 Today, we'll be taking an in-depth look at zucchini in order to definitively answer that question.
What Makes Zucchini a Popular Choice for Low Carb Diets?
You don't have to look too far to find a low carb recipe that uses zucchini in some delicious and creative way. Here are just a few of the reasons why zucchini is so popular amongst low carb dieters:
Zucchini is low in calories and is a low carb greens option that can easily be incorporated into your diet.
Incredibly nutrient-dense, zucchini offers an abundance of essential micronutrients for keto dieters.
Zucchini is also rich in antioxidants and beneficial anti-inflammatory compounds.
Commonly used as a low carb substitute for carb heavy foods (ie zucchini noodles), zucchini has proven to be a versatile cooking ingredient.
Plenty of cooking options; zucchini can be eaten raw, lightly cooked, oven roasted, or even grilled.
Is Zucchini Keto?
Zucchini is absolutely a 100% keto-friendly food that can (and should!) be included as part of anyone's diet plan.
While it may not be the best source of protein or dietary fat, it's so abundantly rich in essential micronutrients that it more than makes up for that slight shortcoming.
What makes zucchini so versatile in low carb cooking is its high water content. It provides a lot of food volume with minimal calories in general. As an added bonus, with the small amount of calories it does provide, some of those are even just dietary fiber–definitely an excellent nutrient profile all around.
Zucchini is also an incredibly popular option for replacing pasta in particular; spiralized or sliced zucchini noodles make for a fantastic substitute to regular pasta noodles.
You'll have plenty of other options when it comes to making keto-friendly meals with zucchini as well. Grilled zucchini with beef or chicken is a particularly tasty low carb option.
Zucchini Nutrition Facts
Assuming that you're using a 100 gram serving size, the approximate nutritional breakdown of zucchini is as follows:
17 calories
0.3 grams fat
1.2 grams protein
3.1 grams carbs
1 gram dietary fiber
2 grams sugar
0 mg cholesterol
8 mg sodium
261 mg potassium
Low Carb Keto Zucchini Recipes
---
---
---
---
---
---
---
Zucchini Health Benefits
As with most healthy greens, zucchini provides you with numerous excellent health benefits. Here are three of the main ones that can be gained by including zucchini in your diet:
Excellent source of antioxidants. Zucchini is incredibly rich in antioxidants, which have been proven to help protect against various types of diseases, such as cancer or heart disease. Zucchini has particularly high concentrations of 3 specific carotenoid antioxidants – beta carotene, lutein, and zeaxanthin. (1)
Provides relief from inflammation. It's also rich in anti-inflammatory phytonutrients, which help with relieving chronic inflammation in the body. This is essential because there's substantial research showing that unchecked inflammation is directly linked with the development of numerous types of disease. (2)
Improved digestion. Thanks to its dietary fiber content, zucchini also provides many gut related benefits as well. Fiber helps with everything from populating your gut with beneficial bacteria to improving your immune system and helping your body with digestive functioning. (3)
Keto Zucchini Alternatives
Looking for a substitute for zucchini that's still 100% keto-friendly and can be used in any keto recipe that calls for zucchini? Try one of the following options: