Keto Foods
Is Garlic Keto-friendly? – Net Carbs, Health Benefits and Recipes
Today we're going to be talking all about garlic. This low carb veggie is incredibly popular, and for good reason. Garlic is widely regarded as a superfood due to the fantastic health benefits that it can offer you.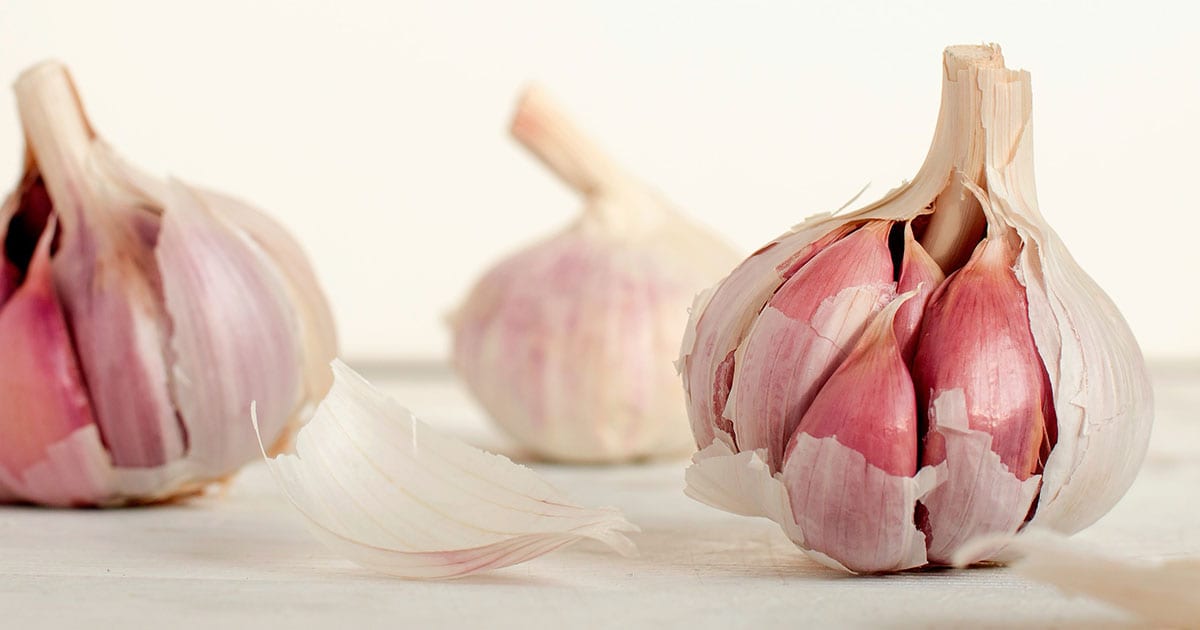 But is garlic keto?
Read on as we take a close look at garlic in order to definitively answer that question.
What Makes Garlic Such a Popular Choice for Low Carb Diets?
We'll start out by first taking a look at just a few of the reasons why garlic has become such an insanely popular food in the first place. In no particular order, here are three of the biggest reasons why garlic is so popular with low carb dieters:
Garlic is a low calorie and low carb vegetable that can be used to add an immense amount of flavor to culinary dishes.
It's also incredibly good for you, offering up a wealth of antioxidant and anti-inflammatory benefits.
Garlic is used in many ways in low carb recipes: minced garlic cloves, garlic powder, etc.
Is Garlic Keto?
Garlic is absolutely a 100% keto-friendly food.
Below we have shared the nutrition facts for a 100 gram serving size of garlic, which admittedly has a rather high carb count (33 grams of carbs).
However, it's important to keep in mind that garlic is typically used solely to add flavor to dishes as opposed to being used in bulk. With that in mind, you'll typically only be cooking with a handful of minced garlic cloves (or a teaspoon or 2 of garlic powder) at one time.
Aside from that, there's also no denying the fact that garlic is indeed a nutritional powerhouse. It's loaded with antioxidant and anti-inflammatory compounds that have proven disease fighting activity.
All things considered, it's quite easy to wholeheartedly recommend garlic to absolutely all keto dieters.
Keto-friendly Garlic Recipes
---
---
---
---
---
---
---
---
---
---
---
---
---
---
---
Garlic Nutrition Facts
Here is the approximate nutritional breakdown for a 100 gram serving size of raw garlic:
149 calories
0.5 grams dietary fat
6.4 grams protein
33 grams carbs
2.1 grams dietary fiber
1 gram sugar
0 mg cholesterol
17 mg sodium
401 mg potassium
Health Benefits of Garlic
Here are three impressive (and proven) health benefits that you can gain by including garlic as part of your keto diet plan:
Immune boosting properties. Garlic is widely known for its immune boosting benefits. Numerous studies have confirmed that both raw garlic and garlic supplementation have the ability to strengthen the immune system, which can help to prevent sickness. (1)
Anti-inflammatory activity. Garlic also contains anti-inflammatory compounds that can help to keep you safe from chronic inflammatory diseases like cancer and Alzheimer's. (2)
Rich source of antioxidants. Last but not least, garlic is also an excellent source of disease fighting antioxidants. These beneficial antioxidants work to protect against cellular damage caused by harmful free radical exposure, which in turn helps to keep you safe from disease. (3)
Keto Garlic Alternatives
If you find the admittedly potent taste of garlic to be slightly overwhelming, here are a few keto viable alternatives that you can use instead to add more flavor to your low carb dishes:
Onion
Ground cumin
Fresh chives
Ginger