Keto Foods
Is Coleslaw Keto or Too High in Carbs?
Coleslaw is the preferred side dish to go with a meal for many folks out there. After all, it's an excellent mixture of being quite tasty, nutrient-dense, and rather low in carbs. But is coleslaw keto? Or does it contain too many net carbs to be included as part of your keto diet? Let's take a closer look.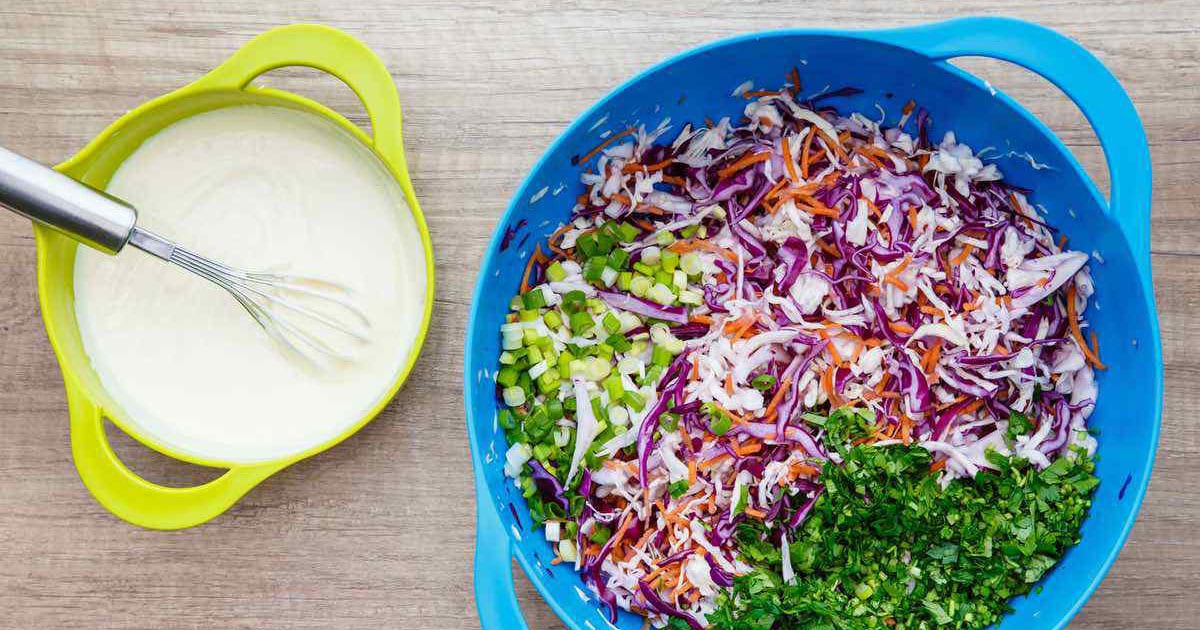 What Makes Coleslaw a Popular Choice for Low Carb Diets?
Coleslaw is quite popular among people on low carb diets for quite a few reasons, including:
Cabbage is a cruciferous vegetable, meaning it's low in both calories and carbs while still being incredibly nutrient-dense.
Cabbage is an excellent source of disease fighting antioxidants.
Cabbage is a great side dish that perfectly compliments a huge amount of keto meals.
Also a rather flexible side dish that can be easily enhanced in various ways, cabbage is complemented by many keto-friendly flavorings and sauces.
It's easy to make your own healthy homemade versions (they can also be made even more keto-friendly by adding in other keto ingredients like mayo).
Is Coleslaw Keto?
Coleslaw is indeed a solid keto-friendly side dish, provided of course that you're staying on top of your daily macro intake.
Even though cabbage is low in carbs, if you eat a huge portion of it multiple times daily, the small carb amounts do add up, and have the potential to knock you out of ketosis. However, in small amounts, there's no problem at all.
In general, we recommend steering clear of fast food options and even many store bought brands of coleslaw. Instead, we recommend simply making your own healthy coleslaw from scratch. This is because many store-bought coleslaws contain some sugars to help increase their shelf-life.
You can make a rather basic coleslaw with nothing but shredded cabbage; you can also make homemade coleslaw even more keto-friendly by adding in fat heavy ingredients like mayo or sour cream.
To recap, if you can spare the carbs with your macros, coleslaw makes for a fantastic keto-friendly side dish that you shouldn't feel guilty about enjoying.
Coleslaw Nutrition Facts
Instead of risking it with fast food or even store bought coleslaw, we strongly recommend just making your own healthy keto coleslaw from scratch. If you do, you can expect a 100 gram serving size to have the following nutritional breakdown:
78 calories
2.6 grams fat
1.3 grams protein
12 grams carbs
1.5 grams dietary fiber
0 grams sugar
8 mg cholesterol
23 mg sodium
181 mg potassium
Keto Coleslaw Recipes
---
Coleslaw Health Benefits
Considering the main ingredients that go into making coleslaw, it's no surprise that it's quite a healthy side dish. Here are the top 3 benefits you can gain by including coleslaw as part of your diet:
Relieves chronic inflammation in the body. Over time, chronic inflammation that is left unchecked can actually trigger a variety of different inflammatory diseases. With this in mind, it's essential to include anti-inflammatory foods as part of your diet; cruciferous veggies like cabbage are packed with antioxidants that also provide this anti-inflammatory benefit. (1)
Keeps your heart healthy. Cruciferous vegetables have also been shown to lower both high blood pressure and high LDL cholesterol levels. Considering that hypertension and high cholesterol are both significant risk factors for heart disease, eating coleslaw can be a great way to lower your overall risk. (2)
Gives your immune system a boost. Cabbage is also rich in the antioxidant vitamin C, which is a well known natural immune booster. In addition to that, vitamin C has also been found to be effective at helping to prevent certain types of cancer as well. (3)
Keto Coleslaw Alternatives
Coleslaw can be somewhat tricky to find an exact replacement for. Instead, we thought it might be beneficial to provide you with some alternative methods for making your own homemade coleslaw without cabbage:
Green bean coleslaw
Broccoli coleslaw
Shredded brussels sprouts coleslaw
Green papaya coleslaw
Zucchini coleslaw
FREE KETO RECIPES + 5-INGREDIENT KETO COOKBOOK

Make sure to sign up for free to get instant access to the 5-Ingredient Keto Cookbook, which includes my favorite 20+ keto recipes of all-time, all under 5 ingredients.