Keto Recipes
The Best Homemade Keto Pancake Syrup (Low Carb)
Why would you ever want to use store brand pancake syrup when you can quickly and easily make your own low carb keto syrup from scratch? Here's how to make your own in less than 30 minutes.

How To Make Homemade Keto Pancake Syrup
Combine the ingredients. Add the frozen blueberries, freshly squeezed orange juice and zest, and sweetener to a small saucepan. Mix to combine.
Boil. Bring the syrup to a boil over medium high heat.
Lower the heat to medium low until the syrup has reduced by half.
Serve. You can serve the syrup either warm or cold.
Homemade Keto Syrup vs. Store-Bought Pancake Syrup
We all know that store brand syrup brands are full of sugar, other additives and preservatives, but I bet you didn't realize syrup could even be extremely beneficial for you if prepared correctly.
Packed full of essential nutrients and antioxidants. Since you're making this syrup with blueberries, you're also getting all of the well known antioxidative benefits of blueberries as well. They're rich in vitamin C and other essential micronutrients, which may help protect against cancer. (1)
Improved immune system. Using freshly squeezed orange juice (and orange zest) in this recipe along with the blueberries gives your body even more vitamin C, which helps give your immune system a boost. (2)
Relieves inflammation in the body. Another great benefit that vitamin C offers is that it can actually help to relieve inflammation within the body.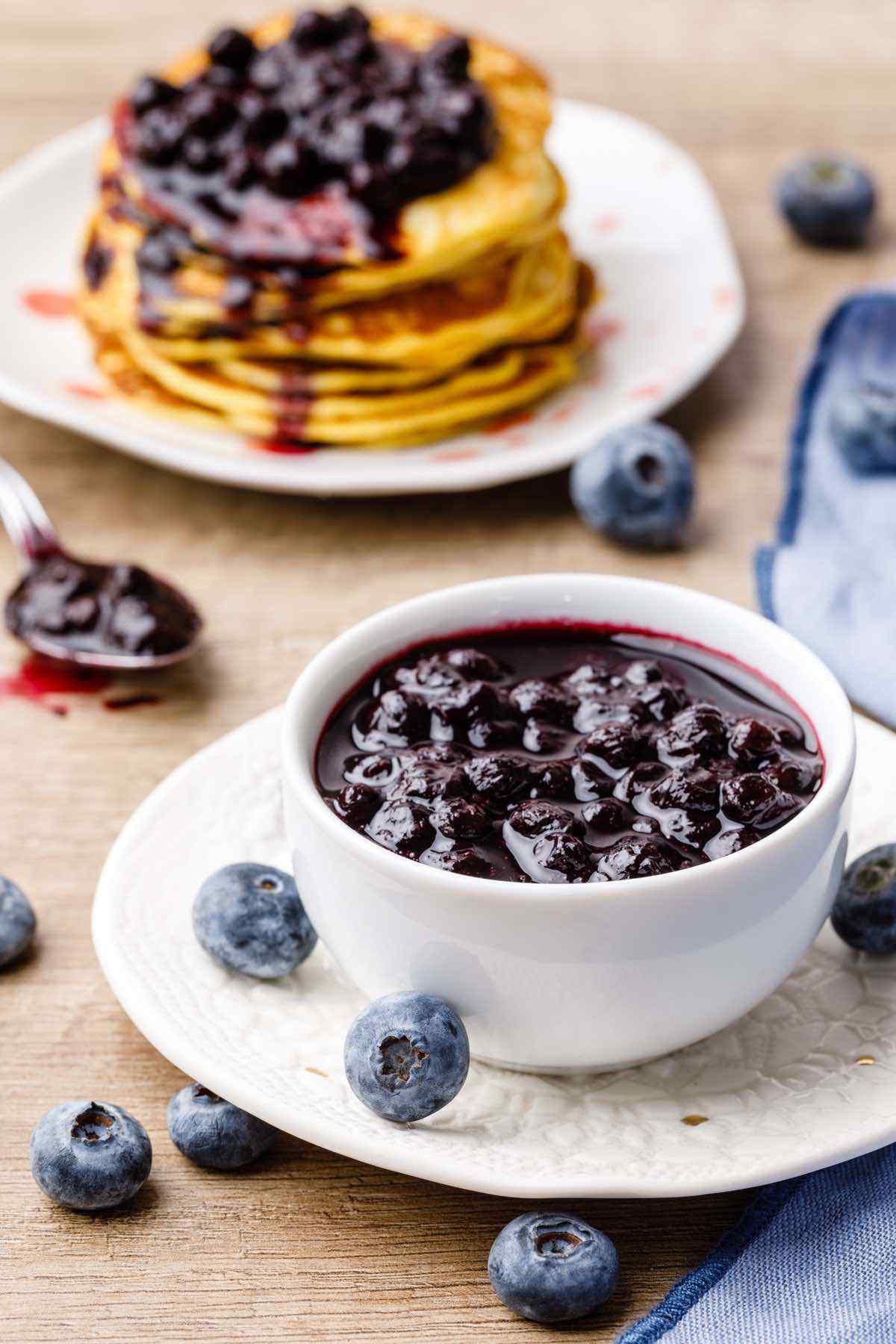 How Long Does Keto Pancake Syrup Stay Good For? (+ How To Properly Store It)
This homemade keto pancake syrup should last you for up to one month as long as you keep it properly stored.
If you're not planning on serving it warm as soon as it's done cooking, you're going to want to first allow the syrup to cool completely before then transferring it into a bottle or container. Keep the bottle in the fridge like this until you're ready to use it for up to one month.
I'm so glad that I found this keto syrup recipe because for as long as I can remember, whenever I had a weekly cheat meal it would be a big plate of pancakes and syrup served with bacon. These days I get to enjoy my cheat meal without even having to cheat or knock myself out of ketosis thanks to great keto-friendly pancake recipes and this homemade low carb syrup.
(Make this pancake mix: Make Ahead Keto Pancake Mix)
Print Recipe
Homemade Keto Pancake Syrup
Author: ketopots.com
Prep Time:

5 minutes

Cook Time:

10 minutes

Total Time:

15 minutes

Yield:

2

4

1

x
FREE KETO RECIPES + 5-INGREDIENT KETO COOKBOOK

Make sure to sign up for free to get instant access to the 5-Ingredient Keto Cookbook, which includes my favorite 20+ keto recipes of all-time, all under 5 ingredients.
Scale
2 cups frozen blueberries
¼ cup freshly squeezed orange juice or water
1 tsp orange zest
2 tbsp granulated Stevia or other low carb granulated sweetener
Place all the ingredients in a small saucepan and mix to combine.
Bring to a boil over medium high heat.
Reduce the heat to medium low and cook, stirring frequently, until the syrup is reduced by half.
Serve warm or cold.
More Good Keto Pancake Recipes: