Keto Recipes
The Best Homemade Keto Pancake Syrup (Low Carb)
When I first started eating a keto diet, I honestly wasn't too surprised to find out that it was possible to take many of my favorite foods, like pancakes, and make keto-friendly versions of them. However, every so often a keto recipes comes along that really blows my mind because of how creative it is. This homemade keto pancake syrup recipe is one such recipe — I never thought it would be possible to make a pancake syrup that was both delicious and low in carbs. I don't think I've ever been more glad to be wrong though after trying this recipe for the first time. The syrup is made with a perfect combination of healthy ingredients — blueberries, freshly squeezed orange juice, orange zest, and a zero calorie sweetener such as Stevia.

So Sweet & So Healthy
Perhaps the most amazing thing about this homemade syrup recipe is how easy it is to make. It's a simple matter of mixing all of the ingredients together in a small saucepan and cooking them over a medium high heat for about 20 minutes. Since the recipe is so easy to follow, let's instead focus on the selected ingredients and why they're such great choices for making a healthy pancake syrup.
Blueberries – If you've ever had blueberry syrup before, then you know exactly how well it goes with pancake meals. This recipe offers that same great flavor in a healthier format by using real frozen blueberries. Not only are blueberries one of the richest sources of antioxidants available, they're also packed full of vitamin C, fiber, folate, potassium, and other essential nutrients. There's also pretty strong evidence that indicates blueberries are potentially a potent anticancer fruit to include in your diet thanks to their rather high antioxidant content. (1)
Orange Zest & Orange Juice – While you can choose to use water instead of freshly squeezed orange juice when following this recipe, I prefer to go with the juice when I make the syrup. Both of these ingredients help to add a slightly tangy taste to the syrup that balances out the sweetness offered by the blueberries and Stevia. Oranges are also rich in an antioxidant known as ascorbic acid, more commonly known as vitamin C. This antioxidant is widely known to play an important role in helping to keep your immune system strong and it's also able to help lower inflammation in the body. (2)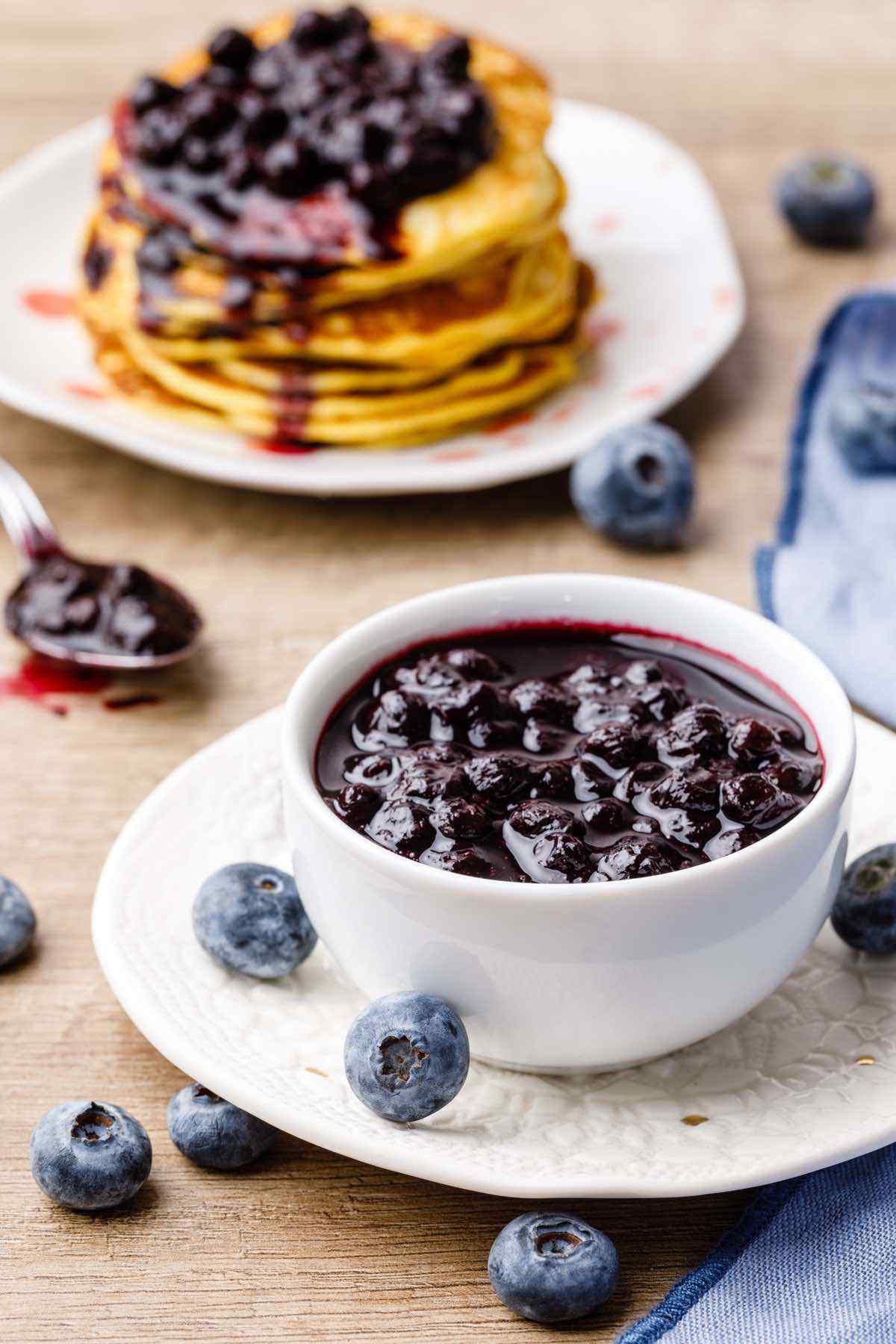 Stevia – When making this syrup, you're free to use whatever zero calorie sweetening option you'd like, but I prefer to use Stevia since it's a more natural option compared to using artificial sweeteners like Splenda. Whatever you choose is ultimately up to you, but the important thing is to make sure to use a low carb sweetener instead of sugar to minimize the total carb content of the recipe. This is essential for keeping the syrup keto-friendly since the blueberries, orange juice and orange zest are all already adding in small amounts of carbs.
I'm so glad that I found this recipe because for as long as I can remember, whenever I had a weekly cheat meal it would be a big plate of pancakes and syrup served with bacon. These days I get to enjoy my cheat meal without even having to cheat or knock myself out of ketosis thanks to great keto-friendly pancake recipes and this homemade syrup.
More Keto Pancake Recipes:
Genius Cream Cheese Keto Pancakes with Berries and Whipped Cream
2-Ingredient Keto Cream Cheese Pancakes (Easiest Pancakes Ever)
Print Recipe
Homemade Keto Pancake Syrup
Author:
Prep Time:

5 minutes

Cook Time:

10 minutes

Total Time:

15 minutes

Yield:

24

1

x
Scale
2 cups frozen blueberries
¼ cup freshly squeezed orange juice or water
1 tsp orange zest
2 tbsp granulated Stevia or other low carb granulated sweetener
Place all the ingredients in a small saucepan and mix to combine.
Bring to a boil over medium high heat.
Reduce the heat to medium low and cook, stirring frequently, until the syrup is reduced by half.
Serve warm or cold.