Keto Recipes
Homemade Fudgesicle Keto Ice Cream Bars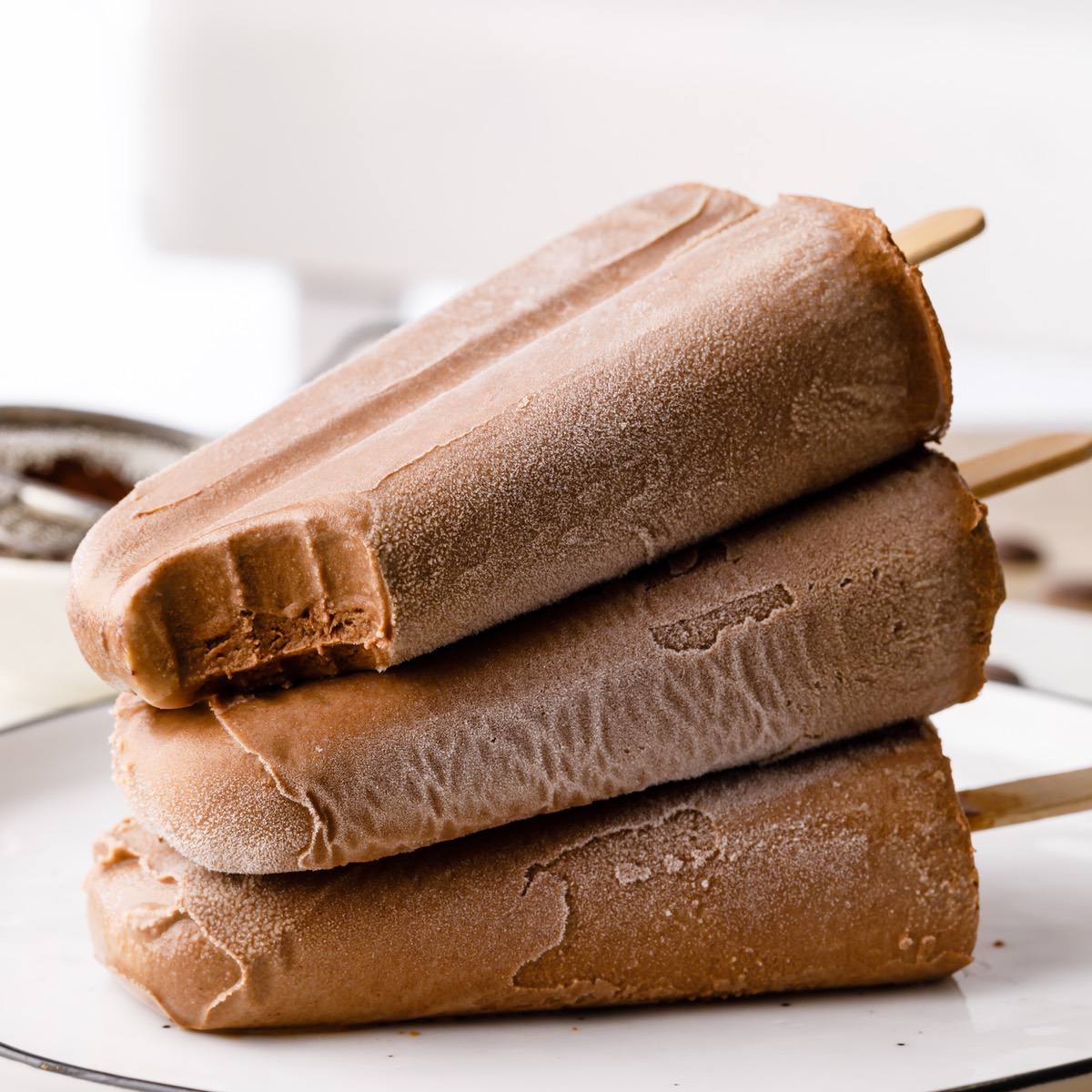 These homemade fudgesicle keto ice cream bars are just as good as the store-bought ones, but with only 4.1g net carbs! Here's how to make them.

These fudgesicles are already very light, but if you're looking for a frozen treat that's more nourishing and hydrating, try these citrus electrolyte popsicles.
---
How to Make Fudgesicle Keto Ice Cream Bars
Slowly melt the chocolate. Melt 6 ounces of sugar free chocolate. Slow is key to not burn the chocolate You can also use a no-sugar-added chocolate if sugar-free chocolate isn't available.
Blend. Add the unsweetened almond milk, heavy cream, a low carb sweetener like Stevia, cacao powder, pure vanilla extract, a pinch of salt, and the melted chocolate to a blender and blend until smooth.
Freeze. Pour the mixture into ice pop molds and then insert ice-pop sticks. Freeze until solid.
Serve. Remove the bar from the mold by the ice-pop stick and enjoy.
Related: Wendy's Frosty Copycat Recipe
---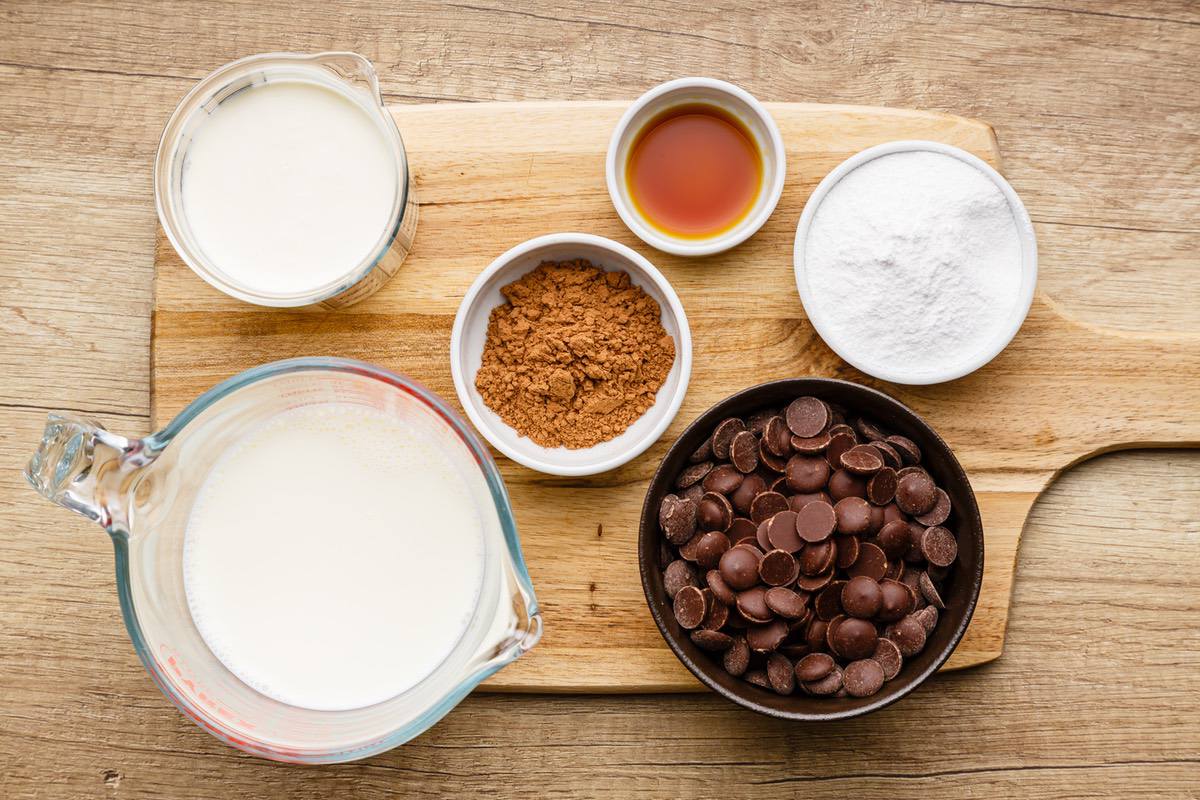 How Long Can I Store These Keto Ice Cream Bars in the Freezer?
These fudgesicle ice cream bars will keep in the freezer for quite a long time, probably for up to 6 months to be exact if stored properly. Although with how delicious they are it's highly unlikely they'll ever last for as long as they'll keep!
---
Are These Keto Ice Cream Bars Healthy?
Yes! These ice cream bars aren't just a tasty cold treat. They're also rather nutritious as well.
Non-keto chocolate ice cream bars can have as much as 30 grams of sugar per bar. Meanwhile this keto ice cream bar recipe is completely sugar-free. It all depends on the type of chocolate you use.
These bars get some of their chocolate flavoring from cacao powder, which is absolutely loaded with beneficial antioxidant compounds. There's even evidence that cacao powder can relieve chronic inflammation and help to protect against cardiovascular diseases. (1)
If you use dark chocolate when making this recipe, you'll be adding in even more beneficial antioxidants and heart healthy monounsaturated fatty acids. Dark chocolate has also been found to protect against heart disease and may even help with preventing cognitive decline. (2)
---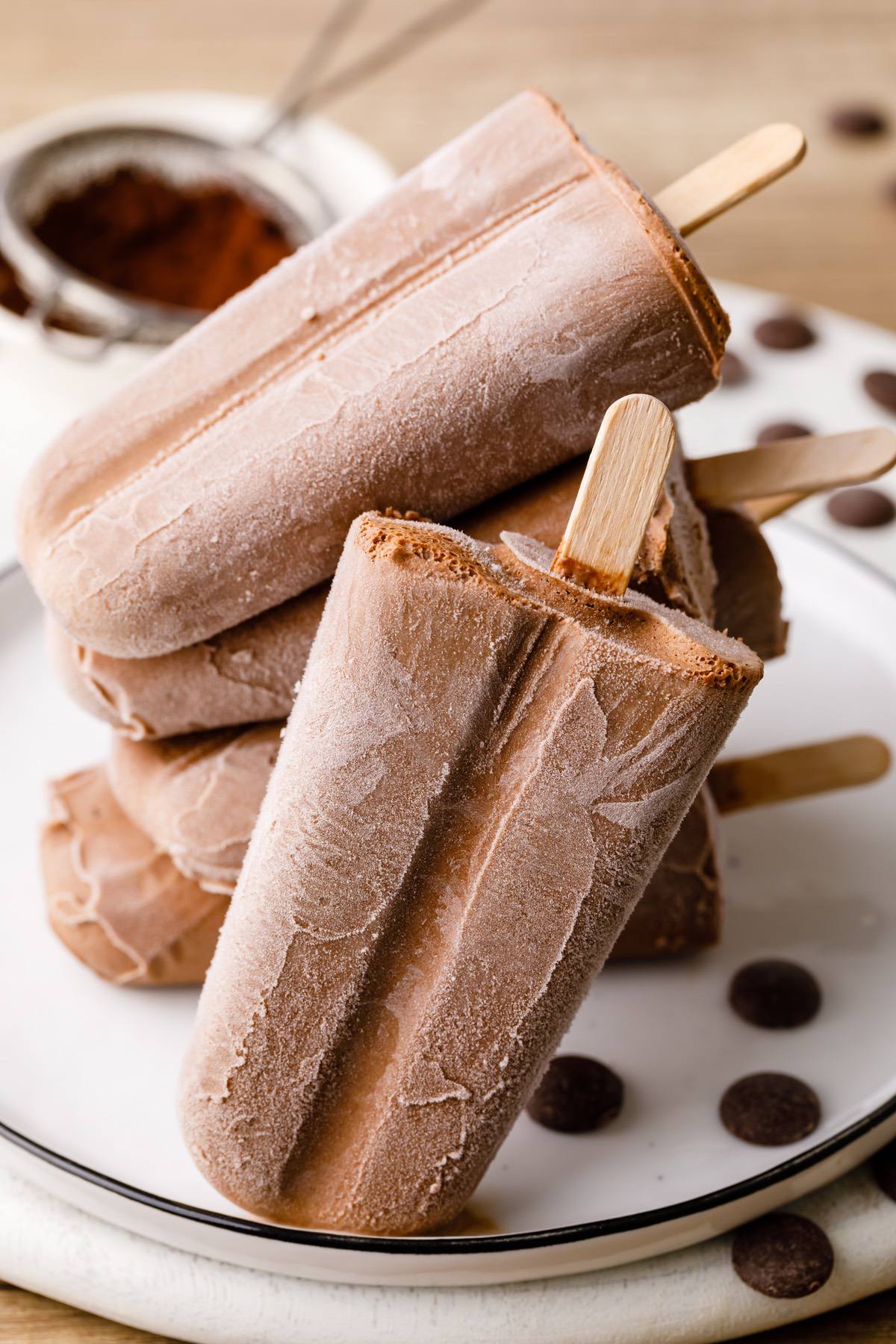 How to Customize Your Fudgesicle Keto Ice Cream Bars
One of the best things about this ice cream bar recipe is just how easy it is to modify it. You can easily tweak the ingredients used to make different flavored ice cream bars; here are just a few of my other favorites:
Add in all-natural peanut butter to make chocolate and peanut butter ice cream bars.
Add in some melted coconut oil to make coconut chocolate ice cream bars.
Fold in sugar-free chocolate chips to add in some chunks throughout the popsicle.
Fold in some frozen fruit before freezing the popsicles.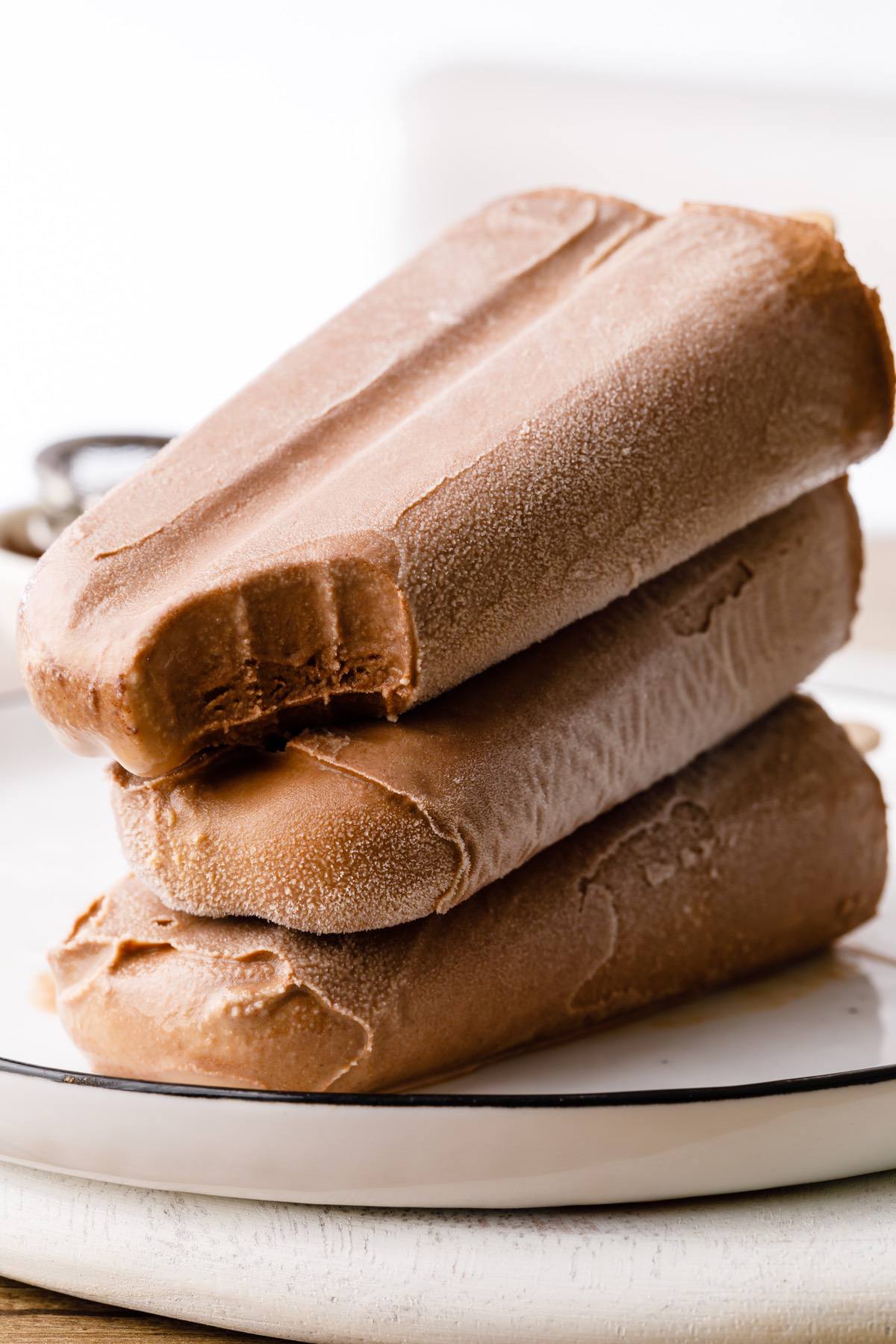 P.S. These fudgesicles are known for being super chocolatey and creamy. If you're looking for something similar in ice cream form, give this super popular chocolate ice cream recipe a try: https://ketopots.com/keto-chocolate-ice-cream
---
Print
Print Recipe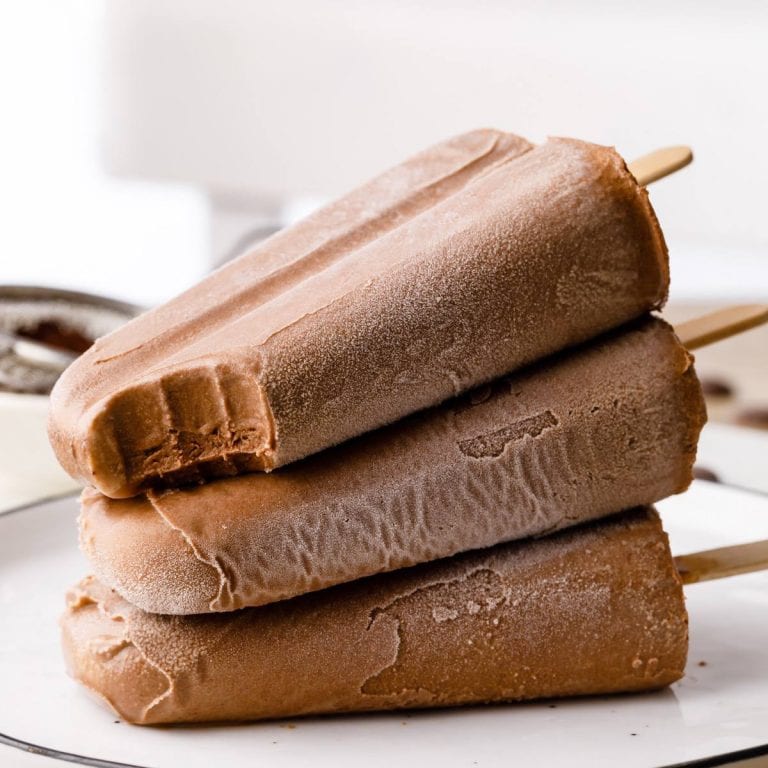 Homemade Fudgesicle Keto Ice Cream Bars
Author: Bree
Prep Time:

10 minutes

Cook Time:

5 minutes

Total Time:

15 minutes

Yield:

8

1

x
Category:

Dessert

Cuisine:

American
Scale
6 oz

sugar free chocolate

1 ½ cups

unsweetened almond milk 

1 cup

heavy cream

¼ cup

granulated Stevia or other low carb granulated sweetener 

2 tbsp

cacao powder 

2 tsp

pure vanilla extract 

pinch of salt
Melt the chocolate. 

Add the almond milk, heavy cream, sweetener, cacao powder, vanilla extract, salt and melted chocolate to a blender and blend until smooth. 

Pour the mixture into ice pop molds.

Insert ice-pop sticks and freeze until solid.
Keywords: ice cream, bars
FREE KETO RECIPES + 5-INGREDIENT KETO COOKBOOK

Make sure to sign up for free to get instant access to the 5-Ingredient Keto Cookbook, which includes my favorite 20+ keto recipes of all-time, all under 5 ingredients.