Keto Recipes
Crave-worthy Four Cheese Keto Ravioli (Freezable and Low Carb)
This homemade four cheese keto ravioli is the best! The recipe is 100% keto-friendly and surprisingly easy to make. Here's how.

How to Make Four Cheese Keto Ravioli
Prepare the yummy filling. It's all about the cheese! Mix up your ricotta cheese, grated mozzarella cheese, grated Parmesan cheese, and crumbled Gorgonzola in a bowl.
Season. Season the filling with salt and black pepper to taste.
Refrigerate. Refrigerate the filling.
Prepare the pasta dough. Using a food processor, mix together your almond flour, coconut flour, xanthan gum, and salt. Pulse.
Add the lightly beaten egg and apple cider vinegar. Lastly, add the water a little bit at a time until the dough forms a ball.
Knead. Wrap the dough in cling film and knead for 1-2 minutes or until it's smooth and elastic.
Refrigerate. Refrigerate the dough for a minimum of 1 hour.
Cut. Cut the dough into 4 equal wedges.
Sprinkle. Sprinkle each wedge with a generous amount of coconut flour.
Fill the dough with teaspoonfuls of filling. Roll out the dough wedges by hand or with a pasta maker and then drop the filling mixture on the dough by teaspoonfuls, spaced about one inch apart.
Finish it off. Cover the filling with the top sheet of pasta, pressing out the air from around each portion of filling and then use either a ravioli stamp or cookie cutter to cut out each ravioli.
Repeat. Gather the remaining dough and repeat the above 2 steps until you have used all of the dough.
Refrigerate. Refrigerate the finished ravioli for a minimum of 30 minutes. This will help it firm up a bit.
Prepare the cooking pan. Heat your choice of olive oil or butter in a nonstick pan over low heat.
Cook. Add the pasta and cook for 1-2 minutes per side or until golden.
Serve. Remove from the heat and serve warm with your favorite pasta sauce.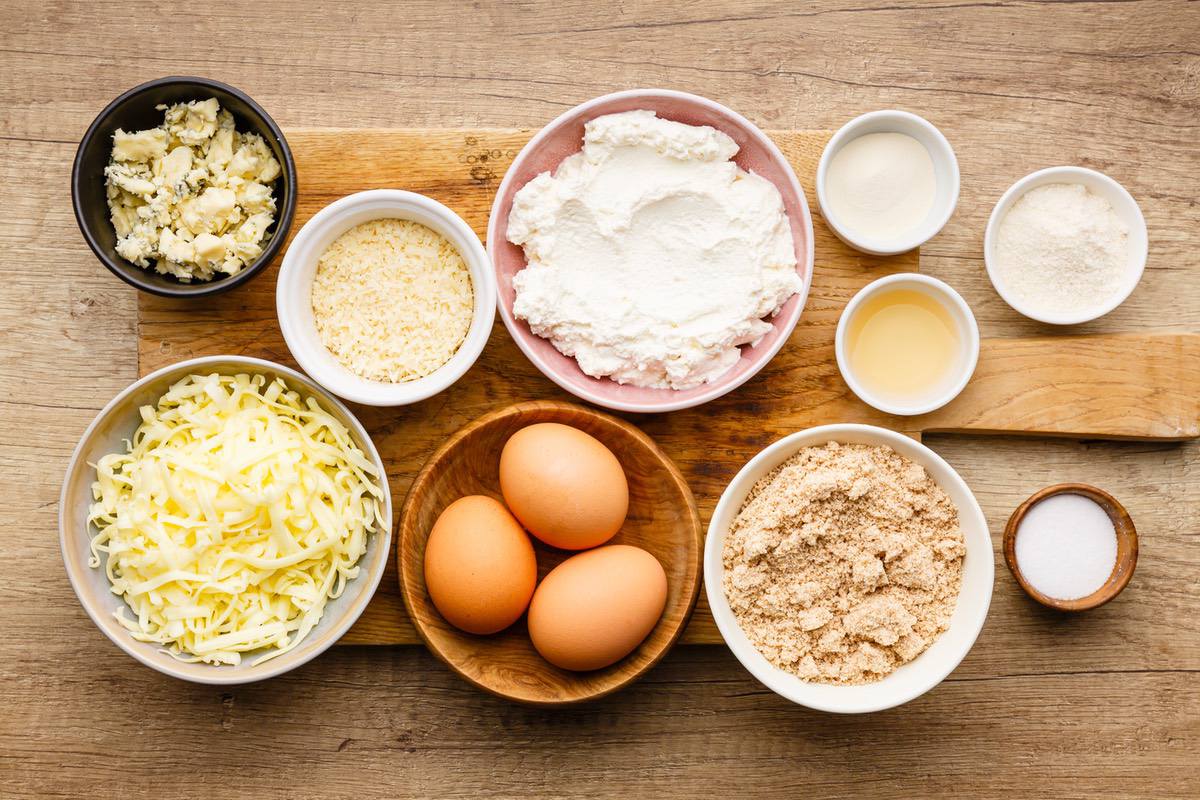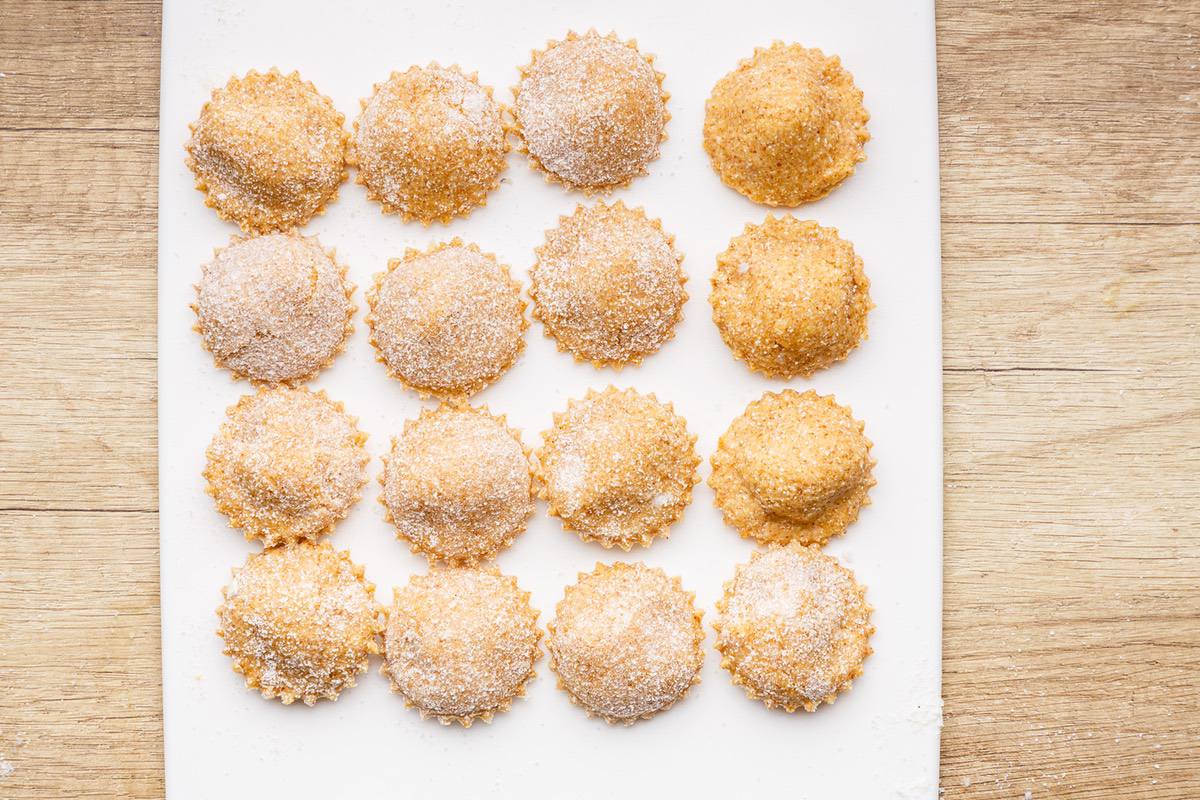 2 Great Benefits of Keto Pasta vs. Regular Pasta
Being able to make keto pasta isn't just great for satisfying pasta cravings; it's also a surprisingly good choice as far as your health goes as well. Here are 2 great benefits you can gain by switching to keto pasta over traditional pasta:
More nutrient-dense. If you're replacing traditional pasta noodles with vegetable noodle options (such as zucchini noodles), then it's a given that your veggie noodles are going to be far more nutrient-dense. Taking zucchini noodles as an example, you'll end up with pasta 'noodles' that are absolutely loaded with essential vitamins, minerals, dietary fiber, and disease-fighting antioxidants.
Relieves inflammation and prevents disease. As most pasta is made from semolina (a type of wheat that is notoriously high in gluten), it can end up triggering inflammation in some individuals who have gluten sensitivity. By making keto-friendly pasta dishes with low carb ingredients (again, zucchini noodles are a great example), you can actually relieve chronic inflammation in the body, which helps to prevent the development of numerous types of chronic inflammatory diseases.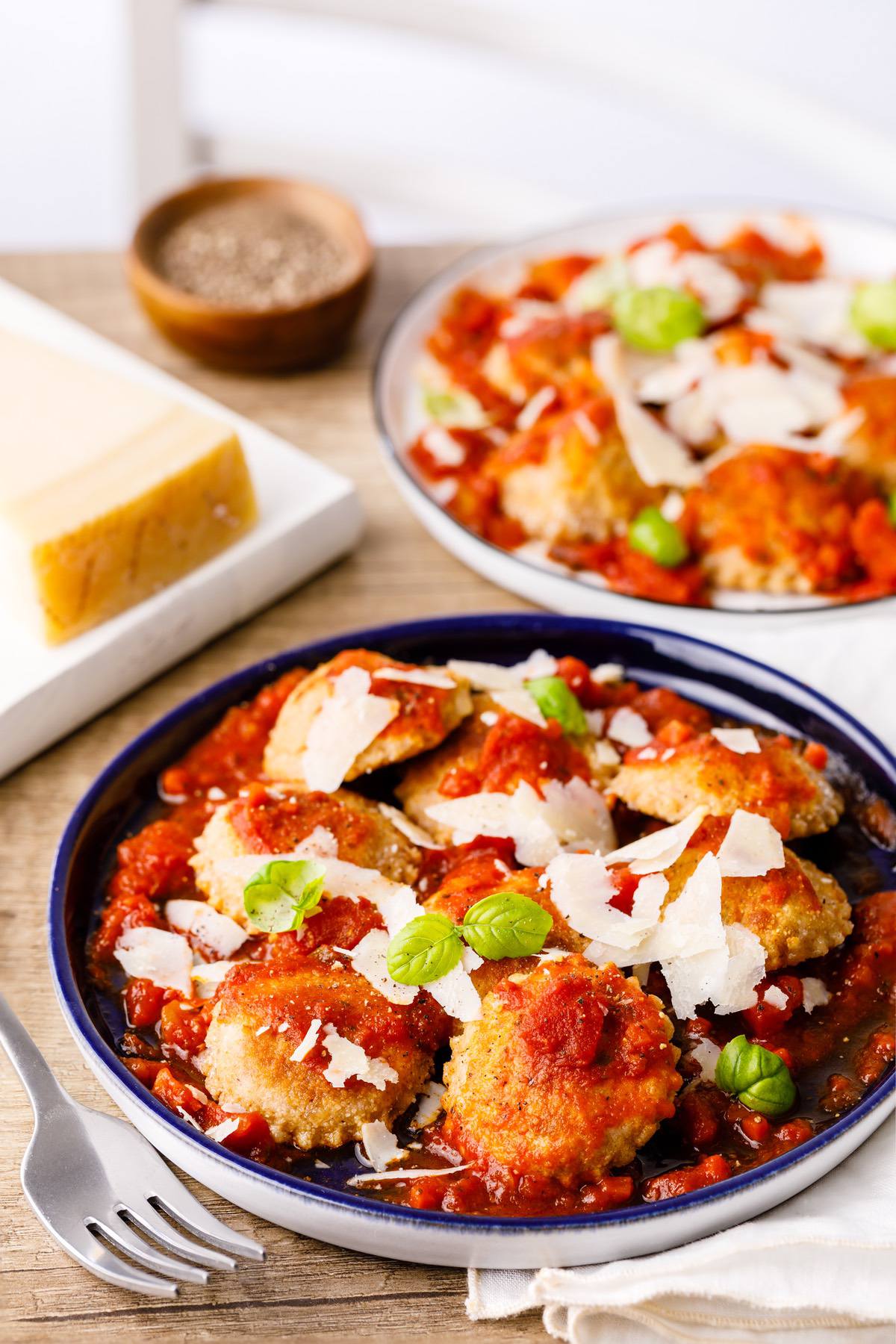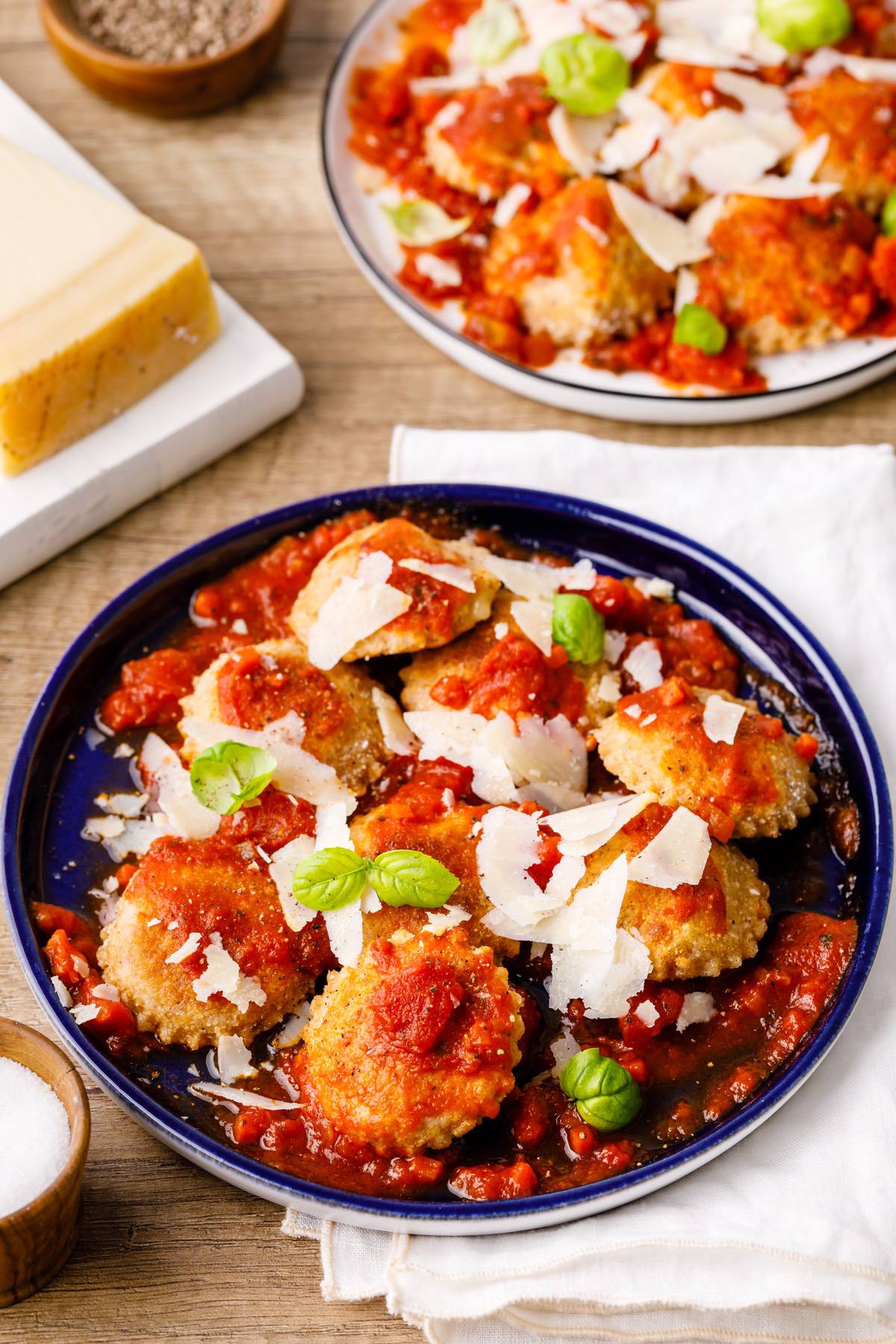 More Good Keto Pasta Recipes:
---
---
---
---
Can I Freeze Keto Ravioli?
You can definitely freeze your keto ravioli. As a matter of fact, this recipe is ridiculously easy to make ahead of time in order to freeze it until you're ready to cook the ravioli.
If you want to make this ravioli recipe ahead, simply follow the recipe as you usually would until you finish using up all of the dough and filling and you have cut out all of your ravioli pieces.
You'll then simply arrange your ravioli pieces evenly on a baking sheet and then transfer the sheet into the freezer for between 30-60 minutes. Once the ravioli have frozen, transfer them all into a single heavy duty freezer-safe bag to store in the freezer for up to 2-3 months.