Keto Recipes
Fluffy Keto Pancakes That Don't Suck (These are Epic)
My go-to breakfast has always been the classic combination of a big plate full of pancakes served alongside a few strips of bacon. And I've always thought that there was one vitally important rule when it comes to making good pancakes — the fluffier, the better. That's why I'm pleased to share this recipe for fluffy keto pancakes that definitely don't suck. They're made with some clever ingredient choices that all work together beautifully to make incredibly low carb pancakes that are heavy on the healthy fats. The end result is a 100% keto-friendly pancake breakfast that you'll be able to enjoy any day of the week totally guilt-free — what's not to love about that?
The Golden Rule — The Fluffier, The Better
When following this recipe, you're first going to want to separate your egg whites from the yolks, as you'll be using both parts in different steps. Begin by placing the egg whites into a bowl with the cream of tartar and just a pinch of salt. The cream of tartar is the secret ingredient that helps to make these pancakes so delightfully fluffy when you combine it with the egg whites as it helps to make your batter nice and foamy. If you've never added cream of tartar to your pancakes before, you're definitely going to notice what a difference it makes when it comes to making ultra fluffy pancakes.
With that out of the way, add the egg yolks into a separate bowl along with the heavy cream, vanilla extract, and your choice of granulated low carb sweetener. In order to keep these pancakes keto-friendly, it's important to eliminate as many carbs as possible, which is why you'll be using a zero calorie sweetener like Stevia instead of sugar. As a matter of fact, completely eliminating refined sugars from the diet should be the first step that everyone takes towards a healthier lifestyle. Excessive sugar consumption is one of the leading causes of obesity, and studies have shown that obese individuals are at an increased risk of developing health complications like diabetes and heart disease. (1)
Healthy, Low-Carb and Full of Good Quality Fats
Similarly to how you replace sugar with a zero calorie sweetener for this recipe, you'll also be using both almond flour and coconut flour as a healthier, low carb alternative to refined wheat flour. Just as sugar can cause inflammation, a protein found in wheat has also been found to be a major cause as well. Considering that we now know that chronic inflammation is closely linked with the development of many types of diseases, it's essential to reduce or completely eliminate food groups that are known triggers. (2) After mixing the almond and coconut flours into the egg yolk mixture along with a bit of baking powder, combine everything with the egg white and cream of tartar mixture before cooking the pancakes.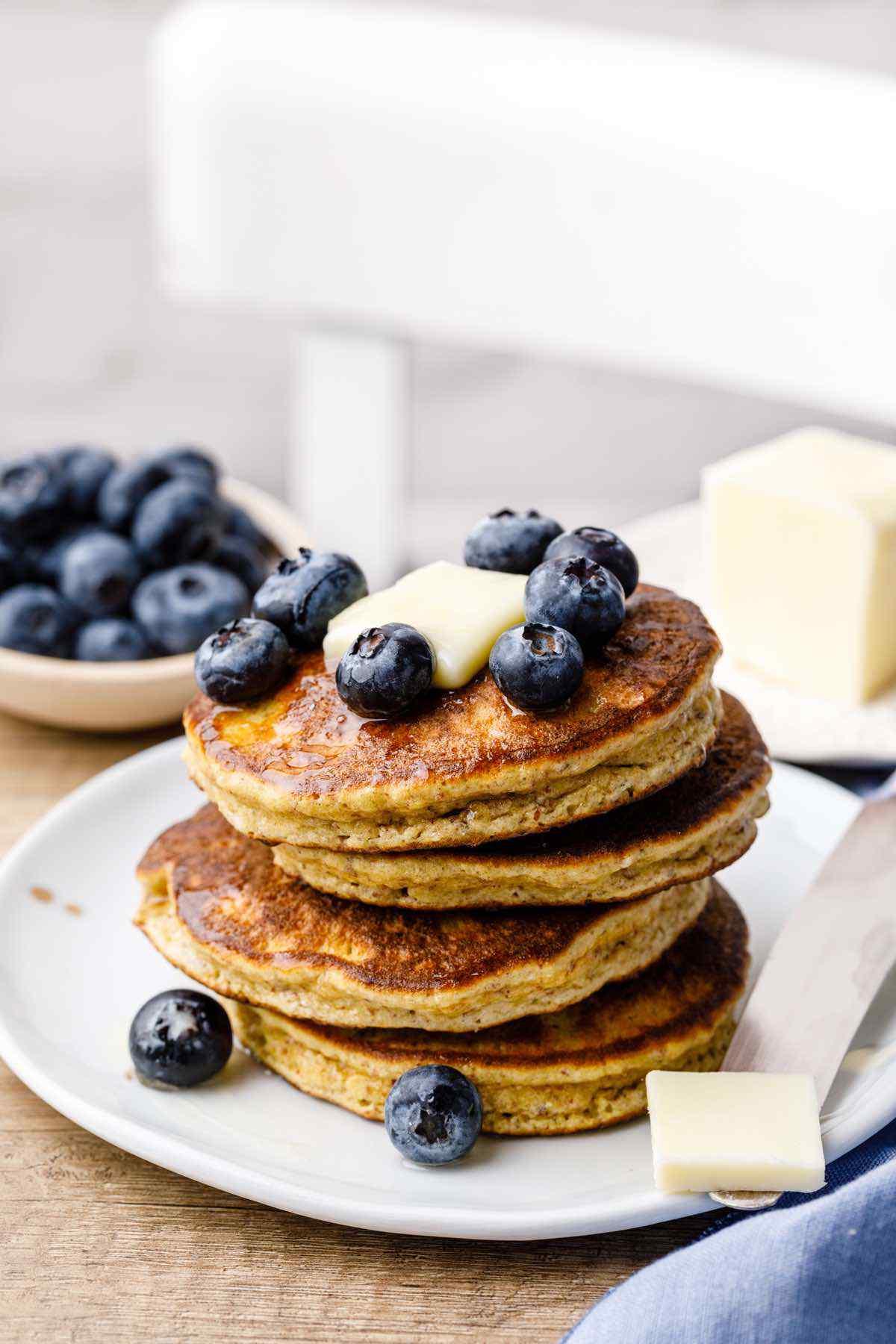 These perfectly fluffy pancakes make for a perfect complementary food for many other popular keto breakfast items. If you want to enjoy a truly satisfying morning meal, make these pancakes and enjoy them along with some scrambled eggs or bacon — I guarantee you won't be feeling hungry again for a while after a meal like that!
More Keto Pancake Recipes:
Easy High Protein Keto Pancakes (Sausage Pigs in a Blanket)
The Best Homemade Keto Pancake Syrup (Low Carb)
Genius Cream Cheese Keto Pancakes with Berries and Whipped Cream
2-Ingredient Keto Cream Cheese Pancakes (Easiest Pancakes Ever)
Print Recipe
Fluffy Keto Pancakes That Don't Suck (These are Epic)
Author: Keto Pots
Prep Time:

5 minutes

Cook Time:

15 minutes

Total Time:

20 minutes

Yield:

6

1

x
FREE KETO RECIPES + 5-INGREDIENT KETO COOKBOOK

Make sure to sign up for free to get instant access to the 5-Ingredient Keto Cookbook, which includes my favorite 20+ keto recipes of all-time, all under 5 ingredients.
Scale
1 cup almond flour
¼ cup coconut flour
1 tsp baking powder
2 tbsp granulated Stevia sweetener or other granulated low carb sweetener
6 tbsp heavy cream
1 tsp vanilla extract
6 eggs, separated
1/8 tsp cream of tartar
butter, for greasing
Place the egg whites, cream of tartar and pinch of salt in a bowl.
Whisk the egg whites to stiff peaks. Set aside.
In another bowl combine the egg yolks, sweetener, heavy cream and vanilla extract.
Add the almond flour, coconut flour and baking powder and whisk to combine.
Gently fold the egg whites into the yolk mixture, working in batches.
Lightly grease a non stick skillet with butter.
Heat the skillet over medium low heat until hot.
Drop ¼ cup of batter for each pancake onto the hot skillet.
Cook until small bubbles begin to form on the top.
Carefully flip the pancakes and cook on the other side 1-2 minutes or until cooked through.
Serve warm.