Keto Chicken Recipes
Broccoli Cheese Stuffed Chicken Breast (Low Carb Keto Chicken Recipe)
Stuffing a juicy chicken breast full of tasty low carb ingredients like cheese, herbs, spices, and veggies is one of my favorite keto hacks. Here's how to make the best keto stuffed chicken breasts.

How to Make Keto Stuffed Chicken Breasts
Prepare the stuffing. Cook the broccoli and bell pepper in a preheated skillet. Add to a bowl and then mix with shredded cheddar cheese until well combined.
Season. Season your stuffing with salt and black pepper.
Prep the chicken. Butterfly each of your chicken breasts and lay them flat open like a book. Season each breast with cayenne pepper, garlic powder, salt, and black pepper.
Add stuffing. Add ¼ of the stuffing to one side of each chicken breast. Fold the other half over top of the stuffing and secure in place with a toothpick.
Bake. Bake at 400°F for between 20 to 25 minutes.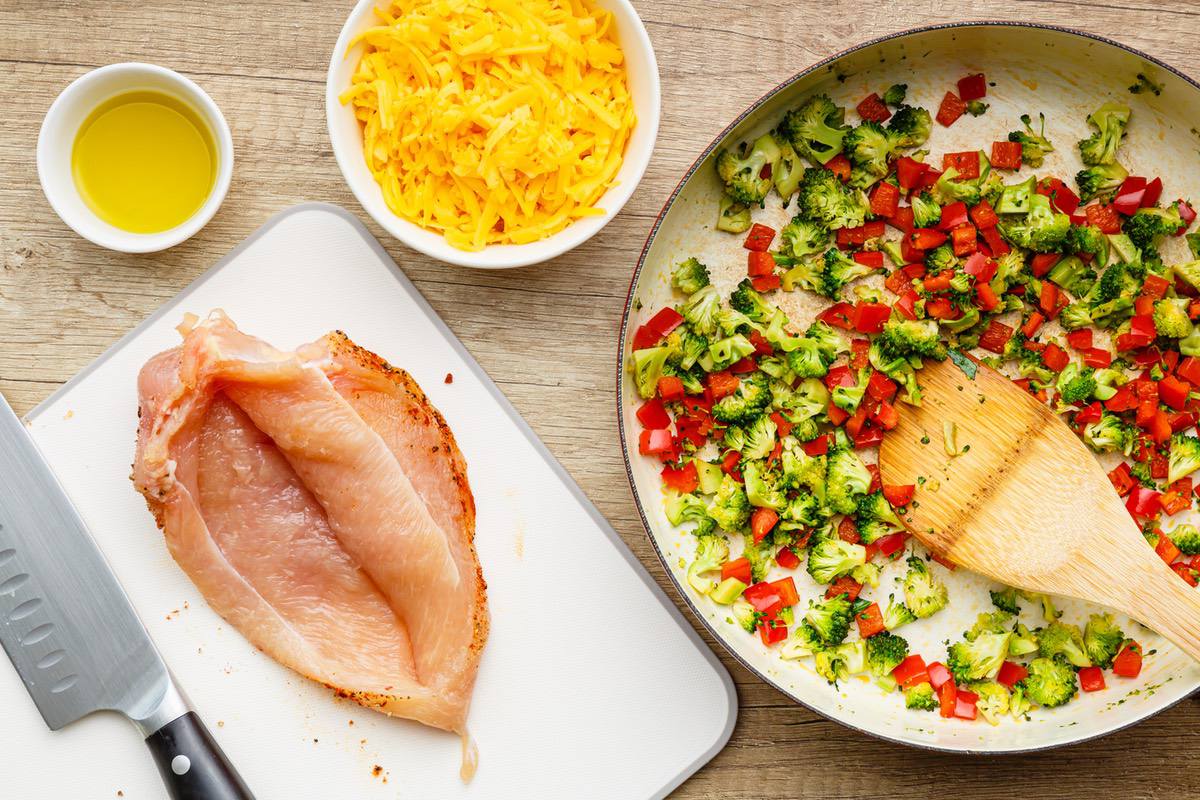 3 Tips for Making Juicy Chicken Breasts Every Time
It's easy to prevent having your chicken breasts turn out dry and flaky. Just follow these three simple tips to end up with juicy chicken every time:
Don't overcook. When cooking chicken, you only need to cook them long enough for the chicken to reach an internal temperature of 165ºF. Overcooking chicken is one of the most common reasons for it to end up dry and flaky.
Marinate/Brine. Using a homemade marinade or brine mixture works wonders for making sure your chicken turns out moist and juicy. Marinades work better if you have the time to leave your chicken soak (3-4 hours), while brines work well as more of a 'quick fix' if you're pressed for time.
Thaw. The easiest way to ensure your chicken is always juicy is to never cook your chicken from a frozen state. Thaw the chicken out to room temperature before cooking and dry, flaky chicken will be a thing of the past.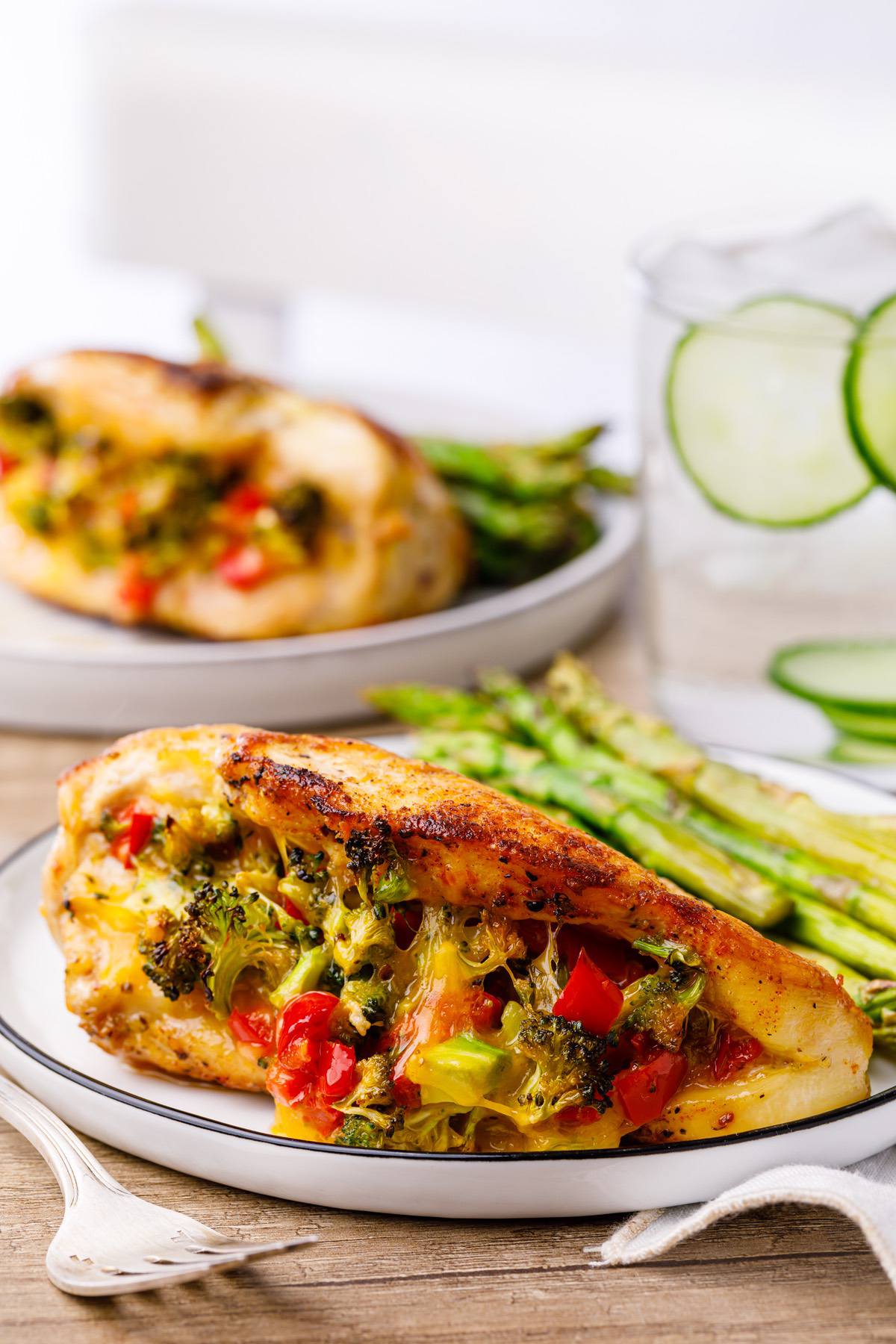 Can You Make Stuffed Chicken Breasts Ahead of Time?
To prepare this recipe in advance, just follow the directions listed below until it's time to bake the chicken. After stuffing your breasts with the cheese and broccoli mixture, simply place them in the refrigerator instead.
You can safely leave your raw stuffed chicken breasts in the fridge for the entire day. I like to prepare the breasts in the morning before work, and then it's just a simple matter of tossing them in the oven to bake when I get home.
(You may also like: Creamy Garlic Spinach Stuffed Chicken Breast)
The Best Keto Side Dishes to Pair with Stuffed Chicken Breast
This stuffed chicken breast recipe really excels when it's paired with a tasty low carb side dish. Here are a few of my personal favorite that go perfectly with this chicken meal:
Keto Mashed Cauliflower – You'll never miss mashed potatoes again once you see what a ridiculously good replacement mashed cauliflower can be.
Cheesy Garlic Roasted Asparagus – This is a terrific side dish to pair with cheesy stuffed chicken if you're addicted to cheese like I am. It gets bonus points thanks to asparagus being such a great source of micronutrients and antioxidants as well.
Keto Noodles – If you're more of a pasta fan, then you're going to absolutely love how easy it is to make these simple 2-ingredient keto noodles.
Print Recipe
Broccoli Cheese Stuffed Chicken Breast (Low Carb Keto Chicken Recipe)
Author: Bree - KetoPots.com
Prep Time:

10 minutes

Cook Time:

30 minutes

Total Time:

40 minutes

Yield:

4

1

x
FREE KETO RECIPES + 5-INGREDIENT KETO COOKBOOK

Make sure to sign up for free to get instant access to the 5-Ingredient Keto Cookbook, which includes my favorite 20+ keto recipes of all-time, all under 5 ingredients.
Scale
4

boneless, skinless chicken breasts halves (4-6 oz each) 

2 tbsp

olive oil 

1/2 tsp

garlic powder

1/4 tsp

cayenne pepper 

1 cup

broccoli florets, finely chopped

1/2 cup

red bell pepper, finely diced

1 cup

shredded cheddar cheese

salt and black pepper to taste
Preheat oven to 400°F.

In a skillet, heat 1 tablespoon of olive oil over medium heat. 

Add the broccoli and bell pepper and cook for 5 minutes. 

Remove from the heat. 

Add the shredded cheddar cheese and broccoli mixture to a bowl and mix to combine. 

Season to taste with salt and black pepper. 

Butterfly each chicken breasts and lay open like a book.

Season with cayenne pepper, garlic powder and salt and black pepper to taste. 

Place ¼ of cheese stuffing on one side of each chicken breast half.

Fold remaining half of each chicken breast over stuffing, and secure with a toothpick, if necessary.

Place the chicken into a lightly greased baking dish.

Drizzle the chicken with 1 tablespoon of olive oil. 

Bake in preheated oven for 20-25 minutes or until the chicken reaches an internal temperature of 165ºF.
A Few Other Must-Try Keto Chicken Dishes
As tasty as these stuffed chicken breasts are, they're far from the only great keto chicken recipe that you can find on this site. Here are a few other must-try keto chicken dishes that come highly recommended:
Keto Chicken Tenders – This recipe takes a classic finger food and makes it even more appropriate for low carb dieters; a great option for when you have to whip up something for dinner in a hurry.
Mini Keto Chicken Pot Pies – There's just something immensely comforting about a good chicken pot pie.
Keto Chicken Alfredo Bake – This is a great chicken alfredo recipe to pair with the keto noodles recipe that I mentioned above. Both recipes are great low carb alternatives that will delight pasta lovers.