Keto Recipes
Easy (And Perfectly Cooked) Lamb Chops in the Oven
There are few things in life more enjoyable than these easy (and perfectly cooked) lamb chops in the oven. It all starts by mixing up an out-of-this-world good keto marinade sauce that ends up making some of the most tender lamb chops that you'll ever try.

How to Make Lamb Chops in the Oven
Here's what you'll need to know in order to both make the homemade keto marinade mixture as well as bake your lamb chops:
Prepare the marinade. Add the olive oil, minced garlic cloves, lemon juice, chopped fresh rosemary, and salt and black pepper to taste in a bowl and mix to combine.
Toss. Add the lamb chops and toss to coat.
Let the lamb chops marinate. Allow the lamb chops to marinate for a minimum of 30 minutes.
Preheat the oven. Preheat your oven to 400℉.
Bake for 45 minutes. Transfer the lamb chops to a baking sheet and bake in the preheated oven for 30 minutes (if you prefer your lamb pink; if not, bake it for 45 minutes instead).
Serve. Serve with your preferred low carb side.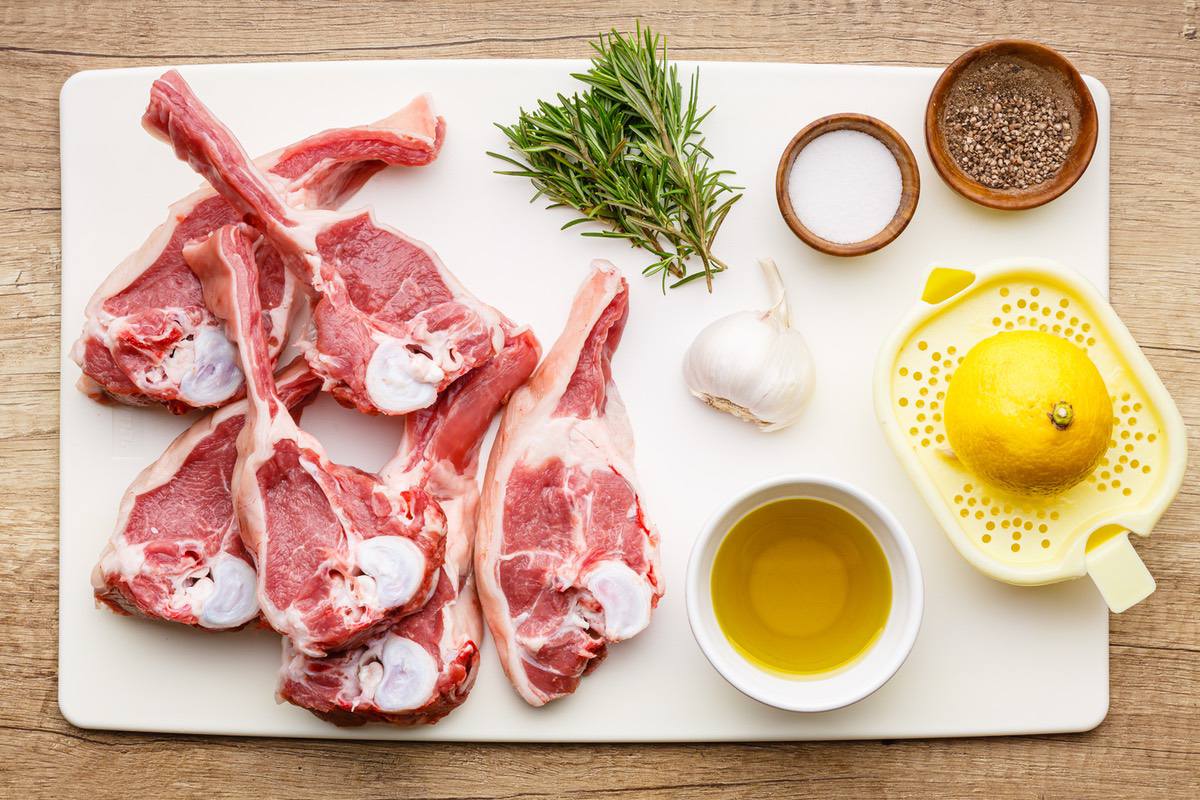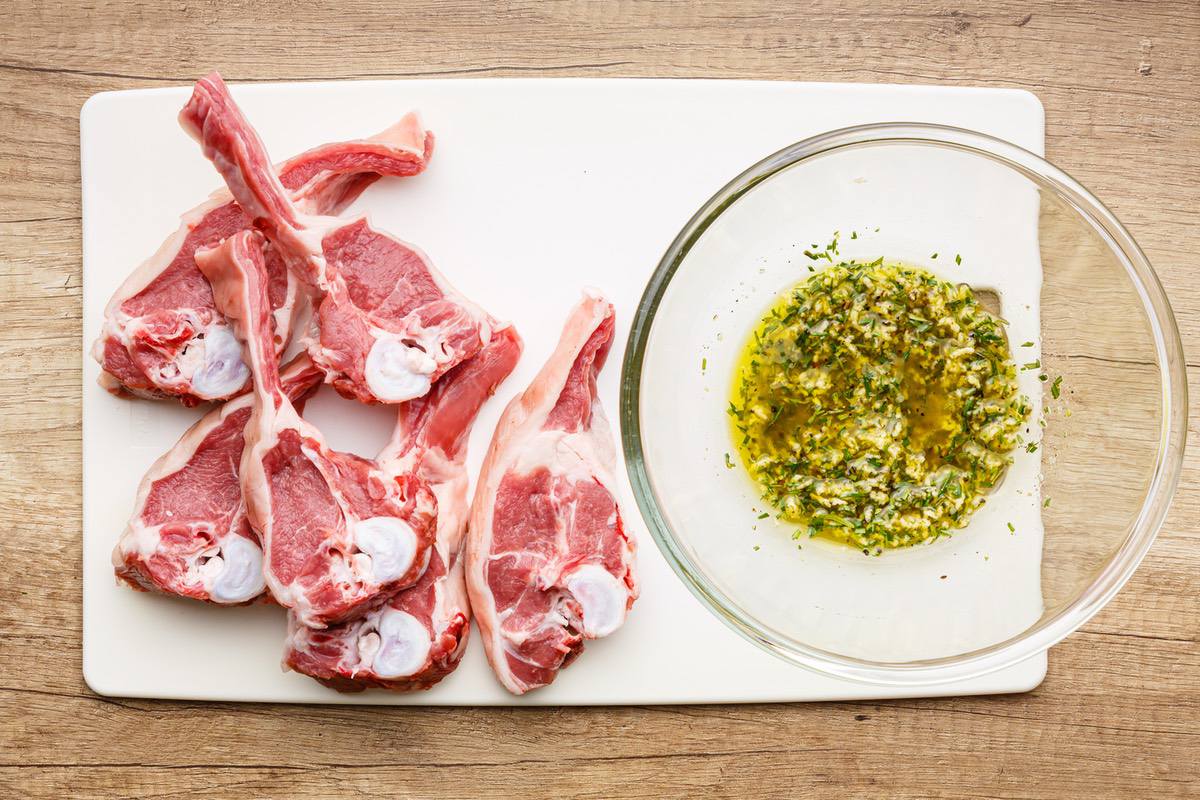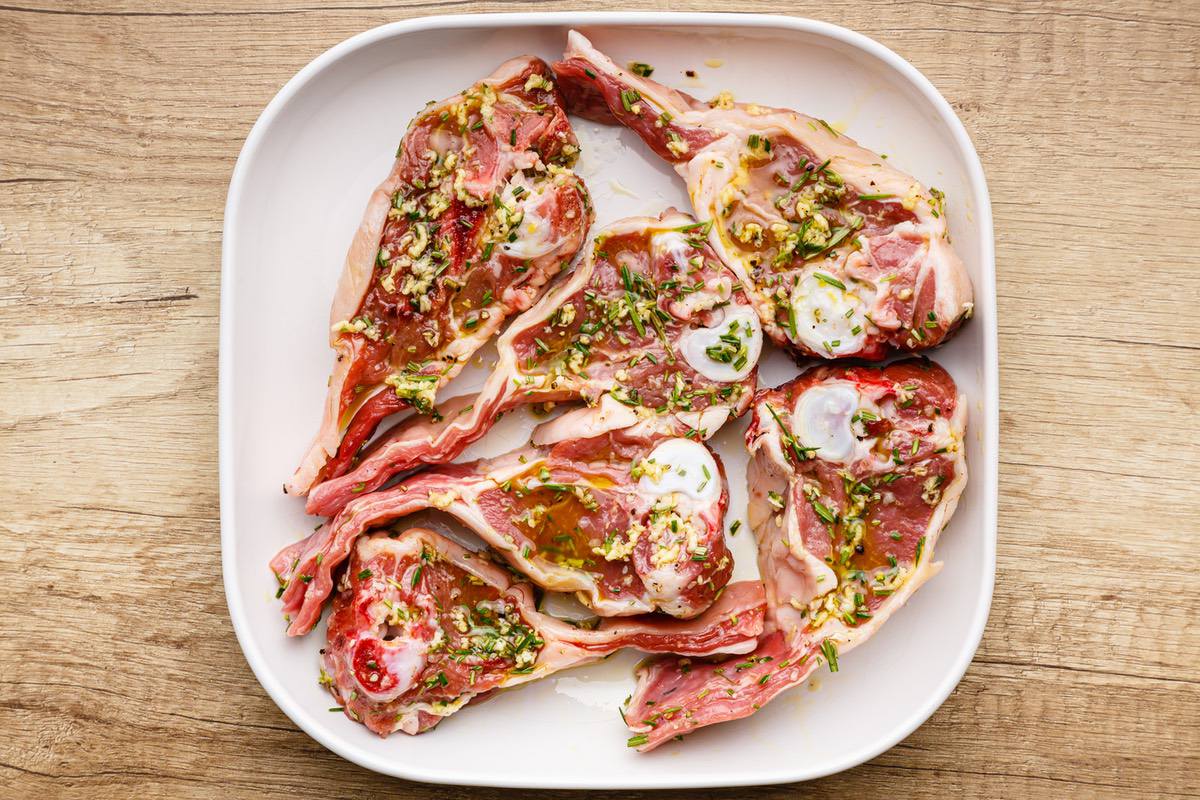 3 Of Our Top Tips for Baking Lamb Chops
Here are a couple of quick and handy tips that you can keep in mind when baking lamb chops; they both really helped me to elevate my game when it comes to making baked lamb chops:
Cook them to the ideal temperature. While the recipe guidelines listed above are pretty broad (30 minutes for pink lamb, 45 minutes otherwise), I thought it would be a good idea to go into a little bit more detail when it comes to the ideal internal temperature. You'll want to cook the lamb chops to an internal temperature of 145℉ for medium rare, 160℉ for medium, or 170℉ for well done.
Consider a pre-sear. I quite often like to sear my meats (lamb chops or otherwise) before baking them because I find that it helps to lock in more of the flavors. You'll also want to make sure that your lamb chops are already at room temperature before searing (or even baking them for that matter).
Start with room temperature meat. Some people make the mistake of baking meat that's still partly frozen. Never do this as this will result in an uneven cook, not to mention it will be hard to reach the ideal internal temperature.
Can I Freeze Lamb Chops?
These oven baked lamb chops freeze amazingly well if you have any leftovers on hand.
You'll first want to make sure that you allow the lamb chops to cool completely after baking them if you're planning on freezing them. You can then transfer the chops into an airtight container to store in the freezer for up to 6-9 months.
(You may also like: Slow Cooker Chipotle Beef Barbacoa)
Print Recipe
Easy (And Perfectly Cooked) Lamb Chops in the Oven
Author: Bree
Prep Time:

5 minutes

Cook Time:

30 minutes

Total Time:

35 minutes

Yield:

4

1

x
Scale
6

lamb chops 

¼ cup

olive oil 

6

garlic cloves, minced 

1 tbsp

lemon juice 

2 tbsp

chopped fresh rosemary 

salt and black pepper to taste   
In a bowl combine the olive oil, garlic, lemon juice, rosemary, salt and black pepper. 

Add the chops and toss to coat. 

Marinate for 30 minutes. 

Preheat oven for 400ºF. 

Transfer the chops on a baking sheet. 

Bake in preheated oven for 30 minutes if you like your lamb pink.

If not, bake for 45 minutes.
FREE KETO RECIPES + 5-INGREDIENT KETO COOKBOOK

Make sure to sign up for free to get instant access to the 5-Ingredient Keto Cookbook, which includes my favorite 20+ keto recipes of all-time, all under 5 ingredients.