Keto Recipes
Crispy Skin Oven Baked Chicken Drumsticks (Really Easy Recipe)
You'll love making this recipe for crispy skin oven baked chicken drumsticks because it's super easy and to make, and yes, we did mention crispy skin. The homemade coating mixture is made completely from scratch with nothing but 100% keto-friendly ingredients, and to make it even healthier, everything is baked in the oven instead of deep-fried–truly a keto dieter's dream!

How to Make Oven Baked Keto Chicken Drumsticks
This is exactly how easy it is to make these crispy oven baked chicken drumsticks:
Preheat the oven. Preheat your oven to 425℉.
Prepare the seasoning mixture. Add your choice of either grapeseed oil or avocado oil, paprika, garlic powder, onion powder, salt, and black pepper to a bowl and mix to combine.
Coat the chicken. Add the chicken drumsticks and toss to coat.
Bake. Arrange the chicken drumsticks on a baking sheet and bake in the preheated oven for approximately 40-45 minutes.
Garnish. Remove from the oven and sprinkle with either fresh coriander or parsley for decoration.
Serve. Serve immediately.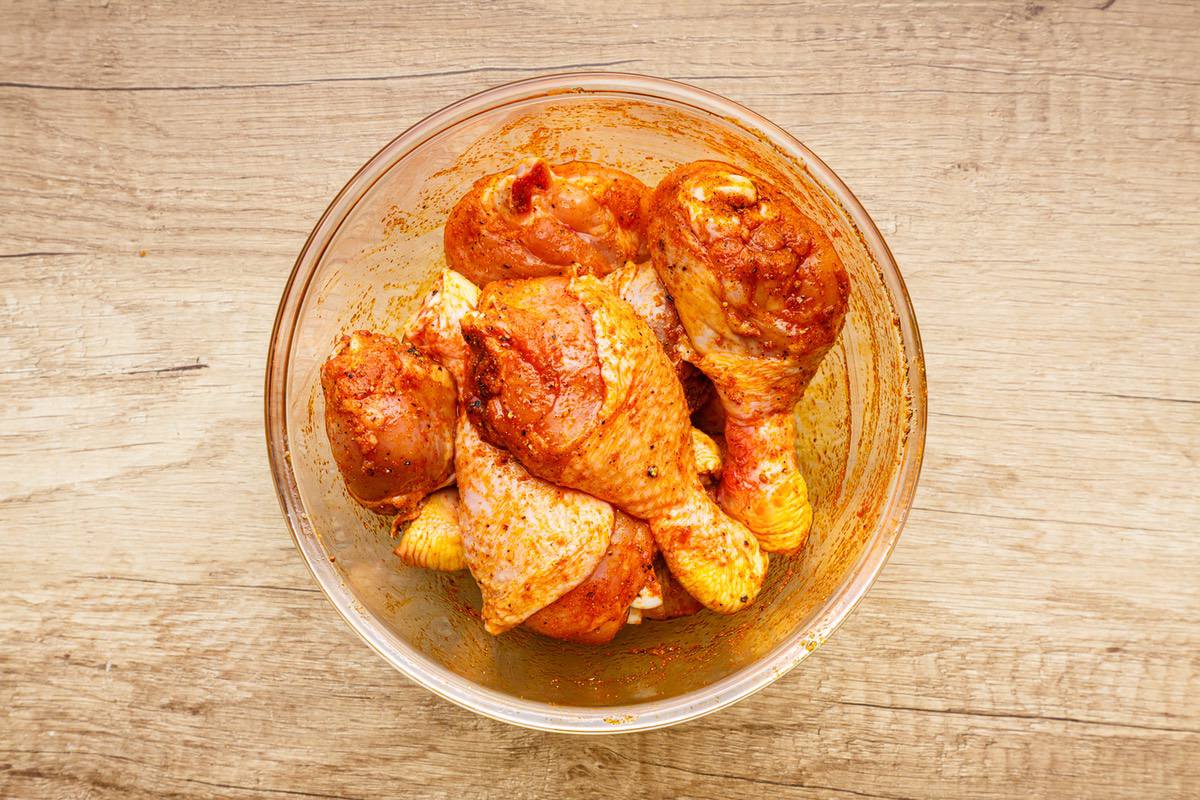 Can I Use Another Cut of Chicken for This Recipe?
You can absolutely use another cut of chicken when making this recipe. I just like to use drumsticks because they're easy to eat and I find them incredibly tasty. However, you can just as easily use cuts of chicken like:
Thighs
Breasts
Ribs
Wings (another favorite of mine!)
All of these options will work perfectly with the homemade keto coating mixture mentioned in this recipe.
2 Quick Tips for Baking Chicken Drumsticks in the Oven
Here are a couple of handy tips to keep in mind when baking chicken drumsticks in the oven:
Internal temperature matters. Many people recommend cooking chicken drumsticks to an internal temperature of 165℉, but I actually find that I get better results when I cook them for a little bit longer. I usually try to aim for an internal temperature of 185℉ when I make drumsticks in the oven for best results.
Coat evenly. Make sure that when you're coating your drumsticks that you're applying an even amount; this will ensure that you end up with a perfectly crispy skin after frying.
Best Way to Store Chicken Leftovers
First, you're going to want to make sure that your drumsticks have cooled completely.
Keep your leftover chicken drumsticks sealed up tightly inside of an airtight container or in a freezer-safe bag.
When stored like this, you'll be able to keep them stored in the fridge for up to 3-4 days or in the freezer for up to 2-3 months.
(You may also like: Keto Fried Chicken)
Print Recipe
Crispy Skin Oven Baked Chicken Drumsticks (Really Easy Recipe)
Author: Bree
Prep Time:

5 minutes

Cook Time:

40 minutes

Total Time:

45 minutes

Yield:

6

1

x
FREE KETO RECIPES + 5-INGREDIENT KETO COOKBOOK

Make sure to sign up for free to get instant access to the 5-Ingredient Keto Cookbook, which includes my favorite 20+ keto recipes of all-time, all under 5 ingredients.
Scale
2

pounds chicken drumsticks

2 tbsp

grapeseed or avocado oil

1 tsp

paprika

1 tsp

garlic powder

1 tsp

onion powder

fresh coriander or parsley for decoration

salt and black pepper to taste
Preheat oven to 425ºF. 

In a bowl combine the oil, paprika, garlic powder, onion powder, salt and black pepper to taste. 

Add the drumsticks and toss to coat. 

Arrange the drumsticks on a baking sheet and bake for 40-45 minutes. 

Remove from the oven, sprinkle with coriander or parsley (if using) and serve.