Keto Foods
Arnold Oroweat Keto Bread Review + Net Carbs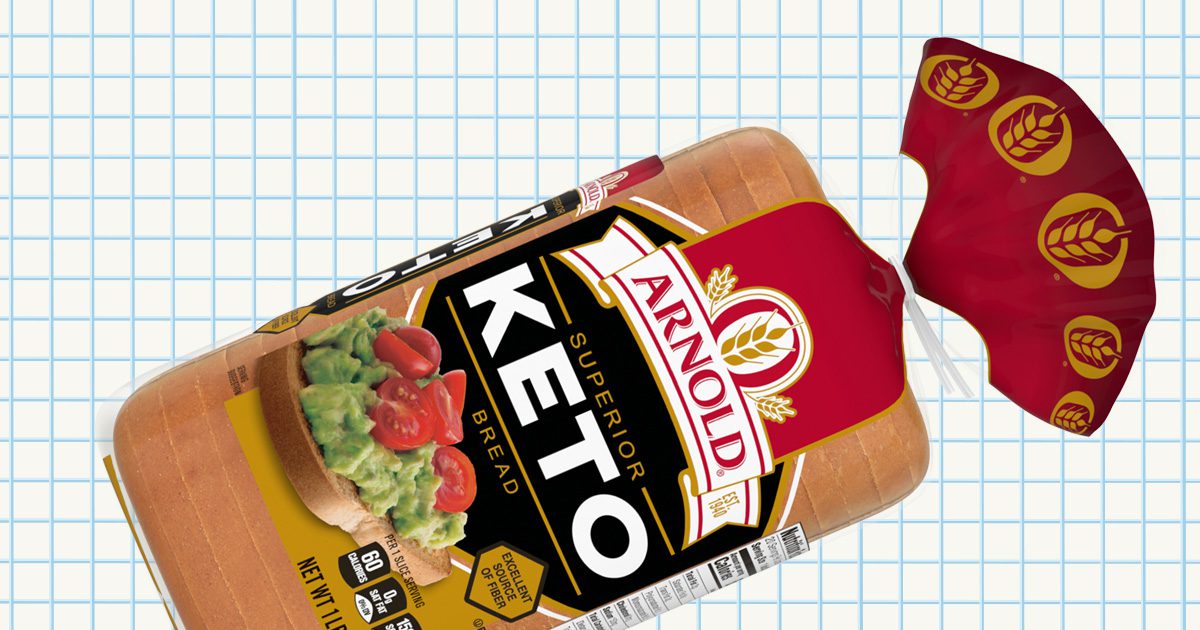 Bread is without a doubt one of the most highly substituted foods on the keto diet. Whether it's recipes for making homemade garlic bread or just finding the best low-carb options like Arnold Keto Bread at the store, there's no denying that keto dieters will find the best possible options out there.
But is Arnold Oroweat Keto Bread keto?
Today, we'll be taking an in-depth look at this popular low carb brand variety in order to definitively answer that question.
What Makes Arnold Keto Bread Such a Popular Choice for Low Carb Diets?
Before answering whether or not Arnold Keto Bread is truly keto approved, let's first take a look at 3 of the main reasons why Arnold Keto Bread has become so popular in the first place among low carb dieters:
Arnold Keto Bread is made with premium quality ingredients and only 3 grams of net carbs per slice.
It offers up impressive amounts of both protein and dietary fiber. Each slice contains 4 grams of protein and 8 grams of fiber.
Arnold Keto Bread is easy to incorporate into a variety of keto recipes. You can use it for keto avocado toast, keto snacks and meals, and keto sandwiches.
Arnold Oroweat Keto Bread Ingredients
Water, Modified Wheat Starch, Wheat Protein Isolate, Oat Fiber, Sunflower Flour, Soluble Corn Fiber, Organic Soybean Oil, Yeast, Inulin (Chickory Root Fiber), Natural Flavor, Sea Salt, Mono And Diglycerides, Preservatives (Calcium Propionate, Sorbic Acid), Soy Lecithin, Guar Gum, Xanthan Gum, Citric Acid
Oroweat Keto Bread Nutrition and Net Carbs
Serving Size = 1 slice (28 grams)
Calories: 60
Fat: 2 g
Total Carbs: 11 g
Sugars: 0 g (0 g added sugar)
Fiber: 8 g
Net Carbs: 3 g
Protein: 4 g
Sodium: 120 mg
Calcium: 25 mg
Potassium: 35 mg
Arnold Oroweat Keto Bread Review: How Keto-friendly Is Arnold Keto Bread?
Arnold Keto Bread is a great example of how bread can have a few net carbs and still be 100% keto-friendly.
Many types of keto bread fall into a gray area and whether or not they're fully keto depends on a variety of factors such as the type of sweetener used, the serving size, the main 'flour' used, and so on. With Arnold Keto Bread, you do have 3 grams of net carbs, but these do not come from sugars at least so that's a plus.
If you want to enjoy bread on a keto diet, just be mindful of how much you're actually eating, and to balance the macronutrient profile of your bread to your filling. For instance, with 3 grams of net carbs, the Arnold Keto Bread would best be paired with something with protein and fat only, rather than anything that would add a handful more carbs to the meal.
Is Arnold Keto Bread Actually Healthy?
Overall, Arnold Keto Bread is considered healthy when consumed in moderation.
The presence of guar gum and xanthan gum may cause some gut sensitivity issues in certain individuals, especially considering that keto breads tend to have a higher dietary fiber content than regular white bread.
Adequate consumption of fiber on a keto diet is beneficial for reducing inflammation, supporting the gut microbiome, improving digestion, lowering blood sugar, and so much more. Women should have around 21 to 25 grams of fiber per day, while men should aim for 30 to 38 grams per day.
At 16 grams of dietary fiber per 2 slices, this is almost the total recommended daily intake. More is not better with dietary fiber, so definitely monitor your macros with this one.
Soybean oil is also listed on the ingredients and although it is organic, that does not mean it's not at least partially hydrogenated. Partially hydrogenated oils have trans fats, which have been linked to many health problems.
Arnold Keto Bread may be okay in moderation, so long as you're aware of the potential issues with some of the ingredients.
More Keto-friendly Breads
FREE KETO RECIPES + 5-INGREDIENT KETO COOKBOOK

Make sure to sign up for free to get instant access to the 5-Ingredient Keto Cookbook, which includes my favorite 20+ keto recipes of all-time, all under 5 ingredients.