Keto Foods
Are Radishes Keto? – Net Carbs, Health Benefits and Radish Recipes
Are radishes keto? It's not always easy choosing which types of fruits and vegetables are the best for you since carb and sugar contents can vary wildly. Even if they're good for you and offer plenty of benefits, they can still knock you out of ketosis if you're not careful.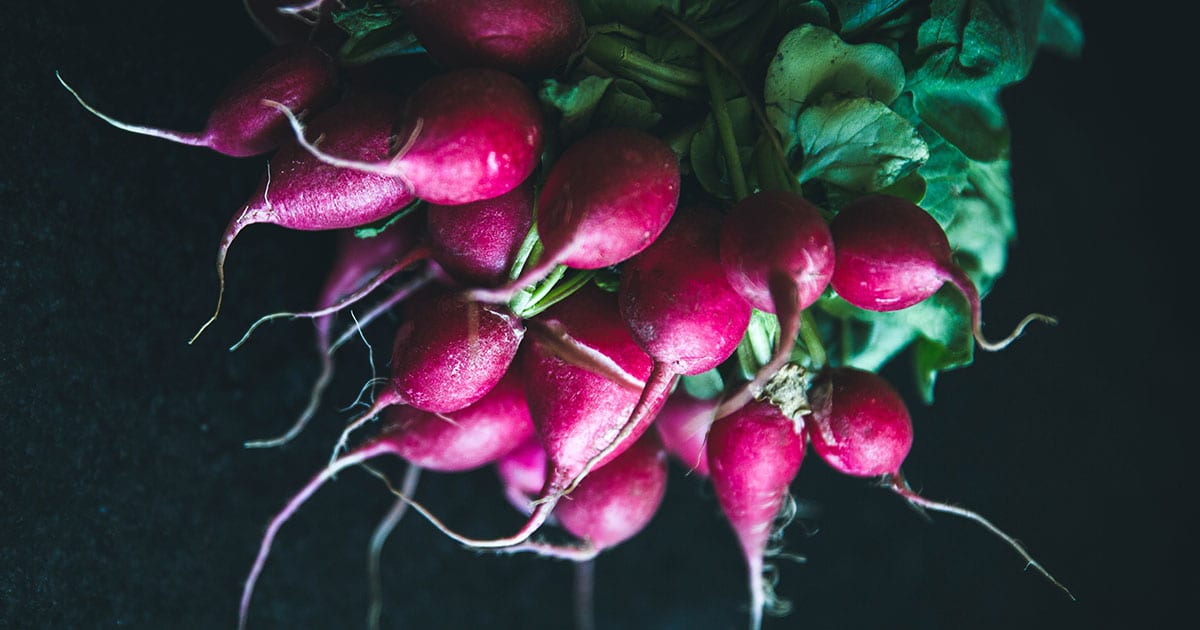 Let's go through it step by step and see if radishes truly are keto approved.
What Makes Radishes Such a Popular Choice for Low Carb Diets?
The first thing that we're going to be looking at is what exactly it is that makes radishes such a popular choice to begin with among low carb dieters. Here are 5 reasons why:
Radishes are incredibly low in calories, with only 16 calories per 100 gram serving size.
They're a tasty low carb root vegetable that offers up a modest amount of dietary fiber.
Although they provide minimal amounts of protein and dietary fat, radishes are incredibly nutrient-dense.
Radishes provide numerous proven benefits for your health.
You can prepare radishes in a variety of different ways in order to use them as a low carb substitute for other carb heavy dishes (like making roasted radishes instead of roasted potatoes).
Are Radishes Keto?
Let's get the good news out of the way: radishes are indeed a 100% keto-friendly root vegetable.
While it's true they only provide minimal amounts of protein and fat, radishes are low in both calories and carbs, which makes them ideal for many keto dishes. They are quite versatile and are fantastic in keto salads and one sheet baking pan recipes.
Radishes are also quite a nutritious veggie option as well. They're a rich source of several essential vitamins and minerals, including potassium, calcium, B-complex vitamins, and more.
Radish Nutrition Facts
Here's the approximate nutritional breakdown for a 100 gram serving size of fresh radishes:
16 calories
0.1 grams dietary fat
0.7 grams protein
3.4 grams carbs
1.6 grams dietary fiber
1.9 grams sugar
0 mg cholesterol
39 mg sodium
233 mg potassium
Keto-friendly Radish Recipes
---
Health Benefits of Radishes
Radishes are an incredibly nutrient-dense root vegetable, offering up plenty of health benefits. Here are 3 of them:
Contains anti-cancer properties. Several studies have found that radish contains certain bioactive compounds that break down into isothiocyanates when paired with water. These isothiocyanates then work to break down cancerous cells while also actively preventing tumor development, both of which go a long way to helping to protect against cancer. (1)
May help improve digestion. The fiber content in radishes can also help to give your digestive system a boost. Dietary fiber is known to help improve overall digestion, lower LDL cholesterol levels, and regulate bowel movements (while also improving overall bowel health). (2)
May help protect against cardiovascular disease. Certain varieties of radish, most notably the larger 'monster' type, have shown a lot of promise when it comes to protecting against cardiovascular disease. Studies show that radishes may also help relieve hypertension and lower your risk of heart disease and stroke. (3)
Keto Radish Alternatives
If you're looking for an alternative to radish that's still keto-friendly, you can use any of the following options:
FREE KETO RECIPES + 5-INGREDIENT KETO COOKBOOK

Make sure to sign up for free to get instant access to the 5-Ingredient Keto Cookbook, which includes my favorite 20+ keto recipes of all-time, all under 5 ingredients.