Keto Recipes
5-Minute Homemade Keto Pizza Sauce (Classic Style)
Believe it or not, but it's actually surprisingly easy to make your own homemade keto pizza sauce. So easy in fact, that you can literally have a great tasting pizza sauce ready to go in about five minutes. Don't let the fact that it only takes five minutes to make fool you though — this homemade sauce quite easily rivals any other pizza sauce that I have ever tried. Despite the fact that it's made with some clever keto-friendly ingredient replacements, this sauce still offers a ton of tomato flavor combined with a savory mix of herbs and spices. Once you get a taste of this sauce, you will definitely be wanting to make it every single time you get a craving for a homemade pizza — especially since it only takes five minutes to prepare.

A Simple Sauce with Great Flavor
Considering this keto pizza sauce is so simple to prepare (all you have to do is mix together all of the ingredients in a small bowl and then refrigerate it), let's instead take some time to go over what exactly you'll be using to make it. By focusing on why each ingredient has been chosen, you can develop a better understanding of food groups to include in your very own keto recipes.
Tomato Paste – It should be fairly obvious why tomato paste is included when making this pizza sauce. I like to prepare my tomato paste at home a day in advance, but you can also just pick some up from your local grocery store. Not only will this give your pizza sauce a ton of flavor, but tomatoes are also a major source of the antioxidant lycopene. This antioxidant has been shown to reduce your risk of cancer and heart disease, among other great health benefits. (1)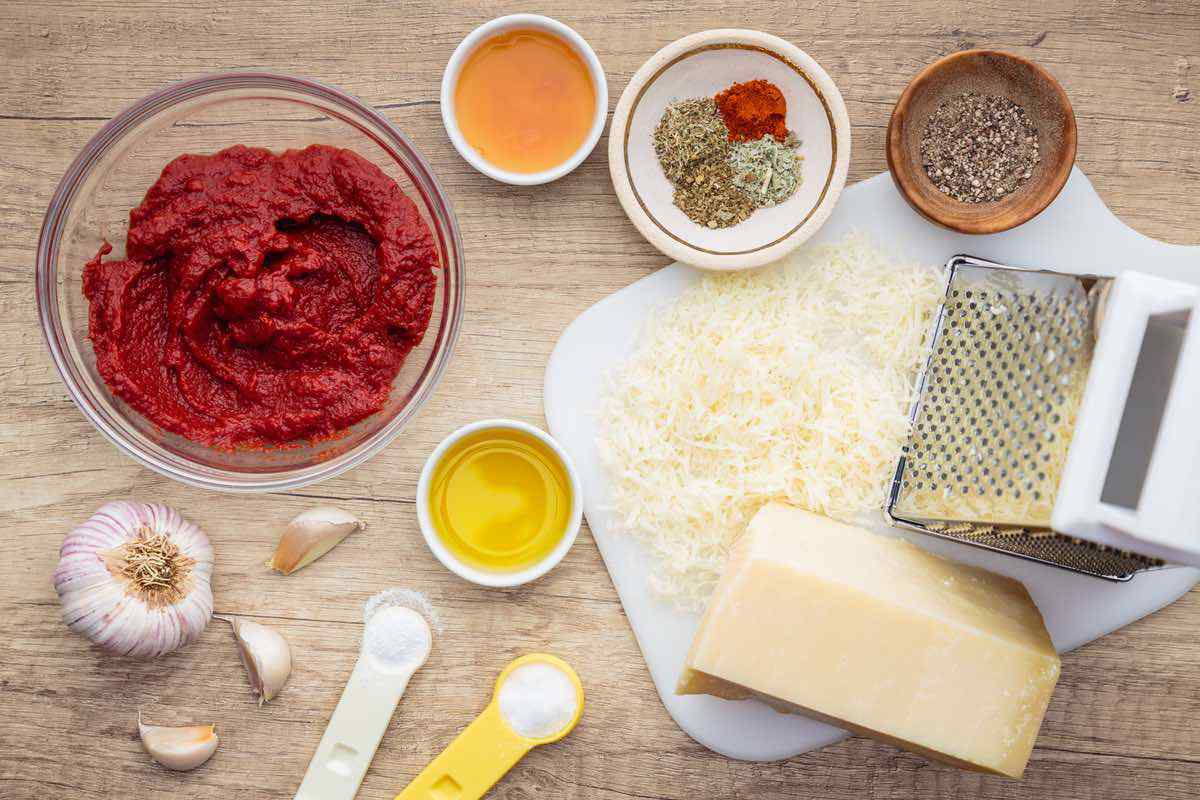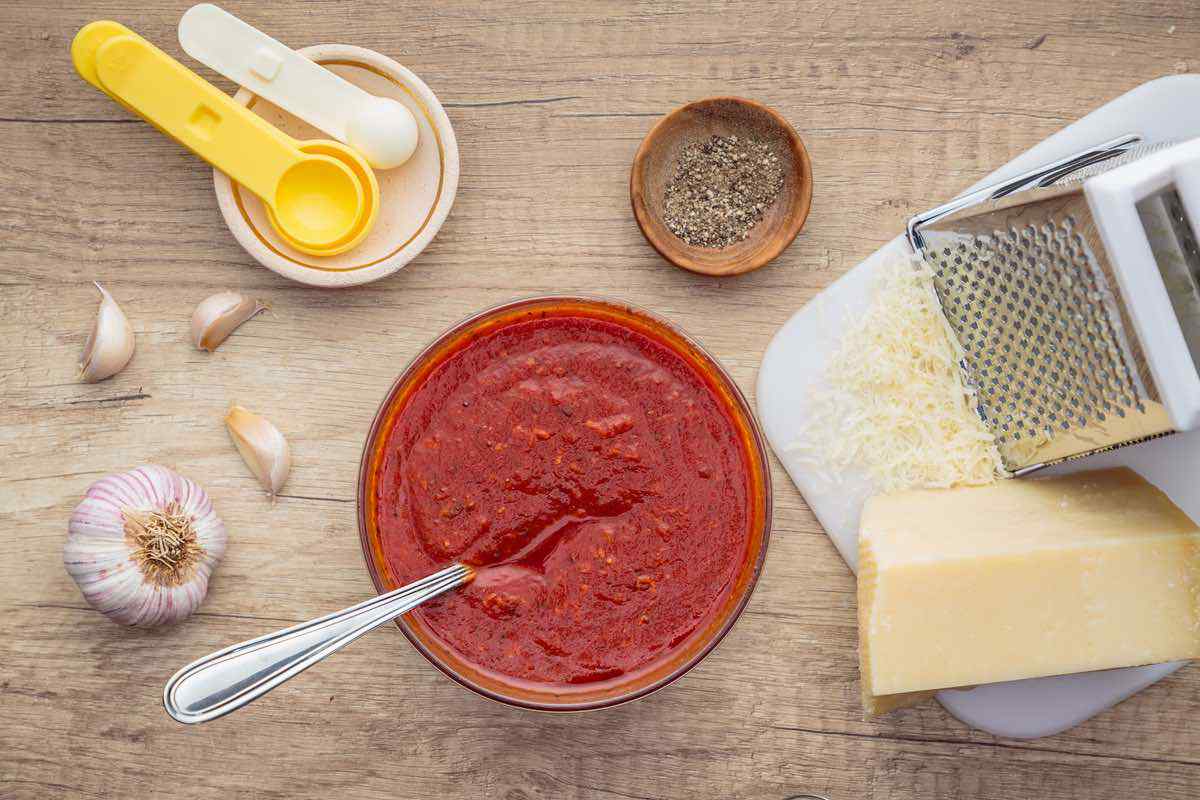 Apple Cider Vinegar – While this may seem like an odd choice to include at first glance, using apple cider vinegar (ACV) actually serves a few purposes in this recipe. First, it helps to add a bit more tanginess to your sauce, meshing well with the tomato paste. Beyond that though, ACV is known to provide us with a huge variety of health benefits. Some of these benefits include helping to lower blood pressure and cholesterol, balancing blood sugar levels, and improving digestion. (2)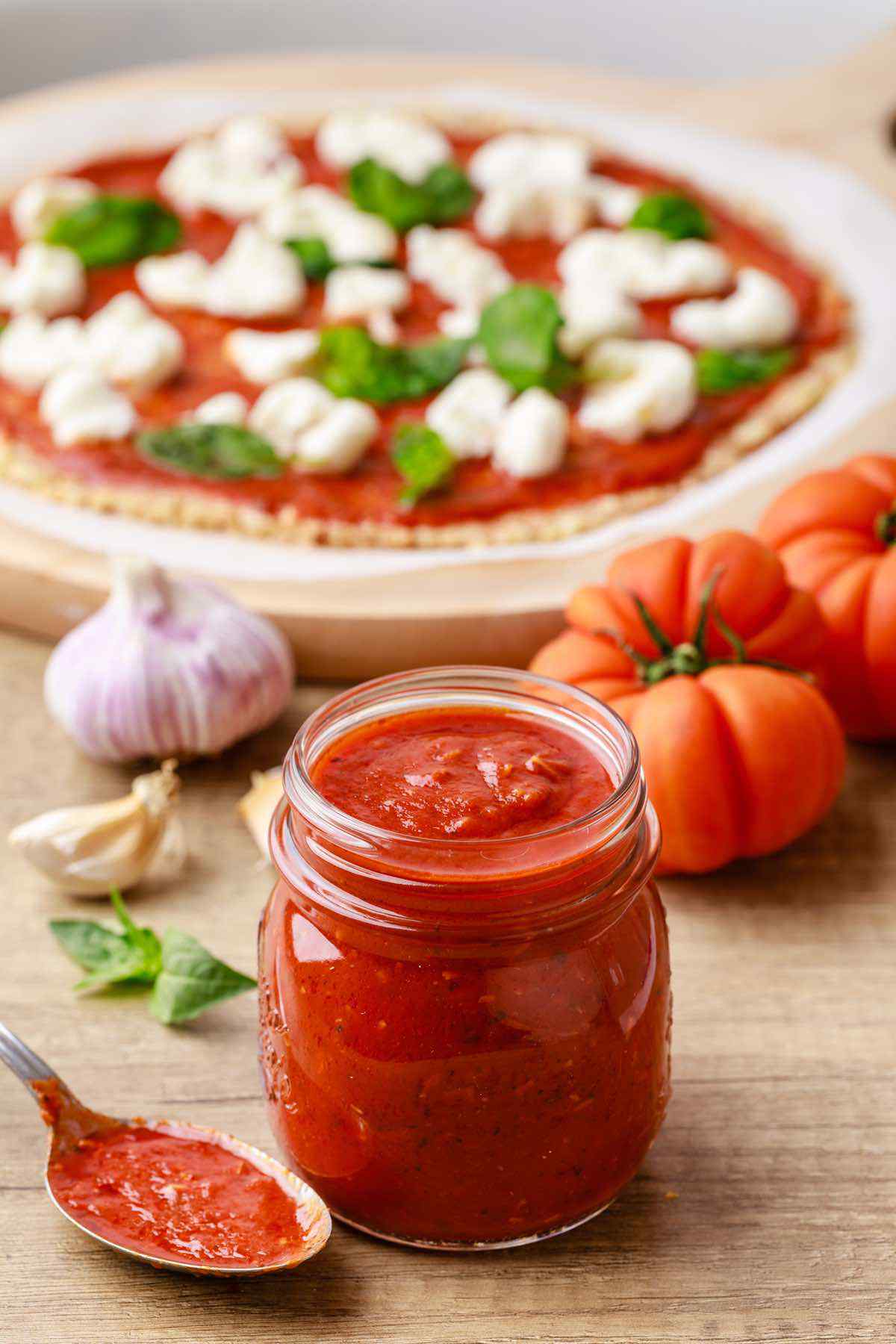 Olive Oil – This is another multi-use ingredient when it comes to making pizza sauce. Olive oil helps to thicken your sauce up, but more importantly, it also offers a ton of great benefits for your health that are known to significantly reduce your risk of cardiovascular disease. (3) It's an excellent source of heart-healthy monounsaturated fats, it lowers inflammation, and it's also packed with antioxidants. Those are just a few reasons why olive oil is such a staple of healthy diets like the Mediterranean diet.
Garlic – If you ever need a quick and easy way to really add a lot of flavor to a recipe, just add garlic. It does just that with this pizza sauce, but garlic is also a highly regarded superfood as well. It contains a compound known as allicin which gives it most of its famed health benefits, such as boosting your immune system and helping to prevent cancer and cardiovascular disease. (4)
Herbs and Spices – This recipe uses a savory mix of herbs and spices — oregano, basil, thyme, and cayenne pepper. They all combine perfectly to add an immense amount of flavor to your sauce. In addition though, they are all well known to play an important role in helping to prevent diseases like cancer as well. (5)
Aside from the above key ingredients, this pizza sauce also uses a zero calories sweetener like Stevia to give it just enough sweetness to offset the tanginess. It also adds Parmesan cheese and salt and pepper to further improve the overall flavor. This pizza sauce can be safely kept in the fridge for up to one week — which is a good thing, as it will give you plenty of time to experiment with some of the great keto pizza recipes that we have shared.
Be sure to check out our other keto-friendly pizza recipes. They're pretty easy and straightforward to make, so don't worry if you're still new to cooking with low-carb/high-fat ingredients. It may take some getting used to, but the results are worth it!
More Keto Pizza Recipes:
Cauliflower Keto Pizza Casserole (Holy Moly!)
Thin and Crispy Keto Pizza Crust (Low Carb)
New York Style Keto Pizza Crust
Print Recipe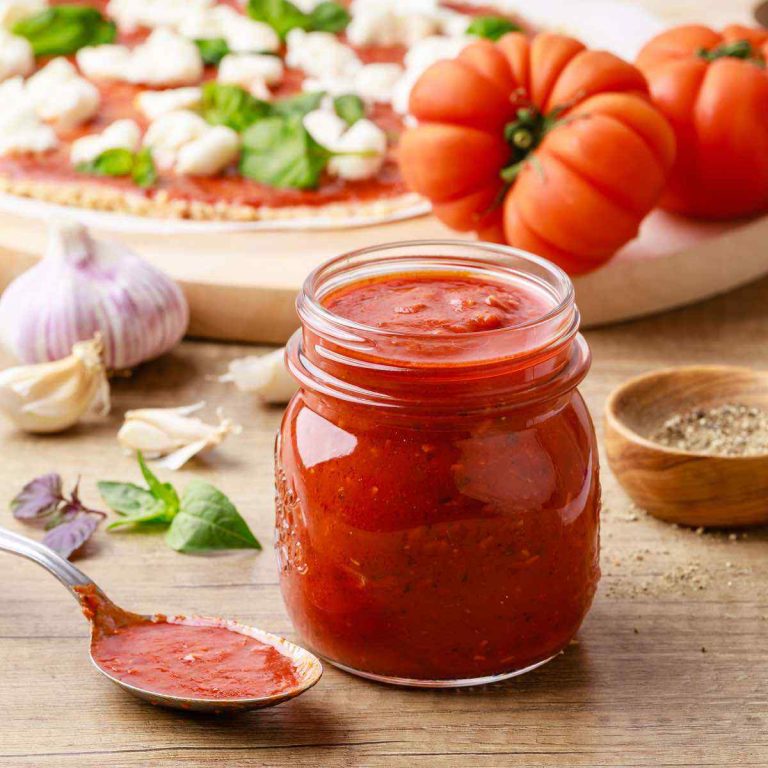 5-Minute Homemade Keto Pizza Sauce
Author:
Prep Time:

5 minutes

Total Time:

5 minutes

Yield:

2 cups

1

x
FREE KETO RECIPES + 5-INGREDIENT KETO COOKBOOK

Make sure to sign up for free to get instant access to the 5-Ingredient Keto Cookbook, which includes my favorite 20+ keto recipes of all-time, all under 5 ingredients.
Scale
6 oz tomato paste
1 cup hot water
2 tbsp apple cider vinegar
2 tbsp olive oil
1 tsp granulated Stevia sweetener or to taste
2 tbsp grated Parmesan
3 cloves garlic, minced
½ tsp dried oregano
½ tsp dried basil
½ tsp dried thyme
¼ tsp cayenne pepper
½ tsp pepper
salt to taste
Place all the ingredients in a small bowl and mix to combine.
Use immediately or store in a jar and refrigerate until ready to use.
The sauce will last a week in the refrigerator.